Held simultaneously from April 11 through 15, 2018 as a high-profile five-in-one event for the automotive and motorcycle industries, Taipei AMPA, AutoTronics Taipei, MOTORCYCLE TAIWAN and EV TAIWAN as well as Taiwan ITS (Taiwan Int'l Intelligent Transportation Show) are likely to together impressed visitors and buyers from all over the world with Taiwan's well integrated supply chain of auto and motorcycle parts again.

Organized by the semi-official trade promoter Taiwan External Trade
Development Council (TAITRA) in Hall 1 of Taipei World Trade Center and the Nangang Exhibition Complex, the mega show is forecasted to attract 1,300 exhibitors from 14 countries including China, Japan, the U.S., Germany, etc., manning 3,700 booths to showcase the innovative products of the industry.

TAITRA noted, this year, the newly held "Taiwan International Intelligent Transportation Show" will be highlighted during the mega event. The show will primarily be showcasing vehicles, Internet of Vehicles and Telematics systems. The organizer will invite professionals from the public transportation and tolling stock industries as well as municipal governments to display their achievement on intelligent transportation development.

According to data from the Market Intelligence & Consulting Institute of the Institute for Information Industry (III), it is estimated that Intelligent Transportation System (ITS) industry production had reached US$36 billion dollars (about NT$1.08 trillion) in 2017 and is estimated to reach US$48 billion dollars (about NT$1.44 trillion) in 2020. It's clear that intelligent transportation has become the future trend of the industry.

On another front, to encourage Taiwanese companies to put aside more resources on the R&D of new products and further boost Taiwan's presence in global auto markets, the organizer has recognized the greatest progress in the form of 24 innovative products from the five-in-one mega show as the winners of the Innovative Awards of this year's edition.

Noteworthily, to assure fairness in adjudicating the Awards, the event was executed by an independent panel, and the 24 products were awarded in the 4 categories of parts, accessories, electronics end products and electronics components.

The 24 awarded products include LED Remote Control Searchlight launched by Allremote Wireless Technology Co., Ltd. (booth number L0928), Halo Blitz6 developed by Juluen Enterprise Co., Ltd.(M0419), EVO Rear-Seat Information System of Jet Optoelectronics Co., Ltd (L0409), Combiner Type Head-Up Display developed by E-Lead Electronic Co., Ltd (L0112), Electronic Throttle Body (ETB) launched by Yow Jung Enterprise Co., Ltd. (J0301a), and others.

During the show, EDN(CENS) will provide hamburger flash mob activity as well as real-time business matchmaking services at the exhibition. Through the resources and marketing professions integrated between EDN and CENS, the true requirements extracted from filled inquiries collected on the spot will be sent back to Taipei, and then processed into detailed, invaluable business letters that were eventually emailed to Taiwanese exhibitors during the show. Welcome to EDN's booths (B1217 in Hall 1 of Taipei World Trade Center and L1330 in Nangang Exhibition Center) to find out more details.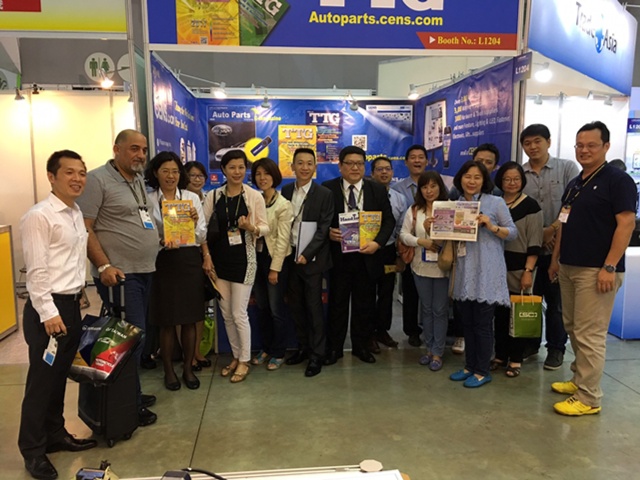 EDN(CENS) will provide burger flash mob activity as well as real-time business matchmaking services at the exhibition. (Photo provided by CENS.com)