■ Liu Siou-chuan

Since starting out by supplying LED lights mostly on an OEM basis in 2002, Ching Yuang Enterprise has effectively transformed its business into a professional provider of solutions for LED construction lights, industrial fans and mobile fan spot coolers, thanks to its constant efforts on R&D.

Launch of Ching Yuang's LED balloon lantern lights not long ago has underlined the company's well-honed R&D capability. The luminaire features 360-degree illumination and excellent energy efficiency. A fabric lantern cover with special coating enables the lamp to distribute mild light evenly, while making the dazzling LED light source gentle. Furthermore, inside the cover is a built-in small blower, which, when inflating the cover, helps the lamp to emit light evenly in all directions and provide adequate illumination while minimizing blind spots.

The LED balloon light is widely used in construction works at night, particularly road works and nighttime jobs. A non-lantern type of such lighting fixtures used for nighttime lighting is more likely to cause an accident, as the glaring light would shine in drivers' eyes more frequently. With Ching Yuang's balloon lantern lights, which deliver glare-free light, nighttime road works can be made much safer.

The balloon lantern lamp is also extensively used at rescue sites in the event of an earthquake, tsunami or fire. As the light source for emergency lighting, the balloon lantern provides 360 degrees of comfortable light evenly over an extended range, effectively minimizing blind spots and increasing rescue efficiency. Great portability is also among the attractions of the lantern light, as a user can fold the lamp into a compact size to make it easier to carry into an accident site for instant deployment. The product's portability and 360-degree light distribution also make it relatively popular with camping enthusiasts.

Also notable is that the balloon lantern light features more optional functions. For example, the brightness of the lantern can be adjusted with a cellphone via Bluetooth, which allows users to dim the lantern for a romantic mood from a distance with nothing but a specific app on the cellphone.

The balloon lantern light has a hexagonal structure inside, where LED panels are mounted on each side, a unique, patented design. With each of the 6 panels being adjustable in terms of pitching, thus, in the vicinity of a residential area, beam angles of the lamp can be decreased to prevent light from shining through neighbors' windows; or the angle can be increased to deliver light across a wider range. It is a simple but more creative idea about what the lantern light can do.

Buyers interested in Ching Yuang may go to: en.c-yuang.com.tw, or dial 886-2-2268-0546.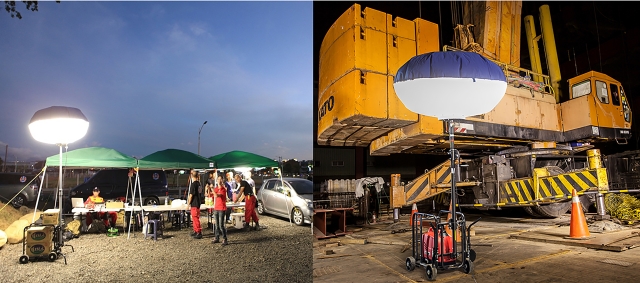 Ching Yuang's LED balloon lantern light is widely used in nighttime construction works and camping sites. (photo courtesy of Ching Yuang)