■ Fan Wen-shing

Following over 35 years of unremitting effort on continuous improvements of product quality and production efficiency, Scheme Development Co., Ltd., a Taiwanese high-profile maker of hose clamps, has witnessed its products renowned by customers as top-tiers for comparable quality to those produced in developed countries.

More notable is that some of Scheme Development's hose clamps have been destined for manufacturing factories of the global well-known firms, namely Apple Inc., an American multinational technology company; Tesla, a global leading EV (electric vehicle) maker; Volkswagen, a Germany-based auto maker; Hitachi, a multinational corporation specializing in high-technology; and many others.

While Scheme Development has been certified to UL, RoHS, ISO and CE, its current achievements are attributable to a couple of reasons. To meet different requirements, hose clamps by Scheme Development are available in various materials, including galvanized steel and stainless steel (#.410, #.304, #316).

Apart from rolling out American and German type hose clamps, various pressure hose clamps, ear clamp, and T-bolt hose clamp, the firm also accepts customized orders to better cater to the needs of the market.

Noteworthily, the Nylon cable tie produced by the firm is a hot-selling product and is widely used in the auto industry, electronics industry and others. Meanwhile, its stainless steel cable tie is also well-received by customers from the aero industry and marinery industry.

With the business principle of Safety, Quality and Connection, Scheme Development is ambitious to make its utmost efforts to contribute to sustainable development of other sectors with its high-quality products and services.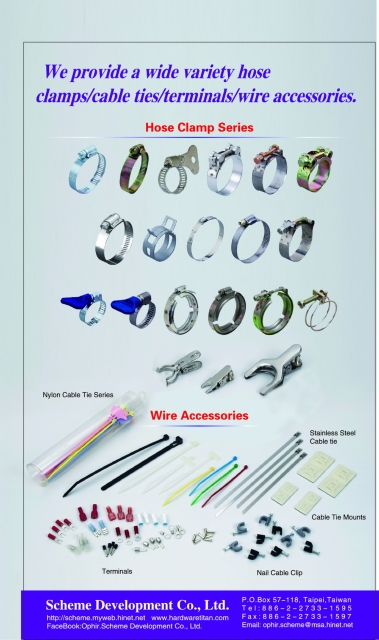 Scheme Development's products are well-received by global customers (photo courtesy of Scheme Development)