■ Fan Wen-shing

Qi Ji Industry Co., Ltd. is a Taiwanese professional producer of hardware parts, and capably fills contract orders for custom-made products on an OEM and ODM basis. Extensive manufacturing know-how and a full line of production equipment employed in house together give Qi Ji the ability to handle different materials, such as injection molded and extruded plastics and cast aluminum, during production without a glitch.

The company has been widely deemed a veteran maker in the line, for it started out by making brass door handles about three decades ago, and then gradually branched into developing, manufacturing and assembling interior hardware products to meet customers' requirements. The transition has enabled the company to gain different valuable production skills, such as molding and punching, and accumulate profound knowledge of prosperities of metal and plastic materials.

Qi Ji offers a variety of interior hardware products, including sliding door tracks and accessories, door rollers, hinges, 3D-adjustable hinges, door buffers, etc. All this maker's products are manufactured with well-honed techniques and proper methods and under strict quality control, hence being sought-after by customers worldwide, particularly those in Japan, for guaranteed quality and competitive prices.

Additionally, this maker focuses on market-oriented R&D, so as to satisfy customers with truly marketable products while ensuring mutual benefits.

Motivated by its continued awareness of corporate social responsibility and environmental protection, Qi Ji insists on upgrading its production facilities and carrying out related measures throughout production, in hopes of reducing carbon emission. Despite incurring additional costs, the efforts, however, have been well rewarded to help this manufacturer set a higher profile over most of its counterparts, especially at a time when the governments of developed countries are increasingly concerned about those issues.

With time-tested production capabilities and a solid reputation that Qi Ji has gradually built up among Japanese customers over the past 30 years, the company has been well recognized by professionals as a competent OEM (original equipment manufacturer) and ODM (original design manufacturer) in the line.

For more information, please visit www.sanso-daiyasu.com.tw.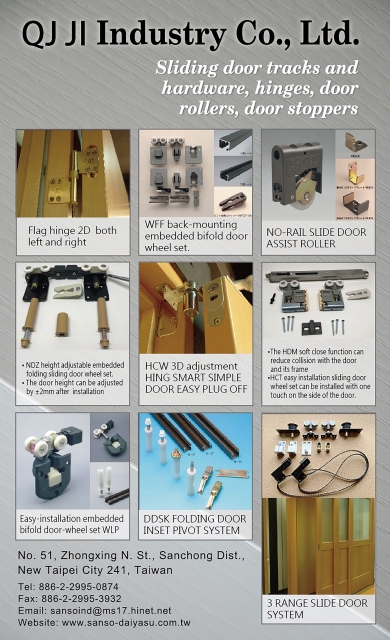 Samples of Qi Ji's products provided by the firm (photo courtesy of Qi Ji)