AL Forge Tech Co., LTD. is a professional aluminum alloy forging plant with 30 years of experience in forging aluminum alloy, and specializes in aluminum alloy property, from mold design, manufacturing process design, and production to the key technology of the heat treatment of aluminum alloy, as well as the additional product-surface processing such as vibratory finishing, cleaning, deburring, etc. AL Forge provides a line of production service as well as customized services.

Forged aluminum products can be applied to structural parts of vehicles, lower A-arms, high-quality forged engine pistons, door hinges, brake calipers, bicycle spare parts, industrial hardware, etc.

Forged products are security parts. Though lightweight materials fi t the current trend, product safety is still substantial. AL Forge uses the technology of Fluorescent Immersion Range Scanning to check if the surface properties of products are normal by controlling every step of processing in order to make sure products have high factors of safety. The Company has passed the IATF 16949 certification. AL Forge already occupies 50,000 sqm of plant area in Nantou City, in which 19,835sqm of plant facilities have been installed. Relevant production facilities are ready to be assembled and tested. The plant expects to be in production officially in September 2018. By then, we will provide more comprehensive services to satisfy market demands.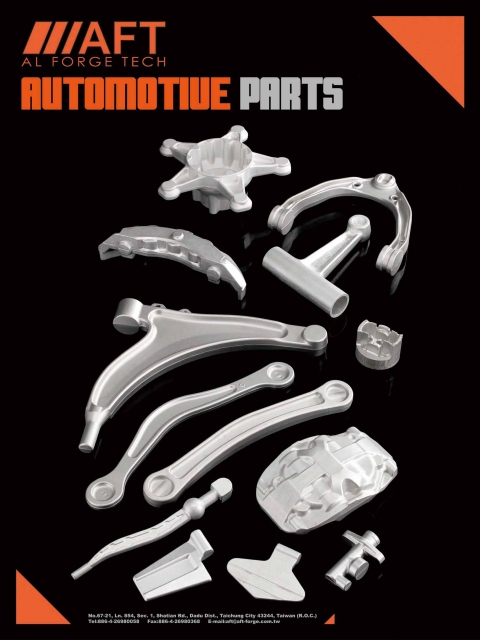 AL Forge Tech Co., LTD.
No.67-21, Ln, 854, Sec. 1, Shatian Rd., Dadu Dist., Taichung City
432, Taiwan
Tel: 886-4-2698-0058
Fax: 886-4-2698-0368
Email: aft@aft-forge.com.tw
Website: www.aft-forge.com.tw