Founded in 1998 by a group of industry veterans generally with over 20 years of expertise in production and development of hydraulic presses, Hsin Lien Sheng Machinery Co., Ltd. is today a world-caliber, highly reputed supplier of such machines.

Hsin Lien Sheng's product lineup encompasses a hydraulic deep drawing press, 180°reversing type spotting press, hemming machine, high-speed hot/cold forging hydraulic press and etc. Offering high quality and innovative functionality bundled with timely, professional services, the company's machines have been widely accepted in various manufacturing industries.

In addition to the hydraulic presses in its portfolio, Hsin Lien Sheng, which passed ISO 9001 certification in 2000 and obtained CE certificate in 2014, also supplies customized machine models to suit client specifications.

Among the company's hot-selling products, a hydraulic deep drawing press mainly for the deep drawing and forming of metal plates is available with a bending force ranging from 10 to 3000 tones, and packed with high accuracy, excellent performance and other compelling features. With a precise control system, for instance, the machine is easy to operate and works with great efficiency, while a systematized hydraulic unit is designed for leak prevention, antivibration and easy maintenance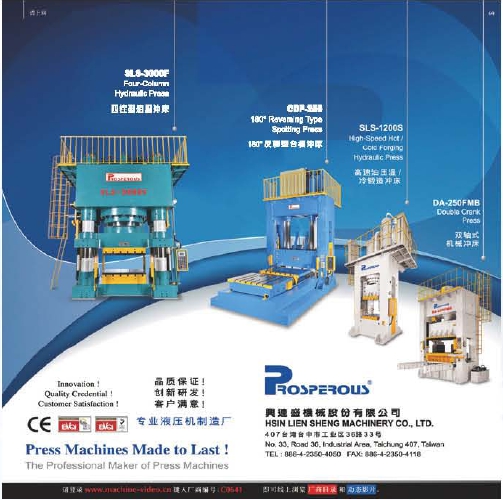 Hsin Lien Sheng Machinery Co., Ltd.
No. 33, Rd. 36, Industrial Park, Taichung City, Taiwan
Tel: 886-4-2350-4050
Fax: 886-4-2350-4118
E-mail: hls0323@taipros.com
Website: www.cens.com/hsinliensheng
www.taipros.com