2018 Taipei AMPA, AutoTronics Taipei, Taiwan ITS, Motorcycle STaiwan, and Taiwan International Car Tuning and Car Care Show have successfully concluded on April 14 and 15. There were a total of 1,306 companies using 3,707 booths in this year's five-in-one exhibition that attracted 6,854 foreign and domestic visitors from 120 countries.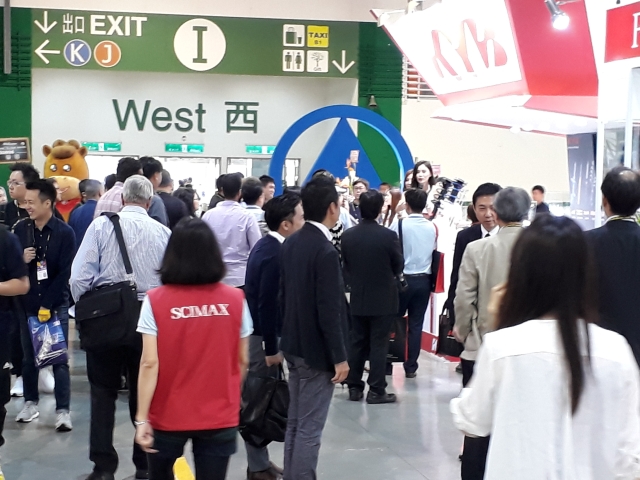 This year's five-in-one exhibition featured 1,306 companies in 3,707 booths and hard to be overlooked. (Photograph by Jane Chou)

Exhibition Introduction
The three major themes of this year's five-in-one joint exhibition are "Smart", "Electronic" and "Electrified" vehicles. Many companies showcased their latest products such as smart driver assistance systems, high-performance battery models, and automotive electronics applications at the exhibition.
Walter M. S. Yeh, President and CEO of the Taiwan External Trade Development Council (TAITRA) stated that auto parts from Taiwan have been highly recognized in the international market for advantages such as highly customized production, stable product quality, and strong development and innovation abilities. Electronic, electrified, and smart vehicles have become the three major themes of automobile industry development in recent years. Companies have also been actively researching and developing advanced driver assistance systems, automobile safety monitoring systems, and LED lighting systems.
In order to echo the themes of this year's five-in-one joint exhibition, Taiwan Automotive Research Consortium (TARC) set up three major exhibition areas, namely, Automated, Connected, Electrified, at the exhibition and showcased 26 latest scientific research achievements. In order for more people to experience in person its high competitiveness technical capability, TARC also set up two experience areas this year: General Roadway and Fixed Field for various industries to go through the test drive experience. Visitors were able to experience the integration of AI technology and smart driving through four different scenarios of vehicle application environments.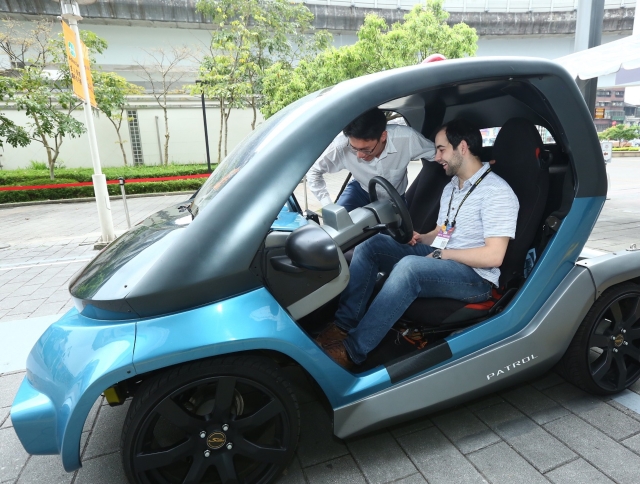 Foreign buyers experience electric car with self-driving function in the exhibition's outdoor area. (Provided by TAITRA)
Moreover, the abundance of various events held in this year's exhibition was greater than any previous years. The 2018 Global EV and Auto Parts Market Trends Forum invited speakers such as Mr. Chung-Liang Chang, Dipl. Ing. Technical Development of AUDI AG, Mr. Nobuhiro Tajima, Chief Commissioner of Association for the Promotion of Electric Vehicles, and Mrs. Taylor Mitchell, VP of Technology of Auto Care Association to deliver speeches at the forum and attracted more than 300 people to register and attend the event. The speakers and attendees interacted lively throughout the event. Mr. Chung-Liang Chang shared his experience on how to enter the Chinese and German supply chains through short term and long term plans. He also pointed out that Taiwan has a solid foundation on computer, communication, and consumer electronics industries. If it can use the advantage of customization to enter the electric vehicle supply chain, its future development would be limitless. He also predicted that semiconductor technology will dominate the automobile industry in the future. Mrs. Taylor Mitchell, VP of Technology of Auto Care Association, also stated in the forum that auto care in U.S. automobile aftermarket has reached US$356.5 billion per year. She also discussed in depth of the positive effects of certification standards such as ACES and PIES on automobile industry.
The selection process of the annual Innovation Awards that have been held for 12 straight years also elected 24 winning products from 118 participating products, including LED Remote Control Searchlight from Allremote Wireless Technology Co., Ltd. (Booth number: L0928), HB6 Halo-Ring LED High-Performance Warning Lamp from Juluen Enterprise Co., Ltd. (M0419), EVO Seat-Top DVD Entertainment Systems from JET OPTO Electronics Co., Ltd. (L0409), Projector HUD from E-Lead Electronic Co., Ltd. (L0112), Electronic Throttle Body from Yow Jung Enterprise Co., Ltd (J0301a) and other revolutionary products.
The Taipei AMPA five-in-one joint exhibition has always attracted many high quality foreign buyers. This year's buyer groups came from Mainland China, New Zealand, Myanmar, the Philippines, and Pakistan. Among them, the Myanmar Automobile Manufacturers & Distributors Association (MAMDA) not only organized a group to attend the exhibition, Dr. Soe Tun, the President of MAMDA, also attended the AMPA Myanmar media conference. Jay Park, Vice President of the US Trico Group with annual revenue of close to US$1 billion, stated that he came to Taiwan to look for auto parts suppliers with great potential and found that Taiwanese companies are very proactive in expanding the foreign markets and they have high quality and competitive products. Lorenzo Fontana, Purchasing Manager of UFO PLAST SRL from Italy, stated that this is his seventh visit to the Taiwan International Motorcycle Industry Show. He believed that the exhibition in Taiwan is most suitable for foreign buyers to visit due to its moderate scale and high concentration of motorcycle products, which makes it really easy to locate the suppliers they need.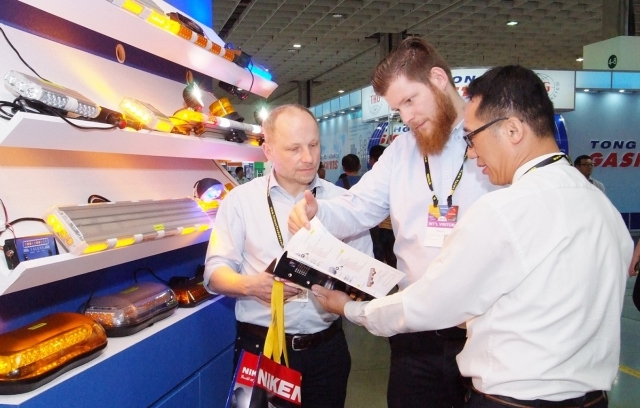 Foreign buyers enthusiastically attended this year's five-in-one joint exhibition. A total of 6,811 foreign buyers from 120 countries visited the exhibition. (Provided by TAITRA)

Market Overview
Industrial Economics and Knowledge Center (IEK) estimated that the production value of Taiwan's automobile industry in 2017 is NT$610.9 billion, a 4.6% slight increase from 2016. The estimated production value of whole vehicles is NT$185.4 billion, a 3.5% decrease from 2016. The main reasons for the decrease are sluggish demand from Middle East and competitions from neighboring countries. Furthermore, Deputy Director Shu-Chuan Wang of the Department of Statistics, Ministry of Economic Affairs stated that the domestic cars market also faces low-price competition from import cars and its production value fails to meet expectations.
However, Taiwan's auto parts sales are relatively radiant. According to the data from IEK, the production value of the automotive electronics industry went over NT$200 billion for the first time and came to NT$208 billion, surpassing the production value of whole vehicles. Due to rising demand of auto parts in the United States, the export value percentage of auto parts has already surpassed 50% in 2017. Among them, the percentage of main importing country the United States rose to 45%. Main growth categories of auto parts in 2017 include electrical system, automotive lighting, and suspension/drive line have 4.3%, 5.2%, and 17.5% of growth respectively.
Taiwan's auto parts also have great international competitiveness due to its flexible manufacturing advantage of having small-volume production of a wide range of different items. For example, wheel frame, aluminum rim, and suspension are all strength of Taiwanese companies. Although Chinese companies have whole vehicle manufacturing capability, they still import related parts from Taiwan. According to reports, US company Tesla had great success in its electric car sales and Taiwanese companies that were able to enter the Tesla supply chain also benefited greatly. This also proves to be fruitful for the domestic production value of auto parts.
Looking ahead to future, auto parts are heading towards modularized, smart, electrified, and lightweighting developments in response to emerging countries' demands of low-price, compact, and multi-purpose vehicles, as well as developed countries' diverse demands of high-value auto parts, new energy, and electric vehicles. Taiwan auto parts companies are bound to head towards modularization or system function developments, invest in smart manufacturing technology, increase product value-added and establish international division of labor in order to maintain industry competitiveness and company profitability.

Highlighted Products

LC Fuel Tank Manufacture Co.
Founded in 1977, LC Fuel Tank Manufacture Co. relies on high quality fuel supply system products and excellent after-sales service to successfully establish its international reputation with its private brand. Its products are not only favored by international buyers in the aftermarket but also the top choice for antique cars and modified cars.
Yu-Peng Chan, General Manager of the LC Fuel Tank Manufacture Co., stated that in addition to fuel tanks, fuel level sensors, and other parts, LC Fuel Tank Manufacture Co. mainly provides all-in-one fuel supply system solution. If assembly plants use different parts to assemble their fuel supply systems, it often leads to problems such as increased maintenance costs or failure to clarify warranty. In order to provide consumers a more comprehensive solution, LC Fuel Tank Manufacture Co. directly takes charge of the establishment of the entire fuel supply system and relies on quality control and manufacturing equipment established by its own factories to provide product choices with more assurance and efficiency to its clients.
Yu-Peng Chan also stated that another major advantage of LC Fuel Tank Manufacture Co. is its investment of coating system. There are two coating methods of fuel tanks in Taiwan: Liquid coating and powder coating. Liquid coating is also known as spray coating which is common on the market. Extensive use of liquid coating can produce odor that cause discomfort to the human body and affect working condition of employees as well as health of nearby residents. On the other hand, powder coating uses static to spray on products and melt and adhere to the surface through 220°C of heat.
Powder coating has three times more weather resistance capability and thickness than liquid coating and does not produce severe pollution like liquid coating. Although it costs more to invest in powder coating equipment, the company also gained a lot of recognition from foreign clients and helped it obtain more tangible earnings in addition to realizing its corporate social responsibility.
Yu-Peng Chan, General Manager of the LC Fuel Tank Manufacture Co. (Photography by Alan Lu)

Chen Hsong Machinery Taiwan Co., Ltd.
In order to pursuit automotive lightweighting, automobile manufacturers already adopted plastics and other composite materials to replace traditional metals in producing some auto parts. The move led to considerable demand of plastic injection molding machines from the entire industry. In order to take advantage of this wave of massive business opportunities, internationally renowned major plastic injection molding machines manufacturer Chen Hsong Group went ahead of its fellow companies and attended the Taipei AMPA exhibition for three straight years. It successfully discussed businesses with many international buyers at this year's exhibition with its strong research and development strength and excellent global reputation.
Cheng Wang, General Manager of the Chen Hsong Group, stated that his company exhibits its EJ series all electric plastic injection molding machine with four high end servo drives that provides a higher precision and quality solution to the market. In addition to its application in automobile industry, the model can also meet the injection demand of industries like medical, optical, electronics, and packaging.
Cheng Wang emphasized that Chen Hsong is the only company that exhibited injection molding machines and therefore attracted the attention of many auto parts manufactures. Taking advantage of the opportunity to interact with its clients, Chen Hsong also provided new manufacturing concepts to clients. For example, clients can actually produce many of their plastic parts by purchasing molding machines. That way, they can effectively control the quality of their products, recover the costs in two or three years, and avoid the risk of materials shortage.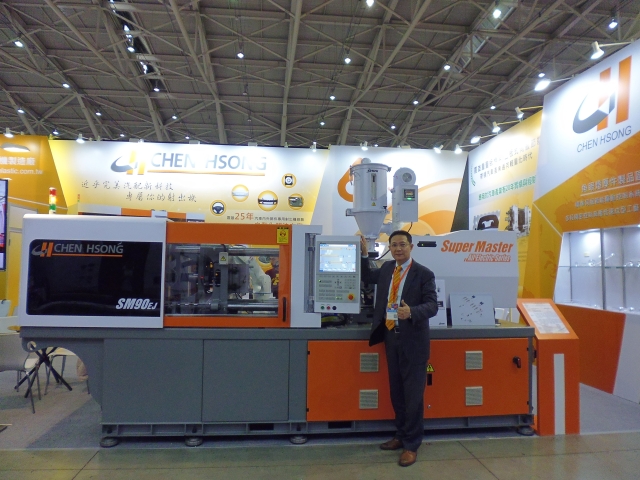 Cheng Wang, general manager of the Chen Hsong Group presenting the company's latest all electric injection molding machine (SM90EJ). (Photography by Alan Lu)

Niken Vehicle Lighting Co., Ltd.
Niken Vehicle Lighting Co., Ltd. started by selling auto parts and accessories. It has great aesthetics design foundation and benefited from local industry cluster. The company saw bright future in vehicle lighting equipment and decided to invest in research and development of automotive lighting products, including: Third brake lights, LED fog lamps, head lamps, auxiliary high beam lamps, light bar, and work lamps. Relying on its extensive sales and research and development experience, automotive lighting products made by Niken Vehicle Lighting Co., Ltd. not only have excellent practicality but also attractive designs. Therefore, its automotive lighting products are also widely used in car tuning industry.
Chien-Hung Yeh, Technical Adviser of Niken Vehicle Lighting Co., Ltd. stated that his company first launched the NK-0724 laser driving lamp with lighting range as far as one kilometer. Safety detection systems of current autonomous electric cars can also react to long range lighting in advance, which lengthen the safe distance and enhance safety performance.
Chien-Hung Yeh emphasized that the product is a new technology integrating LED lighting with laser lighting. Its high-intensity laser head is licensed by Nichia Corporation and displays an oval shape yellow light with color temperature of 4500K and does not cause glaring for drivers on the opposite side that might lead to accidents or injuries. The product also has the special feature of automatic blue light removal. Its blue light detector will turn off the power within 0.2 seconds of any blue light exposure and protect the safety of drivers on the opposite side. This is the latest laser driving lamp product launched in Taiwan.
(Photography by Alan Lu)

CENS Service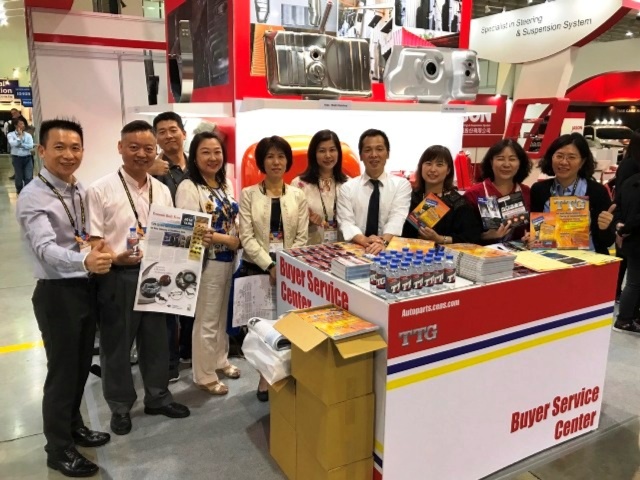 Economic Daily News and its subsidiary China Economic News Service also dispatched its full publishing team to this year's exhibition and provided buyers first-hand information regarding companies and business opportunity matching information. (Photograph by Jane Chou)
Last but not least, EDN continued to provide real-time business matchmaking services at the exhibition. Through the resources and marketing professions integrated between EDN and CENS, the first-hand buyer data and true requirements extracted from filled inquiries collected on the spot were sent back from Hong Kong to Taipei, and then processed into detailed, invaluable business letters that were eventually emailed to Taiwanese exhibitors during the show. Such a unique matchmaking service sets EDN and CENS apart from its peers, and works to help Taiwanese auto parts suppliers find out new ways to promote their products all over the world more effectively.