V-Tech Auto Parts Industry Corp. is a specialized manufacturer of quality spare parts for Komatsu industrial equipment, especially engine overhaul gasket kits.

The company has accumulated abundant experiences and know-how in its business line.
The company claims that it always manufactures products based on the standards of original parts, and adopts the highest-quality materials such as stainless steel. The firm supplies many items in overhaul kits such as cylinder head gaskets, exhaust manifold gaskets, exhaust pipe gaskets, valve-cover gaskets, shims, locks, copper washers, grommets, o-rings, oil seals etc.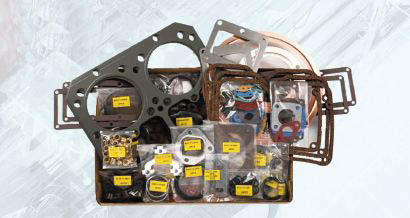 V-Tech claims that it has established a central-satellite plant system in Taiwan, in which dozens of specialized suppliers of tooling, rubber parts, metal parts, and seal makers have been closely participating in all product development projects.
The firm develops dozens of new overhaul kit sets every year, either by self-choosing target engine models, or under customers' inquires. In addition, the firm is also confident in offering the most satisfactory services to customers, with accumulated know-how and experience in the engine overhaul kit market.
V-Tech exports all its products to major customers worldwide, especially in the Asia, Middle East, Latin America, and many other nations and regions. The quality of the company's products is widely praised by customers, while the prices are also very competitive in terms of cost/performance (C/P) value.
V-Tech Auto Parts Industry Corporation
2F., No. 698, Zhongyang Rd., Xinzhuang Dist., New Taipei City 242030, Taiwan
Tel: 886-2-8522-9828
Fax: 886-2-8522-9833
E-Mail: vtech123@ms72.hinet.net
Website: www.v-techautoparts.com