Gee Mei Technology Co., Ltd. was established in 2010. It is a manufacturer and supplier specializing in the design and manufacture of vehicle LED lighting, including RV interior LED lights, RV exterior LED lights, LED light parts, and marine LED lights. ODM and OEM services are also provided. All LED lights are made in Taiwan, and the company insists on perfect quality of all products.

Through years of management and development, the company has successfully established a place in the professional automobile electronics industry, providing consumers with the best product portfolio at competitive prices and outstanding quality. In response to the rapidly changing lighting market, Gee Mei Technology is committed to designing sustainable LED lights and continuously developing new products, which have been successfully sold to North America, Western Europe, South Africa, East Asia, New Zealand, and Australia with excellent reputation.

In terms of product design, the main development direction is based on customer demand so as to design lights that are easy to use, excellent in quality, and provide long-term lighting. The main feature of RV vehicle interior lights is the luminous button function for various lights and night lights. This convenient design allows the user to quickly find the switch when necessary at night during resting hours. In addition, outdoor lighting products adapt to various weather changes, emphasizes the waterproof design, and strengthens the structure of the light, so that the user can experience our user-friendly design both in and outside the vehicle.

Gee Mei Technology's product diversity and continuous design development have always been major factors in expanding the market and sales success. Consumers can also enjoy the wide range of solutions and expert advice provided while purchasing the company's products.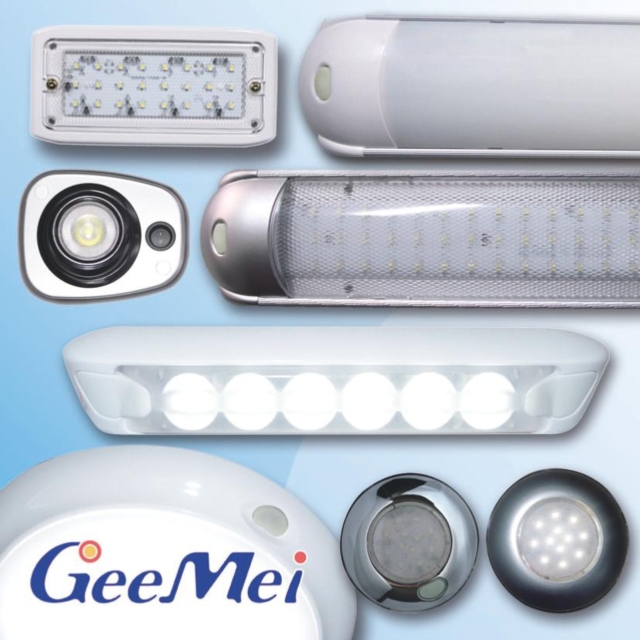 Gee Mei Technology is committed to designing and manufacturing interior LED lighting for installation inside RV vehicles and vessels.(photo courtesy of Gee Mei Technology)
Buyers interested in Gee Mei Technology may go to: www.gee-mei.com.tw