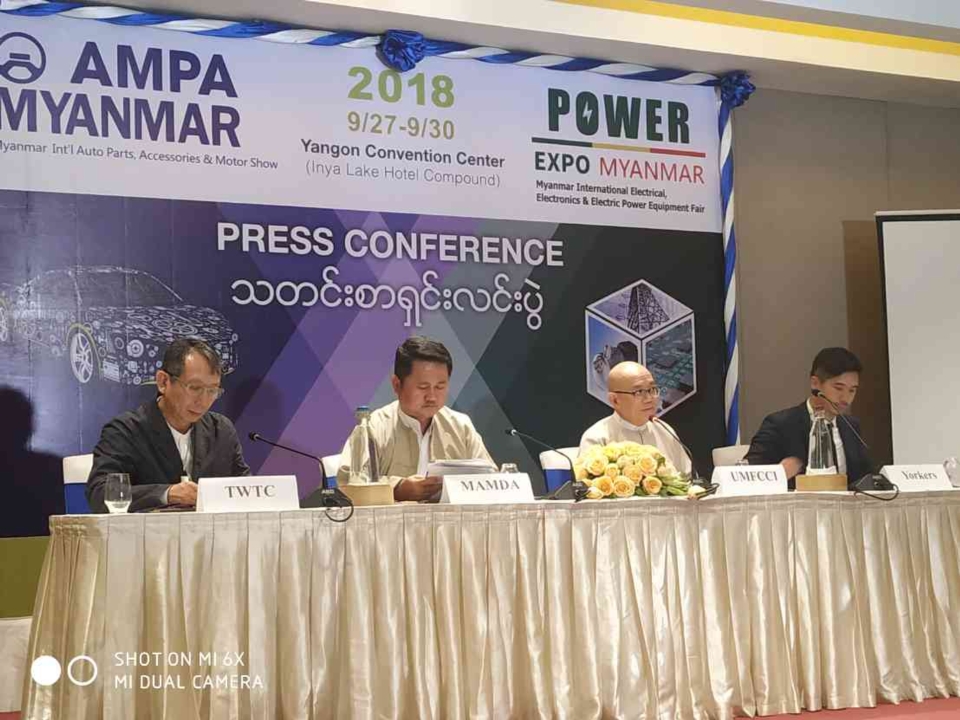 The countdown is on for the launch of two shows that will put Myanmar on a journey to alter its future. AMPA Myanmar (Myanmar International Auto Parts, Accessories and Motor Show) and POWER EXPO Myanmar (Myanmar International Electrical, Electronics & Electric Power Equipment Fair) will kick off in just 2 weeks, beginning from Sept. 27 to 30, and will showcase the top products for a nation in transition.
The twin shows are returning for their sixth year and will mirror the tech power of 10 participating nations, namely China, Germany, India, Japan, Korea, Malaysia, Myanmar, Taiwan (R.O.C), Thailand, and Vietnam that are represented by more than 120 exhibitors.
These events will also facilitate a projected 1,000+ one-on-one trade meetings to promote potential business cooperation between global buyers and exhibitors.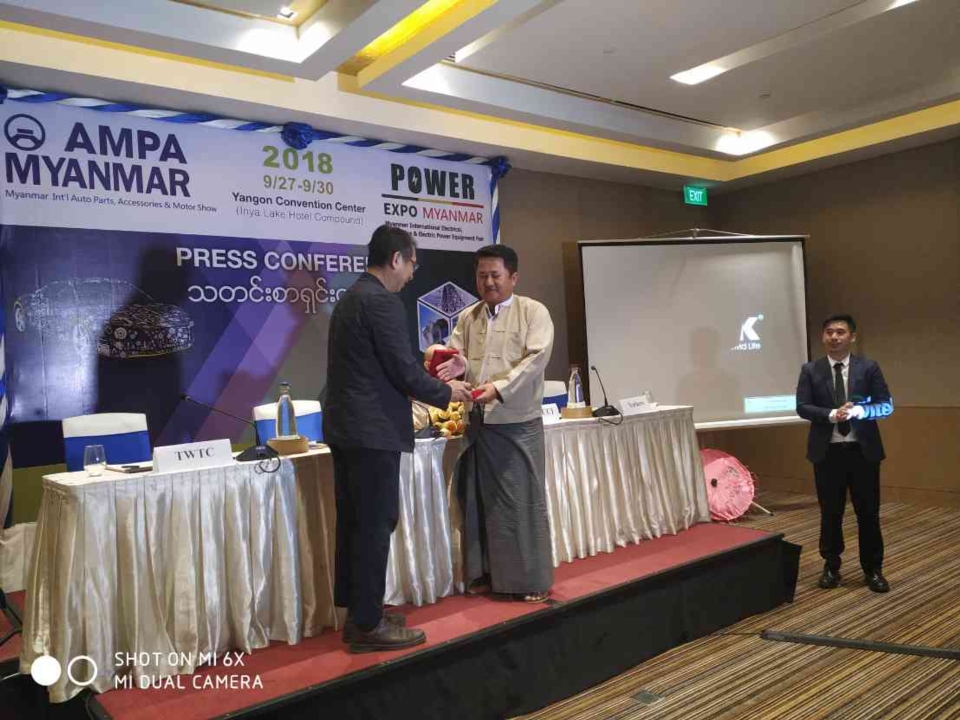 AMPA Myanmar 2018 spotlights a complete selection of Automobile Parts, Trailer Accessories and Parts, Car Accessories and Care Products, Motorbike/ Scooter, Motorcycle Parts, Wheels, Vehicle Equipment & Repair Tools, Hand /Power Tools, Consumer Electronics Products, Illumination Device and Springs, and Batteries. Exhibitors include well-known enterprises such as ELIG BRAKE TECHNOLOGIES CORP., SUPER BATTERY CO., LTD., and TONGTAI MACHINE & TOOL CO., LTD.
POWER Expo Myanmar 2018 also aims to plug Myanmar into the power grid by offering a full array of Power & Electrical Machinery Equipment, Test and Measuring Equipment, Industrial Electronic Equipment, Battery, Choke & Coil, Fusible Resistors, Scientific & Measuring Instruments, Hardware & Pumps, Electrical & Electronics, Lights & Lighting, Electric pipe & pipe network and Communication Equipment. Key exhibitors include TAYA (VIETNAM) ELECTRIC WIRE & CABLE, GOOD WILL INSTRUMENT, HIWIN TECHNOLOGIES CORP. , SHIHLIN ELECTRIC & ENGINEERING CORP. and TATUNG COMPANY.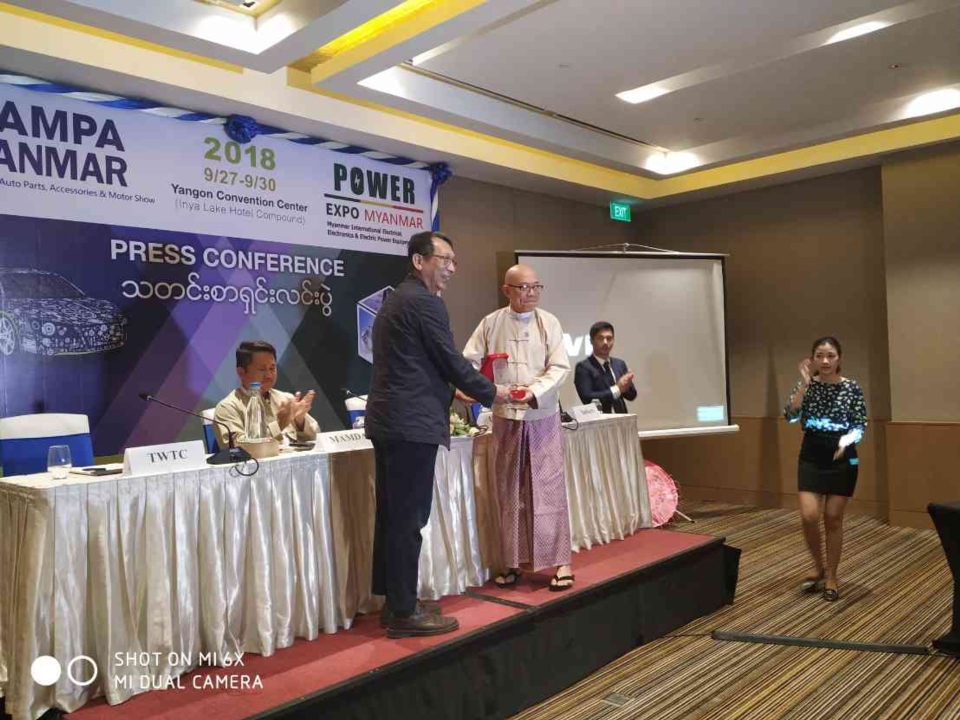 This year the "Taiwan Excellence Pavilion" will showcase 64 Taiwan Excellence award-winning products from 21 Taiwanese brands which have been bestowed the Taiwan Excellence Award. These products are recognized for their excellence in R&D, design, quality, marketing and manufacturing. Awarded products include the super wide-angle car video recorder (TRANSCEND), the 12 Channels Full HD Mobile DVR (EverFocus), the Single Phase Smart Meter (TATUNG), and the Cloud Touch Projector (Everest).
Organized by TWTC (Taipei World Trade Center Co., Ltd.) and Yorkers Trade & Marketing Service Co., Ltd., the twin events are also supported by UMFCCI (the Republic of the Union of Myanmar Federation of Chambers of Commerce & Industry), MAMDA (Myanmar Automobile Manufacturers and Distributors Association) and AHK MYANMAR (Delegation of German Industry and Commerce in Myanmar).
Two weeks prior to kickoff, the Special COUNTDOWN Pre-Show Press Conference will be held Sept. 11 at the Novotel Hotel to highlight AMPA Myanmar and POWER EXPO Myanmar, which will run from Sept. 27 to Sept. 30 at the brand new hall-Yangon Convention Center(YCC) at Inya Lake Hotel Compound.
● Visitor Information:
Venue TD>
Yangon Convention Center, YCC (Inya Lake Hotel Compound)
37 Kabar Aye Pagoda Road, Mayangone Township, Yangon
TD> TR>
Date and Time TD>
Sept. 27 – 29, 2018 10:00AM - 5:00PM
Sept. 30, 2018 10:00AM - 4:00PM
TD> TR>
Exhibition Scale TD>
120+ Exhibitors
TD> TR>
Exhibiting Countries TD>
10 countries: China, Germany, India, Japan, Korea, Malaysia,
Myanmar, Taiwan (R.O.C), Thailand, and Vietnam.
TD> TR>
Visitors TD>
5,000+ people (Projected)
TD> TR>
Admission TD>
Trade Visitors and Professionals Only.
Children under the age of 12 will not be admitted.
TD> TR>
● Press Contacts:
Ms. Ching Pien: chingpien@taitra.org.tw
Ms. Winnie Liao: winnie@chanchao.com.tw
● For local inquiries:
Taiwan Trade Center, Yangon Yorkers Exhibition Service (Myanmar) Co., Ltd.
Tel: +95-(0)-18603461 Tel: +95-(0)-19010753~4
Fax: +95-(0)-18603463 Fax: +95-(0)-19010696
E-mail: yangon@taitra.org.tw E-mail: myokyiphyutun25@gmail.com
● About the Organizers:

The TWTC was started in January 1986 by Taiwan's foremost trade promotion organization, the Taiwan External Trade Development Council (TAITRA), to provide a single, modern venue that would combine exhibition space, conference facilities, offices, and hotel accommodation for international business. TWTC combines every possible service that brings together a vast consulting service on trade-related issues, trading partners, suppliers, and markets.

Based in Hong Kong, Yorkers Trade & Marketing Service Co., Ltd. has been a market leader in the field of event production (Exhibitions & Trade Fairs) in ASEAN, South Asia, and China for nearly three decades. YORKERS has held numerous machinery-related events in Bangladesh, Cambodia, China, Pakistan, Myanmar, Vietnam, and Taiwan. With years of event-organizing experience, YORKERS trade fairs pave the way for emerging markets.