Frankfurt- Superbco Industrial Co., Ltd. retains its own R&D team and has continuously rolled out new hand tool products in recent years through innovation, product quality, speedy shipment and trust as principles when servicing clients. The firm showcased at Automechanika Frankfurt Hall 10.1 at Booth No. G92, displaying high quality and highly competitive products.

Superbco General Manager Chen Fu-Lang said their new products were very well received by foreign buyers. To retain a strong footing in the market, client servicing is much more important aside from just providing good product quality and functionality, he said.

The firm's newest product is called the "Diamond Force Ratcheting Wrench," using 40CRV (Chrome-Vanadium Steel) material and displays a unique polishing brought on by mercury electric mist treatments. The patented "diamond-shaped" stick body design conforms to ergonomic needs, making the tool easy to operate.

Much care was given to designing the gripping part: its "inverted triangle" design decreases the chance of slipping when using the tool and the firm also increased 25% of contact area, which allows 25% of energy-saving effects for the user. The wrench has also added open-ended and spline-end designs to the overall product, allowing a more efficient usage of the tool. The Diamond Force Ratcheting Wrench has patents in the U.S., Germany, Taiwan and China.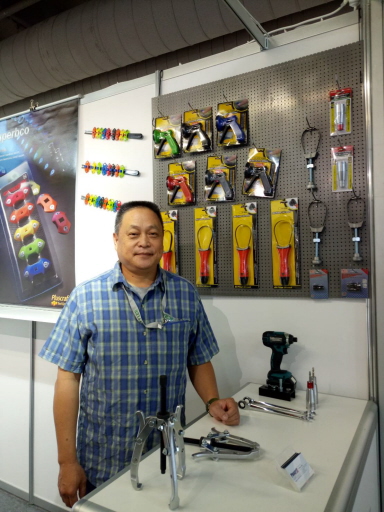 Superbco General Manager Chen Fu-Lang said their new products were very well received by foreign buyers. (photo taken by Lisa Kuo)