MIMS Automechanika Moscow 2018 kicked off from Aug. 27 to Aug. 30 at ExpoCentre in Moscow, where over 1,200 exhibitors from 40 countries around the world, occupying 40,000 sq meters of showroom space.

The show was organized by ITEMF EXPO, founded by ITE, Automechanika Frankfurt and Messe Frankfurt. As the organizing team are well-respected and highly influential in Russia, Eastern Europe and Central Asia, MIMS has become the country's largest international professional automotive service industry since its debut in 1991.

Organizers presented products of a wide spectrum, ranging from Parts & Components, Electronics & Systems, Car Wash, Care & Reconditioning, Accessories & Customizing, Repair & Maintenance and Management & Digital Solutions.

Attending Taiwanese exhibitors include around 30 companies: Cheng Feng-Chihhui Co., Ltd., Brightstar Technology Co. Ltd, C.T.I. Traffic Industries Co., Ltd., Formosa Saint Jose Corp., Kenda Rubber Industrial Co., Ltd., Kymyo Industrial Co., Ltd., Luh Dah Brake Corporation, Mao Chuan Industrial Co., Ltd., Micro-Star International Co., Ltd., Queen Jen Co., Ltd., Sding Yuh Industry Co., Ltd., SiCan Co., Ltd, Taper Pro Industrial, Inc., Techwell Industrial Co., Ltd., Tzer Li Enterprise Co., Ltd., Vespark Industrial Co., Ltd., Yar Jang Industrial Co., Ltd., Yes Auto Parts Co., Ltd., Zhi Hong Hardware Co., Ltd., Chang Hong Energy Technology Co., Ltd., Globe Industries Corporation, Great Combination Enterprise Co., Ltd., Stone Will Co., Ltd., Importers and Exporters Association of Taipei and Economic Daily News (CENS). The welcoming reception among Taiwanese exhibitors coming to MIMS signifies the industry's optimistic outlook on the lucrative local automotive market.

Economic Daily News is Taiwan's professional economic-focused media, with its subsidiary China Economic News Service (CENS) as the forefront of B2B export media. The media platform had its own booth at MIMS (F899), where foreign buyers were able to subscribe to CENS' procurement guide books like Taiwan Transportation Equipment Guide (TTG) and its USB e-magazine version. Also, buyers can sign up for real-time biz match-ups with Taiwanese suppliers that are showcased in TTG. The Economic Daily News also sent out press with the delegation to cover on-site coverage, offering the fastest updates on the show for both newspaper and online publication.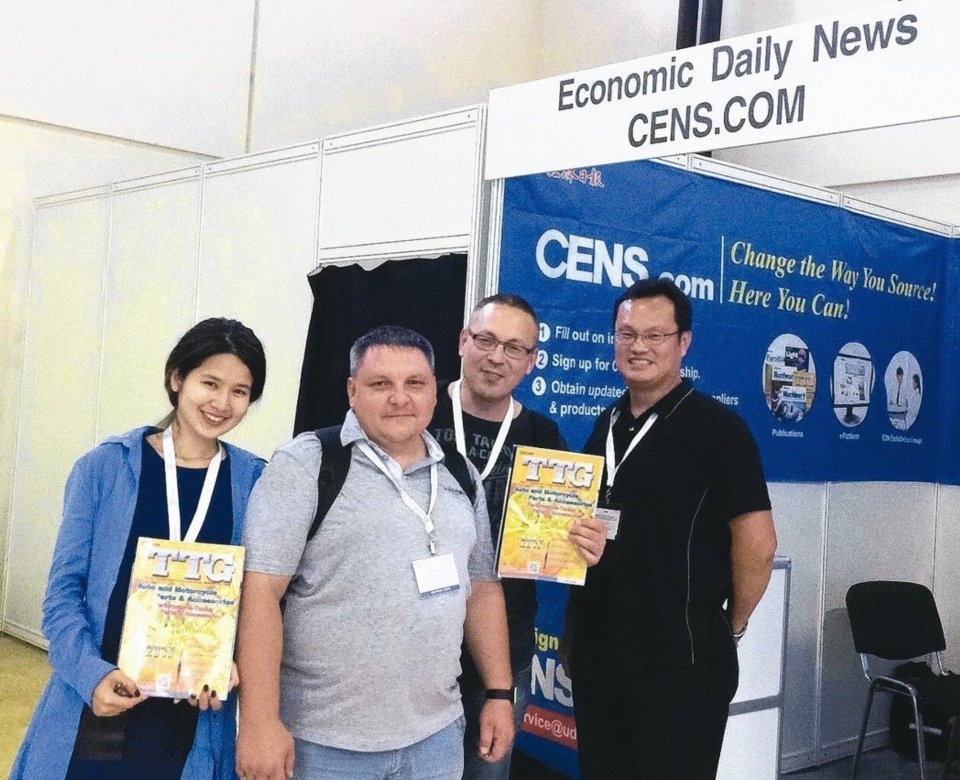 File photo of buyers posing with Taiwan Transportation Equipment Guide in 2017. (photo courtesy of CENS)
Original Article:
Economic Daily News