Shin Chun Enterprise Co., Ltd., founded in 2003 in Kaohsiung of Southern Taiwan, focuses on making and exporting screws and supplying high-end products that are popular with buyers globally, despite the worldwide depression.

Shin Chun rolls out 1,000 tons of screws per month, with large production capacity and diversified products which helps tap critical markets as Europe, Japan and the U.S.
Shin Chun's production lines are installed with advanced equipment as one-mold/two-stroke precision cold-forging machines, special-purpose tapping machines, one coating line, and optical sorting machines, enabling flexible production to meet customers' diversified requirements.

The company has successfully developed low driving-torque screws named Winer Screws, which feature a unique design with a "jagged diamond" thread rather than the traditional round type. This design lessens contact between thread and workpiece after penetration to reduce friction, so less torque is needed to set a screw. Besides, the jagged thread also greatly facilitates cutting wood fiber, also allowing more storage of wood dust, as well as reduces wood crack.

Since becoming ISO9001:2008, ISO14001:2015, ISO/TS16949:2016 certified, Shin Chun has acquired ISO/IEC-17025:2005 certificate for Laboratory Accreditation, which not only enhances Shin Chun's product quality but also provides additional service to clients.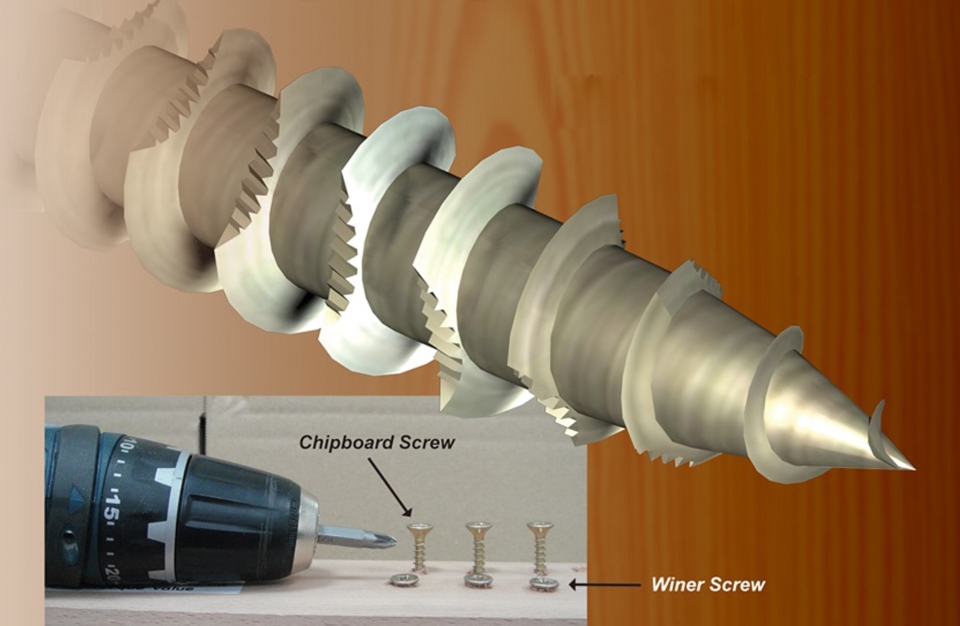 Winer screw®" has been tested by ATS (Asia Technical Services) by using Schatz VE Germany. The drilling torque is around 30% less than normal chipboard screws. (photo courtesy of Shin Chun Enterprise Co., Ltd)