2018 Automotive Aftermarket Products Expo (AAPEX) will be kicking off from Oct. 30 to Nov. 1 at Sands Expo Center, where the Economic Daily News (CENS.com) and Taiwan's industry associations and unions will be leading a group of 61 Taiwanese exhibitors.

Taiwan's automotive parts is an industry highly reliant on exports; good prices and quality products makes Taiwan highly competitive. According to Taiwan Transportation Vehicle Manufacturers Association's statistics, Taiwan's auto parts exports accumulated a total value of NT$104.3 billion between January and June this year; exports to the U.S. made up a whopping 40%. Popular auto parts exported were mirrors, power windows, sunroof, auto body stamping parts, electronics parts, transmissions and wheels (including wheel rims and tires).

AAPEX is regarded as the most important platform for those who wish to develop their reach in the U.S. market and U.S. automotive aftermarket. For Taiwanese brands that are highly sensitive to the market pulse, AAPEX is the show that they can't miss. These brands include engine parts supplier Wei Ann Auto Co., Ltd., brakes maker Sajones Co., Ltd., vehicle bumper parts supplier Tong Yang Industry Co., Ltd., auto lamp and light maker Eagle Eyes Traffic Industrial Co., Ltd., vehicle-use electronic sensor maker Cub Elecparts Inc., alternative energy supplier New Power Technology Co., Ltd., vehicle roof racks supplier King Rack Industrial Co., Ltd. and maintenance equipment makers like De Poan Pneumatic Corp. and Kae Dih Enterprise Co., Ltd. These companies are at the top of their game in their respective fields and will be vying for biz orders side-by-side with global players.

The Economic Daily News (CENS.com) will have its own booth (8216) at AAPEX, offering professional buyers free procurement of Taiwan Transportation Equipment Guide (TTG), Guidebook to Taiwan Handtools, Taiwan Industrial Suppliers (TIS) and AAPEX Special Report. This is provided in tandem with CENS.com's real-time biz matching services, which helps both buyers and Taiwanese suppliers get the best matches far ahead than competitors.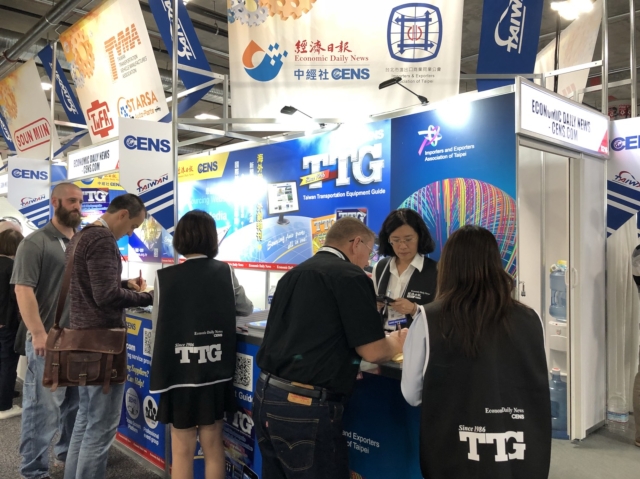 Last year saw bustling crowds at the CENS.com booth at APPEX, where buyers obtained publications like TTG and the AAPEX Special Report. (photo courtesy of CENS.com)