LC Fuel Tank Manufacture Co. supplies professional fuel systems, such as fuel tanks, fuel filler tubes, fuel filler neck and fuel tank straps, sending units and engine oil pans for fuel systems, which have all passed the highest and most rigorous evaluation, factory inspections, and quality certification for OEM auto factories. The company now boasts over 1,500 products items.

General Manager Chan Yu-Peng mentioned that LC Fuel Tank mainly provides customers with integrated fuel system solutions. Fuel tank is one of the most important parts of fuel engine as it can determine the safety and property of the drivers and pedestrians, and therefore the company employs the highest standards to assure consistent and high product quality and performance. To the end, the company adopts certified galvanized steel coil from China Steel, with the raw material undergoing hardness, tensile strength, percent elongation and yield strength tests before entering production processes. Throughout the entire production process, products must undergo multiple strict and detailed quality inspections. Even after the production process, high-precision electronic leak tests are carried out as well to ensure that the highest quality standards are reached.

In 2012, the company acquired the world's third-largest fuel system manufacturer in China, helping to significantly expand its product lines and market shares and strengthen its competitiveness in the automotive-use fuel system market. Outperforming its competitors by embracing the Industry 4.0 concept, the company has imported the majority of its manufacturing machines from Japan and is slated to complete its new factory in Xiluo Futian Industrial Zone in 2019. The new plant's production lines will be equipped with 6-Axis robot arms integrating labor workforce, so as to upgrade product quality and double its production capacity.

In addition, the company has adopted powder coating equipment that uses electrostatic gun, which ensure particles of powder adhering to surface evenly. The powder coating is heated to 220 degrees Celsius, allowing the particles to melt to reduce both air and water pollution as powder coating requires no solvent, which usually are volatile organic compounds (VOCs) to keep the binder and filler parts in a liquid suspension form. Sticking to environment friendliness as its corporate social responsibility, the company is the only fuel system manufacturer doing all its production in-house, from assembly, coating to shipping. The company's quality product and service offerings have been well recognized by domestic and foreign customers, turning it into an OEM fuel tank maker for a domestic automaker in 2016 and a first-tier supplier in its field.

With the AM market entering stable development, the company has actively developed different client segments to expand its business capabilities. By leveraging its know-how and experiences in fuel tank solutions, the firm has tapped into the classic car market, offering vast and in-depth service value. It has also gradually made a name around the world and will continue to offer innovative and advanced products to expand its brand value.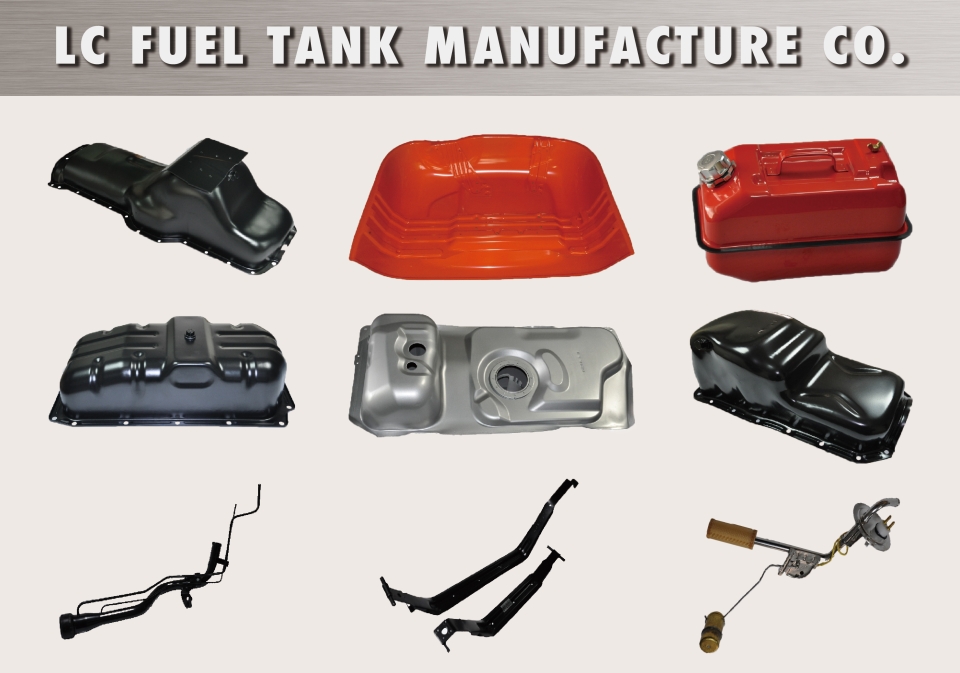 LC Fuel Tank Manufacture Co. makes fuel tanks/gas tanks, filler necks, fuel tank straps and oil pans. (photo courtesy of LC Fuel Tank Manufacture Co.)