There is news of a far-reaching alliance between Ford Motor and Volkswagen, according to those familiar to the matter, reported CNBC.

The two world's largest automakers plan to announce the alliance next January, a partnership that would encompass sharing assembly plants in the U.S. to avoid new the wave of tariffs, joint marketing and distribution as well as product development, possibly on the development of autonomous and electrified vehicles.

Volkswagen CEO Herbert Diess told reporters in Washington D.C. after meeting with President Donald Trump that he had discussed the alliance with Ford Motors. The meeting, reported CNBC, which consisted of heads from European auto executives from companies such as Daimler and BMW, was aimed to ease trade tensions amid Trump's previous threat to impose new tariffs on European car makers.

With global auto market facing traditional competitive challenges but also risks from the widespread technological transformations and upgrades, an alliance between the two auto giants could mean both leveraging their strengths and weaknesses in different markets.

The most talked-about collaboration in the alliance and regarded the most far-reaching by industry watchers is the two companies' potential joint efforts in developing their own autonomous and electrified vehicles and bring them to market. Both companies have already spent billions of U.S. dollars into the field.

Aside from joint efforts in developing and assembling commercial vehicles, the two giants are also discussing possibilities of sharing assembly factories in not only the U.S., but also in other countries. In terms of marketing and sales, both companies could work their market presence in different countries into the alliance as well; Ford in the U.S. and Volkswagen in Europe and China, both markets where the U.S. auto maker is struggling.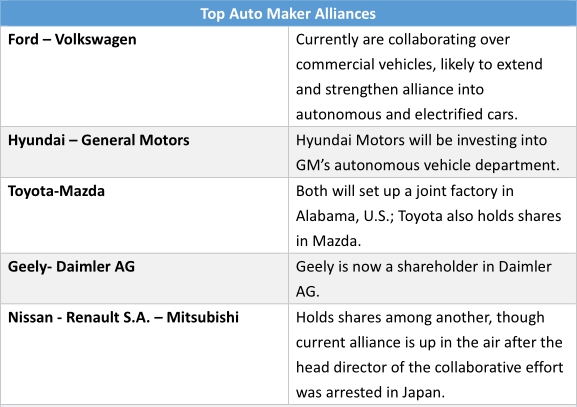 Data Credit: Reuters
Light trucks are also another field where the two companies could expand their joint endeavors, as Volkswagen is struggling to make a dent in that particular market, but also happens to be a niche where Ford excels in.