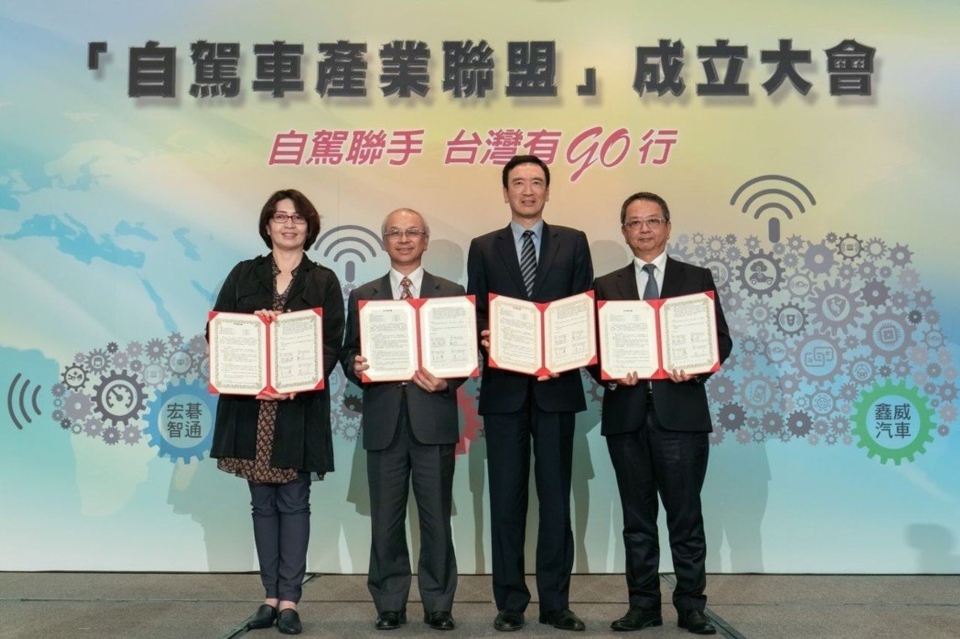 Four representatives of the Autonomous Vehicle Industry Alliance pose holding the signed MOU, signifying the next step in the industry's goal to produce homegrown electric light buses. (Photo courtesy of Automotive Research & Testing Center)
November 20 marks a huge milestone in Taiwan's self-driving industry.
The Automotive Research & Testing Center (ARTC) joined hands with 18 brands, including Acer ITS Inc., Global UniTek, Shin Wei Automotive Industrial and others of Taiwan's top-to-bottom industrial chain to form the Autonomous Vehicle Industry Alliance. Their overall aim is to shore up support for a new, innovative operation model for the autonomous vehicle industry, drive the development of autonomous vehicles' industry chains and bolster Taiwan's auto industries' role in the global self-driving vehicle industry chain.
This is a team effort between private and public sectors, connecting technological prowess in both hardware and software capabilities and combining services to achieve self-driving integration, energy integration and vehicle body production. The aim is to eventually design and manufacture a homegrown SAE Level 4 autonomous pure-electric light bus and to see such vehicles hit the road in Taiwan. The cumulation of this union is a milestone in the Taiwan's auto industry's goal to produce its own self-driving vehicles.
Many countries around the world have already begun drawing up policies to regulate self-driving cars. According to Bloomberg, 114 cities have already begun pushing trial runs of self-driving cars as of October, 2018. Companies that are part of this project includes traditional auto brands like General Motors, BMW and Ford, as well as technology powerhouses like Google, Uber, and startups like Easymile and nuTonomy. Such diversity shows how the autonomous vehicle industry serves a multitude of different fields and the optimism towards a burgeoning industry. There is already a wide rage of applications in the self-driving industry. Currently, there are already over 40 projects of self-driving cars on the road, including public transportation shuttle buses, car hailing services, logistics and general testing. Self-driving shuttle buses already make up half of the operations in that particular field, signifying the autonomous vehicle era is fast approaching.
Ministry of Economic Affairs Department of Industrial Technology (DoIT) is one of the top government agencies pushing for unmanned vehicle industry's development in Taiwan from research and development to policy-making. One of the results is the "Unmanned Vehicle Technological Innovation and Experiment Act, which has already passed the initial legislative stages and would still require to go through the three-staged legislative readings. There are expectations to see the regulations in place early next year, making it the first regulations of its kind for land, water and aerial unmanned vehicles in Taiwan.
DoIT Director Luo Ta-shen boasted that Taiwan maintains key factors to develop the unmanned industry: mature technology, a prepared industry, vehicle penetration, comprehensive laws and comprehensive fields for testing. Such factors make Taiwan's unmanned industry an innovator in the field, rather than a follower, Luo said. Taiwan's top administrative government agency, the Executive Yuan, has led the crusade for self-driving vehicles through four aspects: industry development, technology development, environment construction and law revision. A fleet of self-driving buses was launched this May, thanks to the favorable environment. Now, under the close collaboration between the industry and public sectors through the alliance, it has borne a successful, integrated domestic, competitive industry chain.
In tandem with drawing up law amendments and technological advancement, Luo expressed hopes of seeing collaborative efforts reached between the government, industry, academic and local government sectors. There should be ample understanding of local governments' needs to make self-driving cars reach the public and roads possible. This is to ensure to lay down an innovative operations model that caters to the everyday people and to create a favorable environment for domestic production of key technologies and have a stake in the global autonomous vehicle industry.
Taiwan Electrical and Electronic Manufacturers' Association consultant and V-team (Taiwan's vehicle system integration alliance) head Woody Duh said that the association's proactiveness in developing V-team is its realization of the future of self-driving vehicles by offering a seamless, connected platform of semiconductors, telecommunication, automotive electronics and auto industries together. Duh is optimistic about ARTC's efforts for a more integrated platform, a goal similar to V-team's. He believes both would be able to lead Taiwan's self-driving industry to new heights and expand business around the world.
Under the support of DoIT, ARTC has invested into advanced driver-assistance systems for over a decade, seeing self-driving cars head onto regulated areas for showcasing in Lukang, Changhua, Keelung Harbor West Bank Pier, Taipei Nangang Jingmao 1st Road and Tainan Shalun Self-Driving Testing Area. Much of the sensors, data and programming in "Made in Taiwan" self-driving cars were tested thoroughly, enabling them to collect abundant data to solidify its services. Combining legal persons and industry software and hardware prowess would be the main motivating energy behind bolstering the alliance's growth, with the aim to see self-driving public transportation shuttle buses to hit the road and enter our everyday life.
The alliance, led by ARTC, Acer ITS Inc., Global UniTek and Shin Wei Automotive Industrial, joined together to sign a memorandum of understanding to tie their operations and services together, which was overseen by DoIT Director Luo at the ceremony. Suppliers under the alliance who were also present at the signing ceremony include NVIDIA, Hiwin Technologies Corp., Lioho Machine Works Ltd., Taiwan CECI Engineering Consultants, Inc., Liyuan Machinery, Lite-On Technology, Amita Technologies Inc., Gigabyte Technology, Alpha Networks, Chroma ATE, Shun On Electronic, Studio X-Gene Co., Ltd., Fukuta Elec. and Machinery Co., Ltd, Whetron Electronics Co., Ltd. and Wieson Technologies. Amid the signing ceremony, organizations and bus operators like Taiwan Electrical and Electronic Manufacturers' Association, Taiwan Transportation Vehicle Manufacturers Association, Taipei City Department of Transportation, Taichung City Department of Transportation, Capital Bus and Great City Life Bus were in attendance as well. Such a membership expanding across different fields that all have a stake in the autonomous vehicle business, only serves to show that Taiwan's Autonomous Vehicle Industry Alliance is already prepared and ready to take on the global stage.
As reiterated by Luo, the alliance's main goal not only covers exploring operation models pertaining to smart transportation, improving safety and convenience for public transportation, but also connecting the entire industry chain from top to bottom, synthesizing the production energy behind these automotive brands under a united front. At the same time, the alliance aims to team up with local governments to be able to meet localized demands and needs, in terms of operation models and systems, in order to allow self-driving cars become more integrated into the consumers' lives. The ultimate goal, however, is to propel homegrown self-driving vehicles to the global market.
ARTC Chairman Chen Chao-yi adds that the alliance operates by integrating each alliance members' products in the self-driving sphere to eventually produce their own SAE Level 4 self-driving electric bus and to see it achieve consumer operation.
Vehicles produced under the alliance's banner will be similar to a typical industry chain: Shin Wei Automotive Industrial will produce the vehicle's body, Global UniTek, will oversee the EV system, ARTC for Advanced Driver Assistance Systems, which will integrate the vehicle's sensors, Internet of Vehicle, image and data navigation, decision making and control systems, making the vehicle become safer and smarter. A vehicle is useless without an environment to operate in, and that is where Acer ITS Inc. comes in; the company will be in charge of the overall operations model, tap into different fields to provide their self-driving vehicle services and hopefully, construct the most comprehensive domestic autonomous car industry and services ecosystem.
Acer ITS Inc. Chairman Ben Wan said the company has been developing intelligent transportation system and peripheral products for many years. Currently, they are the leading brand in offering e-ticketing solutions and ITS services. They hope to leverage the experiences gained in e-ticketing into the smart vehicle parking field. As technology in telecommunications, artificial intelligence and Internet of Things become more and more mature, self-driving vehicles becoming an integral part of the smart transportation field is only inevitable.
The homegrown self-driving electric light bus, brought together by the alliance, serves to pivot the industry's development of self-driving services and business into offering better smart transportation services, improve smart shuttle services on a local level, overcome urban safety for self-driving services, in terms like functionality in traffic jams and potential situations when electric cars run out of juice.
The autonomous electric light bus can hold 15 people, equipped with multiple sensor systems, integrated self-driving systems, decision making and control systems that pick out obstacles like pedestrians, bicycles, other vehicles and traffic signs. The decision-making systems would control the vehicle, enabling the potential application of automatic shuttling services, preferably implemented on closed routes in recreational scenic areas, parks or on public roads with shuttle-only lanes.