Electric cars are expected to enter a fast-growth period this year – media reports indicated that traditional automotive heavyweight Hota Industrial Mfg has seen a huge increase of orders from one of its major clients, Tesla Inc.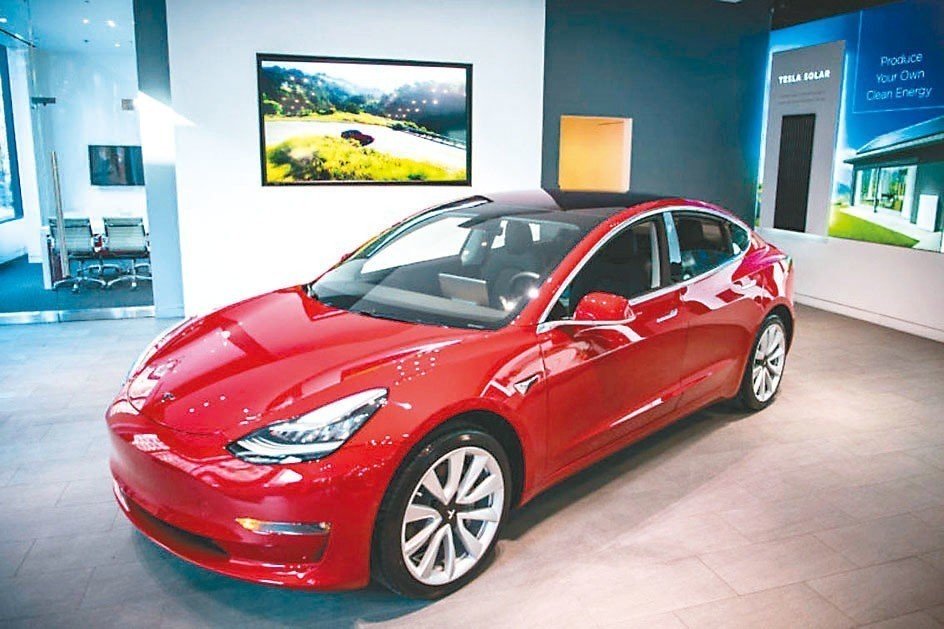 Newspaper photo
Reports indicate that Tesla is likely to become Hota's biggest client this year should the rumors turn out true. Also, Ford's electric cars is currently in its mass production testing stage and aims to increase shipment in the third quarter this year; at least two other European-based auto brands are scheduled for delivery next year, with estimates to sell 400,000 units.
On the other hand, Chinese-produced new energy vehicles expect to see production reach 1,500,000 units. This is prompted by the adoption of policies around the world by governments for new energy-powered vehicles, as well as the widespread willingness to develop the industry from traditional auto companies.
Hota Industrial Chairman Shen Kuo-jung offered that this year could be the turning point for the development of new energy vehicles and traditional vehicles. He expects electric cars will quickly enter a fast development stage, while traditional auto makers will move towards expanding their business in offering new energy vehicles and stepping back production for the traditional variations.
For Hota, production of fuel-powered vehicles is on a standstill as Tesla sales continue to grow, with expectations to exceed Hota's biggest client BorgWarner.
Aside from Tesla, Hota also acquired orders for Ford's electric vehicle, which is currently testing mass production operations, and expects to hit the market in the third quarter, aiming to sell 500,000 units per year. Two other European brands are aiming to mass produce during the first and third quarter respectively next year, with current expectations at 400,000 units per year.
In order to maintain consistent production of electric cars, Hota's demand for speed reduction gearboxes will continue to increase; to resolve this, the company is currently planning a new factory in Dapu, Chiayi County.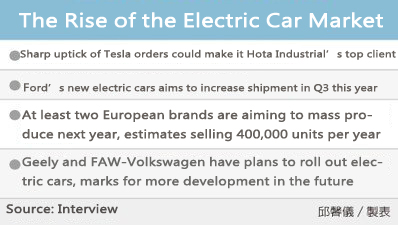 Economic Daily News report
Cayman Engley Industrial is China's FAW-Volkswagen, FAW Group and Geely's top-tier supplier of auto parts. Apart from designing new materials for client demands of lightweight metal part, the firm is also producing battery cases for electric cars.
In anticipation of the direction the market is developing towards to, Engley began to invest in new equipment and focusing on developing battery cases the year before, which will likely become the firm's prime product. Engley has already taken orders from FAW-Volkswagen last year, while Volvo expects to contract out their second line of electric cars this year. Engley aims to dominate the market by 30% of market share, taking top and bottom bodyshell orders for all sorts of vehicle types. China's new energy vehicles, as of the end of last year, has maintained number one in total sales for four consecutive years.
News source:
CENS