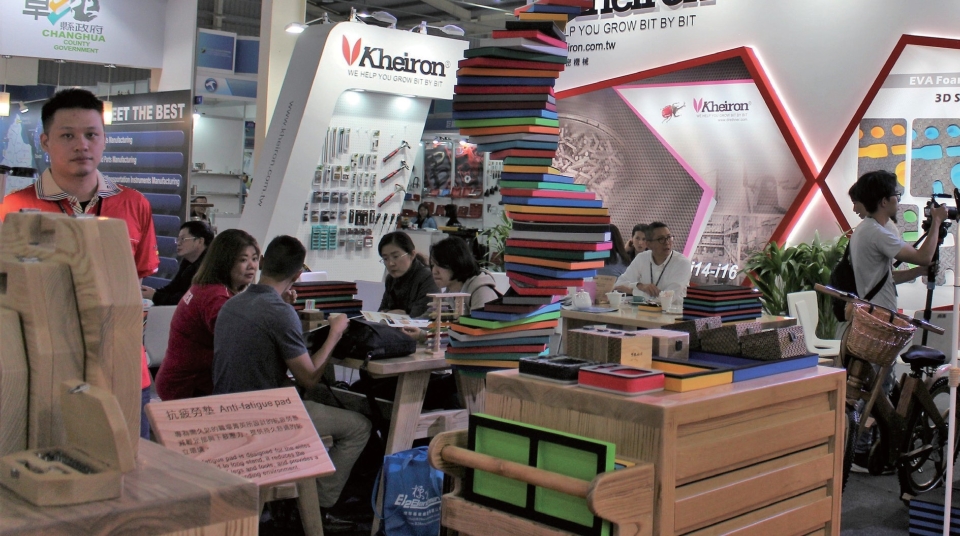 Best Friend Enterprise is carving out a niche in the hand tools and hardware industries, with their specialties EVA foam and wooden products. (Photographed by Chao Ting-yu)
In recent years, Taiwan's hardware products are moving towards the stage of boutique manufacturing, giving firms the space to pursue more innovations, diversify their product line and offer small volume production for diverseproducts.
Not all companies are able to make such a transition successfully, however, one of them was exhibiting at THS, and despite the long road of turning the company around, the firm now boasts a vast, diverse product line that they hope to find a niche market to tap into.
Best Friend Enterprise Co., Ltd., a professional Taiwanese PE/EVA foam and now, a wooden product manufacturer, is such a company. Originally, a laser engraving company for hand tools, the firm began to expand its production line to other areas like PE/EVA foams and eventually crossed into making wooden products, all the while employing their core technology of laser engraving.
For example, PE/EVA is usually applied as packaging material for hand tools, just as how Best Friend had done in the past. However, this application is just one tip of the iceberg. Best Friend also applied their EVA foam producing prowess into everyday products, like rolling out yoga mats, small containers to put everyday times like keys or spare change, foam mats for mechanics to kneel or lay on while working in the workshops and foam mats that lessen pressure on the body for work that required long hours of standing.
Going Green
Their next foray into the wooden product market was spurred on from their recognition of environmental issues. Best Friend Chairman Li Chia-Jun said they believed wood is not only a green-friendly material but also a versatile material that can be used to make all sorts of products -- ranging from the everyday products, furniture to toolboxes to hold tools, as well as using their own foam materials as internal packaging. They even created their own wooden bicycle, which due to its limited quantity, has become a collection item of a sort for biking enthusiasts.
To achieve green awareness through using wood products, Best Friend obtained the Forest Stewardship Council (FSC) certification, which "ensures products come from responsibly managed forests that provide environmental, social and economic benefits", according to the FSC website.
Among their most recognized products is the wooden tool cart, a product usually coming in metal material. While it first came out last year, Li said the wooden tool cart has continued to wow buyers, foreign buyers especially. "We don't want to be bogged down by pricing competition, so we aim to make unique, innovative products that give us a better edge and more exposure by differentiating us from the pack."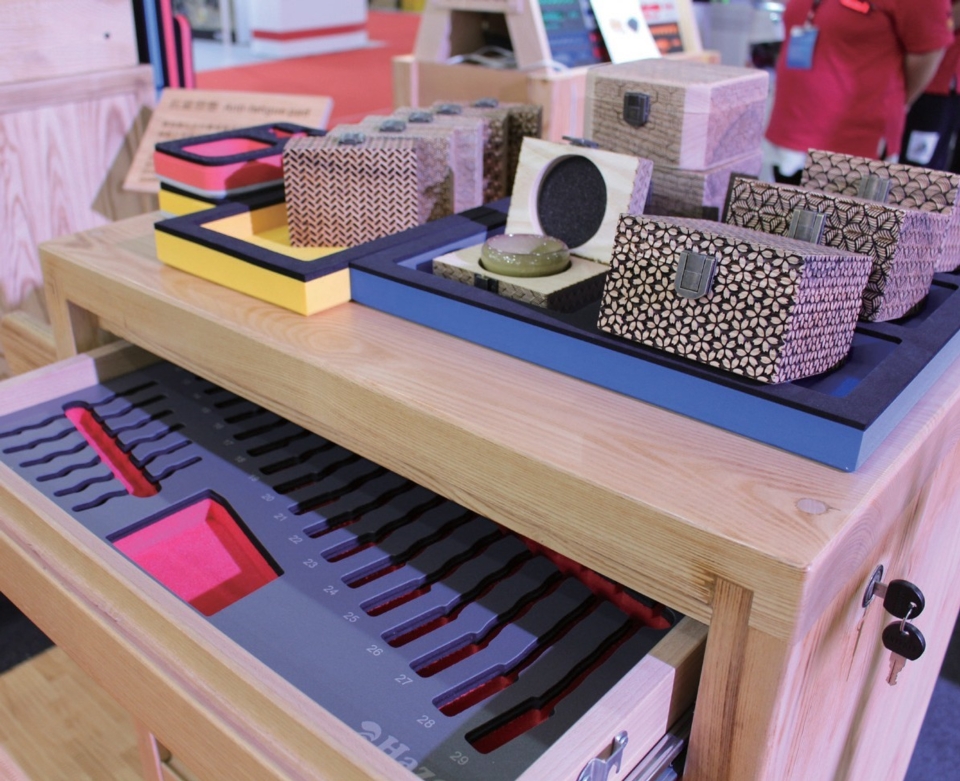 Best Friend's diverse applications has produced wood-made hand tool trolley cabinets and other wooden cases to hold cups. (Photographed by Chao Ting-yu)
Applying the Old to the New
As a company that started out as a laser- engraver for hand tools, they looked to combine their experience with newer prospects. They applied engravings onto EVA foam by offering customers customizable orders, such as engraving company logos, which helps to instill brand loyalty and improve their corporate image. Li brought up a customer from the UK as an example, saying how they used the engraved foams in their packaging materials and boosted their sales exponentially, as customers were able to differentiate the client's products easily.
Aside from engravings, these EVA foams can also be customized according to the company's brand colors, coming in different colors like red, orange and more. Li stressed that these packaging designing techniques are a far cry from what was popular in the past, which included the simple surface treatment.
Inevitable Transition to Other Areas
Even though originally in the hand tools industry, Best Friend's transition into different, multiple industries is cited by Li as a product of the economic environment in Taiwan as a whole, representing a similar dilemma for many companies.
For example, orders that would go to Taiwan originally would now be directed to Southeast Asia, where prices are much lower. Li said companies now must find a way to survive by developing peripherals to keep afloat.
"With our EVA foam, we found that we can exhibit at different trade shows, the ones that Economic Daily News (CENS.com) recommends like the machinery show," Li said. The firm found that doing business at that show bore good results, as their foam could be used as packaging material for high-end, expensive machinery.
We don't need to be boxed in the hand tools industry, there are a lot of industries that we can develop, like packaging for equipment, or even jewelry, the creative industry or household items," Li said.
Best Friend's move from B2B to B2C is done under its domestic brand called "HAZEL," which they hope to tap into the island's market as an original brand manufacturer rather than a conventional contractor.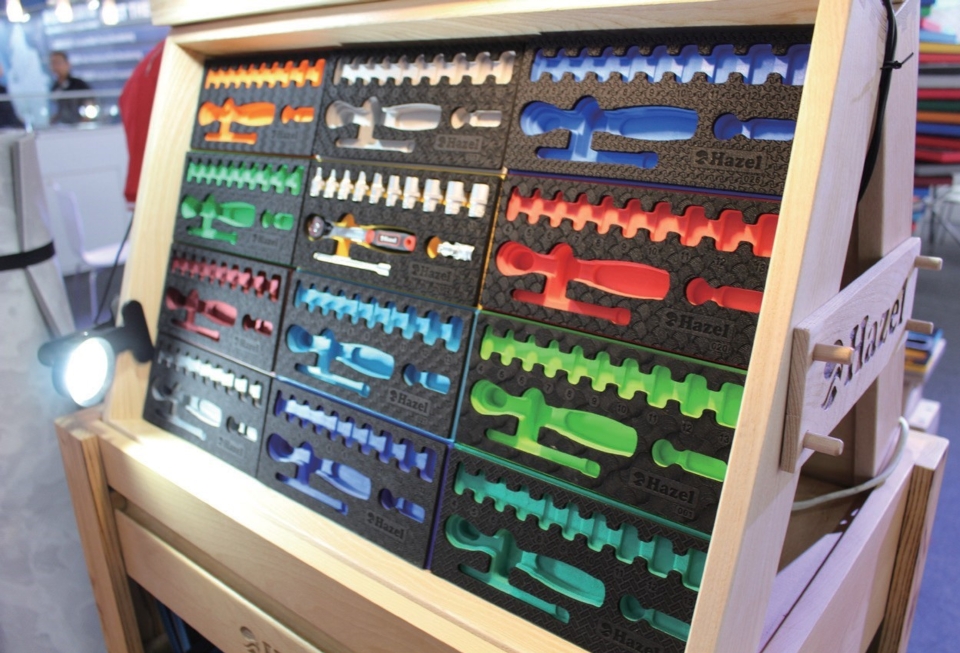 The firm offers EVA foam in varied colors and textures and wooden products to store hand tools. (Photographed by Chao Ting-yu)