Coil nailers, framing nailers, finish nailers, staplers, carton closing tools,air impact wrenches,air sanders,air tools
APACH, founded in Taichung, Taiwan in 1993, is a well- known worldwide pneumatic tool pioneer, innovator and manufacturer. With 25 years of experience in the industry, the firm continues to carve out its path with one goal in mind – BUILDING FUTURES.

Equipped with a strong Taiwanese supply chain and superior technology in metal and CNC machining, APACH achieves not only customers' needs, but also exceeds quality standards. APACH offers more than 50 different models that are CE and ISO9001 certified, including 3/8", 1/2", 3/4", 1" and 1 1/2" pneumatic wrenches, air screwdrivers, sanding machines, air hoses, and compressors. The firm has a grand global footprint, too: products are exported to more than 40 countries, including the United States, Dubai, Spain, and Russia.

The firm offers key products: AW050G and AW050H, which uses Japanese steel for the transmission shaft, providing stability, high efficiency, large torque and light weight. Both tools are best suitable for usage in narrow space, thanks to its simple structure for durable and easy maintenance.

APACH is primarily building futures with like minded partners. Through reliable communications with partners, distributors, and customers, they understand what clients are looking for and what triggers them to make their buying decisions. Being able to fully understand their customer base and tap into the market pulse is what drives APACH to become a leader in industrial air tool solutions.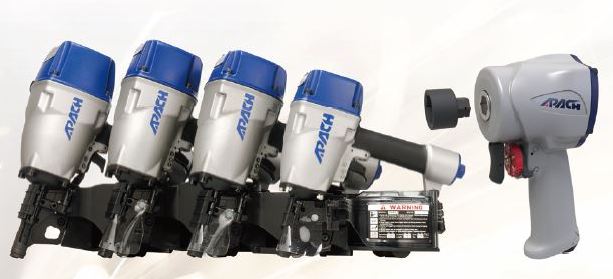 APACH INDUSTRIAL CO., LTD.
No. 176, Industrial 9th Rd., Tali Dist., Taichung City, Taiwan 412 Tel: 886-4-2491-5576
Fax: 886-4-2491-5581
Email: info@apach.com.tw Website: www.apach.com.tw