As the leading industrial mechanical control cable specialist in Taiwan, Safety Control Cable Ind. Co. Ltd. (SCC) was established in 1960, specializing in designing and manufacturing control cable for vehicles. Equipped with nearly 60 years of operation management experience, the firm has made excellent motor companies from domestic and overseas markets all their loyal customers, cementing their position as the leader of the mechanical control cable industry in Taiwan. Even as traditional industries are gradually being replaced by high tech electrical products, SCC still maintains its irrefutable status in the industry by meeting clients' new advanced and specific requirements.

Since SCC was established, the firm weathered radical changes within the industry and amid rapid technology evolution. The firm took the opportunity and faced the challenge head on with a positive attitude. They deeply believed in upgrading products' added value through continuous improvement and development, all the while converting traditional designs and processing management into new technology applications and management tools. This is to reduce the total cost, to increase product reliability and to enhance added value to new products. The firm's product application range includes automobiles, motorcycle/scooters, watercrafts, snowmobile, yachts and recreational equipment, road equipment product, agricultural machines and industrial machines.

Mechanical control cables are critical and functional parts for vehicles. Therefore, SCC views the production of such cables closely adhering to standards for safety, precision, high efficiency and reliability as a major achievement. By continually improving their quality, the firm's international market share grows day by day and has expanded their manufacturing sites in China to supply the OEM market, both domestically and internationally. That is reason why SCC has prioritized obtaining international certification such as Ford Q1, ISO14001 in Taiwan, and IATF16949 for both Taiwanese and Chinese markets.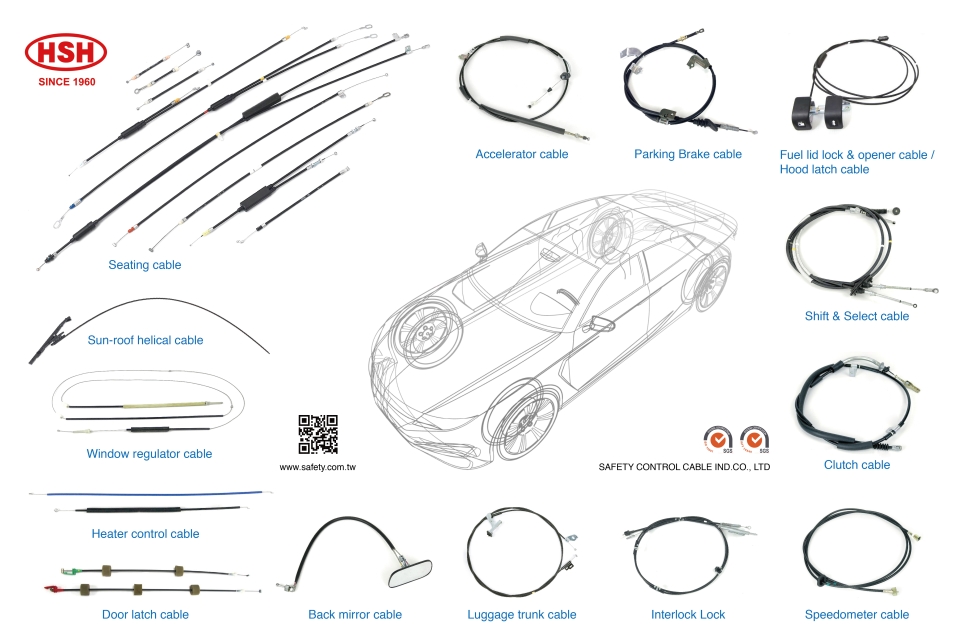 Safety Control Cable Ind. Co., Ltd.
Tel: 04-7323141
Fax: 04-7322419
E-mail:safety@safety.com.tw
http://www.safety.com.tw