Auto Global Parts Industries Sdn Bhd ("AGP") was incorporated in Malaysia on 22 February 2010. It is a 100% owned subsidiary of New Hoong Fatt Holdings Berhad ("NHF"), a public company listed on the Main Market of Bursa Malaysia Securities Berhad.

AGP manufactures metal and plastic automotive replacement body parts, such as door, hood, fender, trunk lid, bumper, grille, lamp, etc. AGP's manufacturing facility is located on 27 acres of land in Klang, Selangor, producing more than 2,000 metal items and 1,000 plastic items. Through its efficient and automated production facilities, expertise in design and development of tools and dies and mould and dies, AGP produces quality products for domestic market, as well as exports to more than 50 countries in Asia, Central and South America, Europe and Africa. These high quality parts are marketed under various brand names, including "AGParts", "NJ" and "NHI".

AGP's entire operations are certified under ISO 9001:2015 (Quality Management System), which demonstrates its commitment to deliver consistent product quality through continual improvement and conformity to international quality standards. In line with the increasing demand for its quality products, AGP continuously invests in latest technologies and machineries to enhance its technological and production capabilities over time.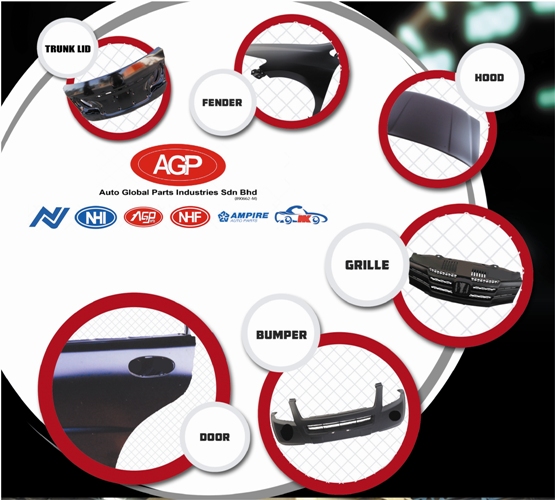 Chuang Shan Molds Co., Ltd.
Tel: 886-3-3377-8272
Fax: 886-3-3377-8259
Email: enquiries@newhoongfatt.com..my
Web: www.newhoongfatt.com.my