Taiwan's hardware tools have always been regarded as top choices among global key buyers, as the products are innovative and come patent-certified, making them highly sought-after by buyers who want the complete package. The North American region is a prime market for the hardware and hand tool industries, making the National Hardware Show (NHS) an exceptionally lucrative stop for anyone looking to enter the market. With this backdrop in mind, many Taiwanese firms were very enthusiastic in signing up for this year's NHS in Las Vegas.

Taiwan's firms are showcasing hardware and hand tool products ranging from tools and accessories, locks, fasteners, construction hardware, plumbing hardware, gardening and outdoor products, automotive repair products and auto parts, hardware machines and factory equipment, as well as safety equipment. These are categories that Taiwanese firms have invested heavily in terms of R&D, putting them at the top of the game with huge competitivity points in an equally competitive industry.

This year's NHS expects to see a huge attendance from over 2,800 exhibitors– among that over 500 are newcomers to the event -- along with over 110 inventors covering more than 15 product categories, including homewares to international sourcing to locally-made products and more. Among those 2,800-plus exhibitors are Taiwanese firms attending along under several groups, and 5 types of product category.

1. Hardware:Hi-Max Innovation CO., LTD., Yaban Chain Industrial Co., Ltd., Champ Prosperity Enterprise Co., Ltd., Horng Shing Hardware Industrial Co., Ltd., Leeart Industry Co., Ltd., Zenith Metal Industry Co., Ltd., Shine Well Industries Corp., Paragon Precision Casting Co., Ltd., Yang Light Engineering Company Ltd., Taiwan Kuo Her Industrial Co., Ltd.

2.Tools:Chewren Industry Co., Ltd., Ever-Shiny Products Corp., Jaan-Huei Industrial Co., Ltd., Transtime Tools Co., Ltd., Miyanach Ind. Co., Ltd.

3. Bathroom:Kitchen Bath Industry Supply Co., Ltd., Stextun Industrial Co., Ltd., Penta Hardware Co., Ltd., Easywell Water Systems, Inc., Hong Yu Sanitary Co., Ltd., Long Tai Copper Corporation, Chuhow Co., Ltd., Pony Sanitary Ware Industrial Corporation, Are Sheng Industry Co., Ltd., Scheme Development Co., Ltd.

4. Garden & Outdoor living:Shen Yu Plastic Co.,Ltd., Horizon Innovation International Company, Ting Shan Enterprise Co., Ltd.

5. Plumbing & Electrical:Ta Hsing Electric Wire & Cable Co., Ltd., E-One Moli Energy Corp.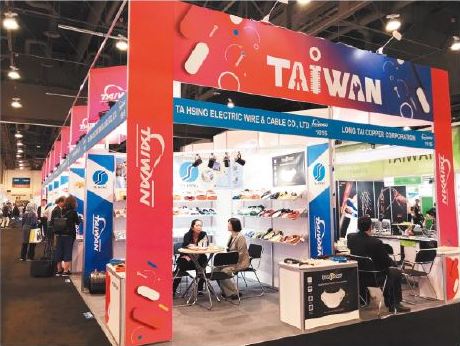 Economic Daily News (CENS.com) Hardware Show in Las Vegas. exhibits at last year`s National (photo provided by CENS.com)
Among them is precision hex wrench maker Chewren Industry General Manager Simon Liu, who said their company's primary strength is offering innovative products and their focus on the North American region makes them lucrative business partner. Chewren will be increasing their presence at NHS this year as well.
Economic Daily News (CENS.com) will be showcasing at Central Hall Booth 917, buyers on-site will be able to receive the latest news on Taiwan's hardware and hand tool products. Aside from promoting the CENS.com platform, the team will also be offering buyers the most up-to-date industry information for potential business partners to make informed decisions, as well as hand out professional trade magazines like the newest edition of "Guidebook to Taiwan Hand Tools," a special newspaper edition for NHS, and hardware parts. This allows buyers to quickly touch base with suitable suppliers and make the best of their time at NHS.