With the advent of the fourth industrial revolution, many countries are actively investing in the smart production of self-driving vehicles, including Germany's Audi efforts to convert car driving into a mobile, entertainment driving experience; Japan's Toyota launching the e-Palette, an unmanned electric concept minibus and South Korea's Hyundai Motor introducing the concept of autonomous driving cockpit and wireless charging.

The interest from these big-name companies is a clear indication of how vehicle intelligence is just around the corner. Century-old car brand General Motors is also actively keeping in pace with the trends by significantly cutting back the production of internal combustion engines, focusing on investing self-driving and electric vehicles -- another example of the inevitable replacement of traditional fuel cars by autonomous and electric vehicles.

From limitations imposed on growing technology and increased government oversight, it is evident that self-driving cars and electric cars are on the path of merging and coexisting as one.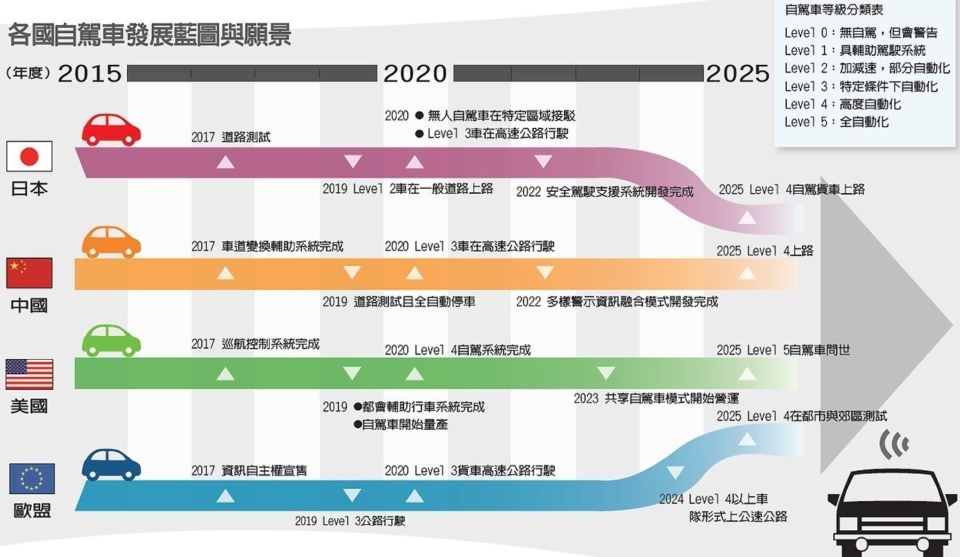 The vision and blueprint of different countries (photo provided by Economy Daily News)
According to the 2019 forecast by Trendforce in the automotive CPU market, Level 3 Conditional Automation will compete with Level 4 High Automation. Gartner, a international research and advisory firm, predicts that 10% of vehicles will have a certain degree of autonomous driving function in 2021. BCG, Zion Market Research, Infoholic Research, and other research institutes estimate that self-driving vehicles will become the mainstream vehicles after 2025. In 2027, the market value will reach US$126.8 billion, while the annual compound growth rate is expected to reach 39.6%, further creating US$800 billion in market opportunities.
Faced with the business opportunity and trends in global autonomous vehicle industry, governments and industries compete to develop their vision and blueprint of what they want in a self-driving vehicle. The U.S. scheme is considered the most progressive by launching the Self-Driving Car System 2.0 in 2017 as the guidance of the partnership between the industry, government and academia. The scheme is aimed to accelerate the timeline of autonomous car's road testing and a guideline to simultaneously develop self-driving body and the Internet of Vehicles technology. If things go as planned, the U.S. expects to launch Level 5 Self-Driving Vehicles after 2025.
The development of self-driving cars in the European region is comparatively conservative, mainly focusing on self-driving business cars and medium-sized shuttle buses. With consideration to strict guidelines of upholding human dignity, safety and information protection standards and protocols, the estimation of the industry reaching Level 5 Self-Driving Vehicles is more conservative by European counterparts, suggesting success to come after 2035.
In response to the aging society and the Tokyo Olympics, Japan offers a more comprehensive blueprint compared to other Asian countries. Japan focuses on developing an autonomous vehicle fleet and safer driver assistance systems. In the short-term, Japan aims to offer public transportation service and highway driving in accordance to NHTSA Level 3 standards, while in the long-term, realize Level 5 full automation capabilities after 2030.
China is also investing in the research of self-driving car related technology and prompting legislation revision in 2017 under government agencies like Ministry of Transportation, Ministry of Industry and Information Technology, Ministry of Public Security in Beijing. With the regulation and enforcement self-driving vehicle laws underway, China aims to realize Level 4 capabilities on the highway after 2025.
Taiwan's government has also designated 2018 as the premiere year of developing self-driving car technology. Having gathered expert opinion from the domestic and international field, the Taiwanese government has drawn up a blueprint to allow the combining of artificial intelligence and key driver assistance systems and build Taiwan's self-driving center and testing field, that would become the world's most important testing grounds, and thus create a production model of self-driving car and innovation.
The impact and long-lasting effects are expected to realize between 2030 and 2040, inciting change in five fields, such as industrial development, social livelihood, transportation service, economic scale and the environment, as well as five industrial fields like computers, electronic and optical products, electronic parts and components manufacturing, electric power supply, transportation and logistics.
In the short term, closed field test facilities will emerge rapidly, while the public can enjoy shuttle services of medium-sized self-driving buses between chosen or point-to-point locations. In the long run, global semi-autonomous driving products will enter mass production, impacting the surge of Taiwan's rent-over-purchase business model. Aside from seeing the auto parts industry leveraging a more advantageous role in the global supply chain, the rise and influence of industries such as information service communication transmission, recreational service, and other new industries will largely depend on technological progress and the Taiwanese government attitude towards such changes.
The success of self-driving vehicles are tied to two major factors: safety and distribution of public resources. The government should clarify the needs from business operations, car factories, users and insurance companies. On the other hand, roles such as which government agencies are in charge of oversight, testing agencies, research and development agencies should be laid out and clarified. Lastly, guidelines for self-driving vehicle certification, traffic accident responsibility, supervision and law enforcement, and mechanisms for auto insurance should be revised into the law.