Dingfanpo in Changhua County of Central Taiwan is a globally well-known town, roughly 6 square kilometers, yet creating over 60 billion value, and raising many generations of locals. Under the impact of globalization, the labor-intensive plumbing industry began to move its factories overseas. Left behind are the second-generation of children who were raised under the glory days of the plumbing business, with better education and an expansive horizon for the future, yet they are caught between leaving their hometowns behind to seek better fortunes elsewhere, or to stay and continue to do business. A self-made businessman in the industry of the older generation is looking for ways to give the plumbing business a new breath and to help the next generation remain relevant.

CPS Evolves Again to Level-Up Localized SMEs

Cyber Physical System (CPS) grinding and polishing robot is now in its second generation, and among its new features include online programming software, smart vision, compound grinding and polishing hardware as its three core-patent techniques. The robot can produce a new grinding route in one hour, shortening the tuning time of the machine. Robotic arms are also equipped with cameras and through smart vision, it can shorten the miscalculation between the grinding machine and the simulation system, all the while adjusting simultaneously. The compound grinding and polishing machine can integrate both the robotic arms and grinding machine seamlessly to improving the angles of grinding and polishing and allow for the coverage rate to 100%.

Plumbing products are not just limited to faucets, but also include reservoirs, water plants, livelihood purposes, industry and commerce, agriculture, firefighting and waste disposal. Dingfanpo's biggest advantage in the industry is that it serves as the plumbing hub by keeping the industry chain from casting, machining, grinding, polishing, electroplating, assembly and other applications all in one location. In its peak in the '80s, there were thousands of suppliers from upstream, midstream, and downstream of the industry, while there are only 600 suppliers nowadays. Fifty percent of faucets in the world, including TOTO from Japan, Kohler from the U.S., and other famous bathing brands had their products produced in Dingfanpo..

However, in the '90s, due to labor cost and other factors, many firms gradually moved their factories overseas. Although the production cost was reduced, the manufacturing experience has been absorbed and copied by local suppliers, threatening the survival of Taiwanese firms. Aside from factors like low birth rate, younger generation's exodus to high technology and service industries, there are fewer people who would devote themselves to plumbing, causing severe labor shortage and experience gap.

Improving the Industry Image to Entice Younger Generations

Plumbing Association of Taiwan President and LONG TAI COPPER CORP President Wu, Yih-dar said the plumbing industry saw six decades-worth of development in Changhua County, and that allowed suppliers to pass on their know-how to its third generation of owners.. Fortunately, ITRI has been an active supporter in transforming the local plumbing by introducing automation and integrating AI development into the process. The aim is to change the typical impression of the plumbing industry from the "3Ds" (dirty, difficult and dangerous) and encouraging the younger generation to remain in the industry.

After long-term observation of a plumbing town in Changhua, Mechanical and Mechatronics Systems Research Laboratories supervisor Yu Hung-Shiou, who has cultivated deep relationships with many local clients, said that the ITRI smart robotics team has spent five years understanding the difficulties and needs the traditional plumbing industry are facing. To combat that, the team began to design innovative machine grinding techniques, establishing plumbing demonstration assembly lines, reaching out to robotics-focused technology transfer firms robot clients, assisting the formation of the plumbing industry assembling alliance, building up standardized robotic grinding and polishing machine specifications with five methods, gradually implementing CPS , thus leveling up the plumbing industry and promoting a digital transformation.

With the assistance and help of ITRI and government resources, plumbing operators have improved production process and equipment optimization, especially in automation, putting more research resources, and to improve the obstacles the industry is currently facing. Examples of what ITRI and government agencies have achieved include assisting R&D of equipment to ease the environmental burden of sand casting and melting processes and to develop robotic arms to assist the automation of the polishing process, and PVD electroplating equipment to improve the coating quality.

Recording Traditional Technique to Address Labor Shortage

In the business of PVD coating, Managing Technology Co., Ltd. accounts for 80% of the market. Managing Technology General Manger Chang Chia-lieh actively facilitates vertical integration and chose to invest in the grinding and polishing process. Originally, in the shortage of grinding veterans and seeing many grinding and polishing robotic arms abroad, Chang understood that auto polishing machinery isa the trend to look out for. He hopes to combine robotic arms and sensors to record the grinding craftsmen' know-how, prompting a more efficient and intelligent production process.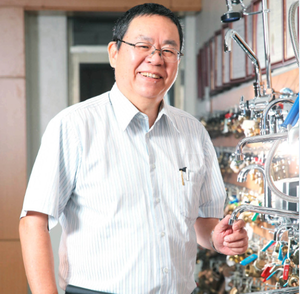 Under the assistance of ITRI, the plumbing township has undergone an industrial transformation by leading the industry to embrace automation and introduce AI development, thus changing the traditional "3Ds"dangerous, dirty, difficult) image in the plumbing industry. Plumbing Association of Taiwan President Wu, Yih-dar. (photo courtesy of ITRI)
Chang picked up a heavy, well-curved faucet, saying "we used robotic arms to grind this faucet, which was awarded with the German Red Dot and IF Design Awards. It was extremely difficult to grind robotic arms well, if this sample showed promising, accurate results, then the production of other faucets will likely present less problems. After introducing CPS robotic arms, grinding coverage rate can reach 80% of the process, and the lines polished by the robot arm are even more shapely, better than manual grinding. Last but not least, in the past, at least three experienced grinding veterans were required to work on a production line, but after the robotic arms were introduced, only 1.5 general-experienced craftsmen were required to make up the 20% portion of the work that robots cannot complete on its own.
As Chang carefully compares manual grinding with robotic arms, he says that the use of robotic arm grinding requires a precise setting of the faucet size to ensure consistency across each faucet, , while manual grinding does not require this stage. To resolve this, a "machining design" (CNC) process must be included into the production process before faucets could be ground, to regulate the size of a faucet molding cast. The drawback is that by introducing another production stage, it would increase the overall production costs. Therefore, faucets polished by the robot arm is suitable for targeting the high-end market that focuses on "less but diverse production." In terms of quality, manual grinding will present different results depending on the craftsman's technique. Some will produce lines after plating, and others will be bright as mirrors. However, using robotic arms can ensure consistent product quality.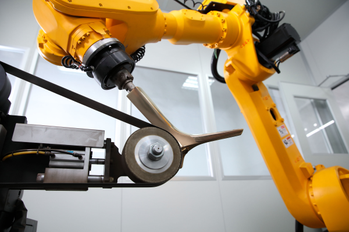 Factors like ITRI's CPS grinding and polishing robotic arms, combined with robotic arms and sensors recording veteran's experience and technical know-how, has prompted the production process to become more efficient and intelligent, as the robotic arms ensure consistent grinding quality.(photo courtesy of ITRI)