Smart Technology Enters the Lighting Market
The past ten years has seen the most drastic changesin the lighting industry, for example, the plunging price of LED bulbs that enabled LED bulbs to replace incandescent bulbs and even compact fluorescent bulbs in the business and consumer market. The combination of more smart technology, and the enablement of more innovative business models has invigorated the lighting industry, long untouched by expansive technological industry upgrades. .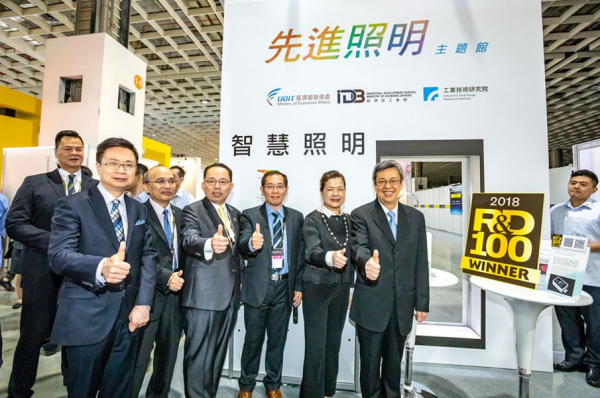 photo provided by ITRI
Industrial Technology Research Institute (ITRI) Electronic & Optoelectronic System Research Laboratories General Director Wu Chih-i said Taiwan's LED and information communication industry is extremely competitive on the global market. ITRI has invested in the lighting industry for many years by playing the role of a broker, matching the compatible partners together in the lighting and information communication industry in hopes of birthing new, innovative applications. . ITRI's exhibition at the Taiwan International Lighting Show is the cumulation of teamwork between academia and the industry sectors.
Portable UVC LED Water Sterilizer System Lights Up Hygienic Water Sources
ITRI's Portable UVC LED Water Sterilizer System is coined the world's first smart flow water sterilizer, addressing problems such as clean drinking water inaccessibility for 85% of the global population. The portable sterilizer system is designed for easy and quick installation, and equipped to kill up to 99.9% of E. coli at a flow rate of 2 LPM, achieving the best bactericidal effect. In addition, it is worth mentioning the size of this device is two-thirds smaller than other competitors on the market and it is not only eco-friendly, but energy saving as well. The device has a three-year life span, making itan affordable choice for the public.
Sleep at Any Time with Circadian Rhythm Lamp
Could reading before bed lead to sleep-loss? Always drowsy at the office in the morning, despite allocating the recommended hours for sleeping the night before? Lighting conditions could be to blame for these situations.
According to research, the shorter wavelength of light from cellphones and computers' backlight suppresses melatonin, which could energize the user. On the other hand, the long wavelength light, which is darker, increases melatonin's secretion and induces drowsiness.
The circadian rhythm lamp developed by ITRI provides an adjustable CAF under the same visual perception through metamerism and RGBW spectrum fitting algorithm. For example, people can select a lower CAF value to prepare for sleep or a higher CAF value to stay awake during daytime. At present, ITRI has commenced technology transfers to several domestic LED manufacturers, in hopes of benefiting more people with sleeping problems.
Advanced and Eco-friendly OLED Auto Lamp Enlarge Automotive Space
In the past, only high- class automobiles imported by car dealers are equipped with OLED auto lights, yet that trend is about to be overthrown. The increase application and penetration rate of LED lights in the market has prompted auto lamp heavyweight DEPO Auto Parts Industry Co. to team up with ITRI, and develop Taiwan's own red-light OLED for auto application. It was an undertaking that took two years of R&D in accordance to regulations under the Economic Commission for Europe, especially to achieve optical and automotive-related certifications. Application of OLED lighting panels has allowed for manufacturers to save space originally taken up by light guide plates, making the lights thinner and lightweight, as well as increase rear compartment space. This has enabled DEPO to direct automotive design towards a more futuristic and sports care theme, as well as meet the varied demands in the performance and tuning industry. The direction allows DEPO and ITRI to strengthen its standing in niche markets, and attract recognition from international brands.