The U.S.-China trade war has restructured the global supply chain, giving Taiwanese firms in Southeast Asia the advantage for expanding their production capacity to direct business orders away from China.

As the largest fastener supplier in Malaysia, Chin Well Holdings Berhad, the investment holding company mainly focused on domestic sales, and partly exported to Europe. However, under the tension between the trade war and anti-dumping issues, Chin Well has redirected its TWD$50 million dollar-investment in October and plans to expand into the U.S. market.

The parent company of Chin Well, Kaohsiung-based Jinn Her Enterprise Co., Ltd, is actively expanding their market reach across the globe. Apart from constructing factories in China, Jinn Her has set up plants in Penang and Vietnam through Chin Well respectively. Due to this expansion, the firm accounts for the largest market share in Taiwan, China, and Southeast Asia's fastener industry globally.

It is inevitable that Chin Well cannot stay out of the trade war due to its global network. According to Chin Well CEO Tsai Chia-ling, while the firm's latest financial statement has not been released, Chin Well's revenue slightly increased despite the trade tensions between China and the U.S. Exports to Europe decreased by 5% but exports to the U.S. increased by 12%.

Chin Well' Managing Director Tsai Yung-chuan said most of the production, around 85%, coming out of their factories based in China are directed to the Chinese market, while 15% of its products are exported overseas. Tsai pointed out that while there was some slight loss of revenue during the trade war, production capacity has still shifted from China to Southeast Asia due to the rising costs in China. The firm's factories in Vietnam definitely benefited from the trade tensions as it received an influx of orders. Tsai also added that among the Southeast Asian countries, Vietnam is the only country that can provide sufficient production capacity amid the trade war. In addition, there is still a limited degree to how the trade war is benefiting Taiwanese factories, as Taiwan factories focus on producing high-end products, while most of the low-end product orders being transferred out of China end up directed to Southeast Asia, specifically Vietnam.

Tsai said although the U.S. has imposed a 25%-tariff on Chinese-made bolts, it is inevitable that serious damage would be done to China's manufacturers in the long-run. . Yet, China's government has offered consultation for enterprises, as well as tax returns and exchange rate adjustments to their manufacturers. Experts have estimated that the prices of Chinese-made bolts have dropped 20%. Although the orders were transferred to Southeast Asia, most manufacturers are still testing the waters, suggesting more observation before permanent plans could be decided.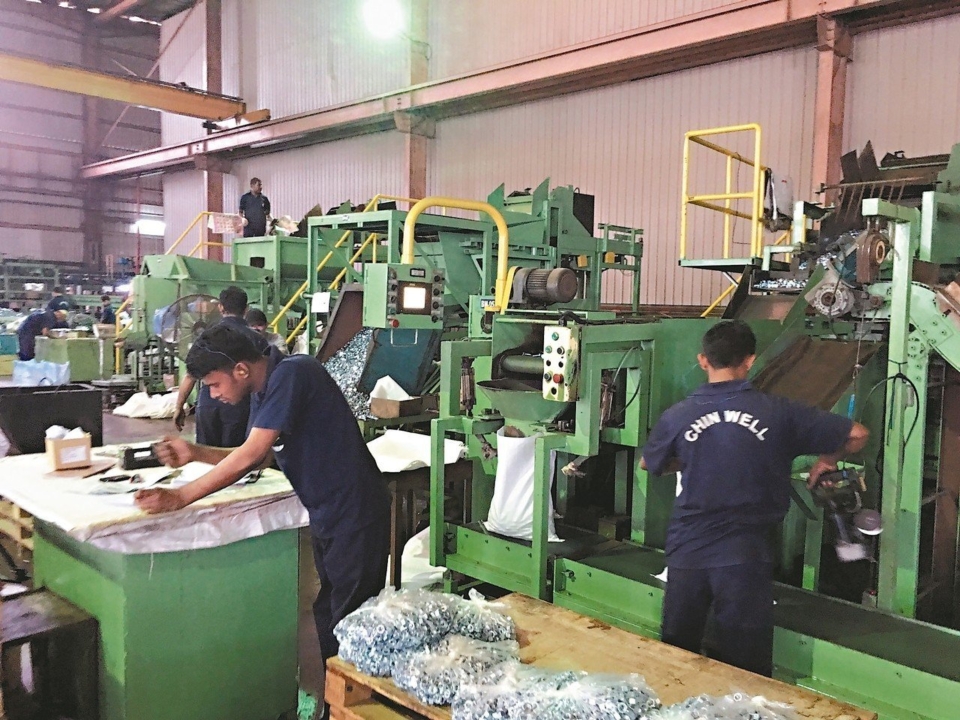 Chin Well introduced Bengali workers and automation into their factory in Penang.(photo taken by Lo Jui Chih)