Client satisfaction are the basics; inspired clients are Boosters' end goal Obtaining quality and innovations crucial for new era of cables
Booster Cable Enterprise Co., Ltd. believes that eco-friendly and user-friendly elements are created out of necessity due to advances in human technology and the desire for a better quality of life. Therefore, providing quality product and persistent leaps of innovation are Booster Cable's fundamental beliefs.

Founded in 1992, Booster Cable specializes in electric wire and cables. In the face of the demands for higher quality products' in the 21 st century, and amid intense R&D competition, Booster Cable survived thanks to its market strategies. Booster Cable not only consolidated the existing market but also increased its the market share by adhering to a persistent spirit. In the pursuit of excellence, Booster Cable has showed clients their confidence in manufacturing cables and wires with a sincere attitude.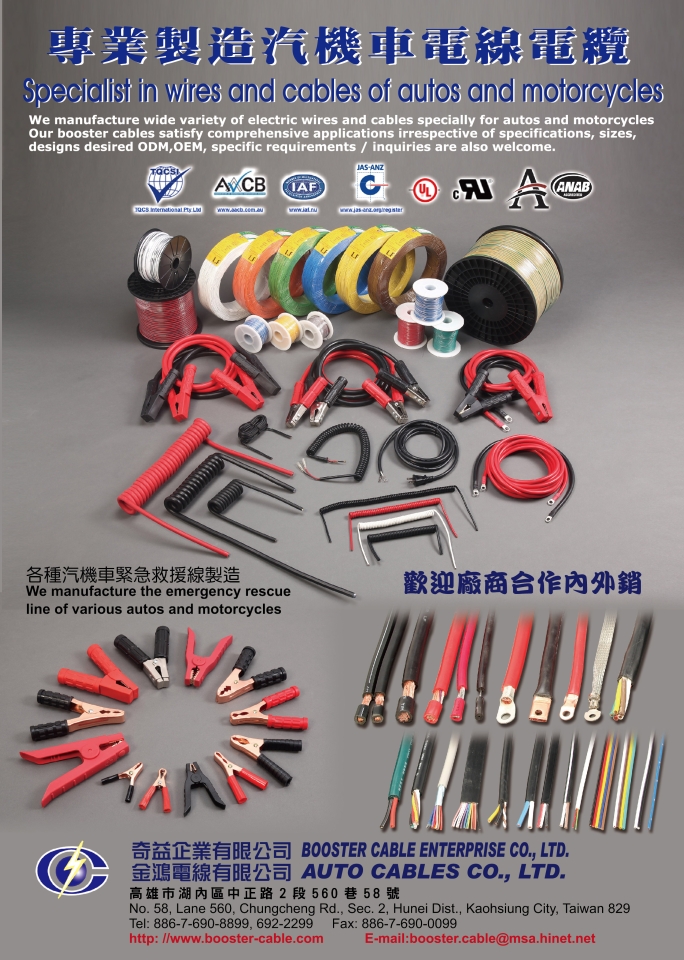 Booster Cable Enterprise Co., Ltd.
No. 58, Lane 560, Chungcheng Rd., Sec. 2, Hunei Dist., Kaohsiung City, Taiwan
Tel: 886-7-690-8899
Fax: 886-7-690-0099
E-mail:booster.cable@msa.hinet.net
Website: www.booster-cable.com