Founded in 2000, Yong Sheng Co., Ltd. is an ISO 9001:2000-certified manufacturer of mirrors for various vehicles, supplying about 600 models, including side- and rearview-mirrors-for automobiles, powered two-wheelers (PTW), all-terrain vehicles (ATV), snowmobiles, electric scooters, and other vehicles.
 
The company says all its mirror products are certified to meet EEC, ECE, SAE, ETL, or UL standards.
 
Yong Sheng is a major original equipment mirror supplier for most ATV, PTW, and electric scooter makers in Taiwan and Vietnam, as well as many automakers in the Middle East. Also, the company is a leading manufacturer of aftermarket mirrors that are sold under many American and European brands.

Yong Sheng President King Chih-hsiung says his company uses three-dimensional CAD/CAM software to design all mirror products to achieve the highest precision. In addition, he stresses, the advanced R&D laboratory at his company's China factory has been certified by TUV in Germany.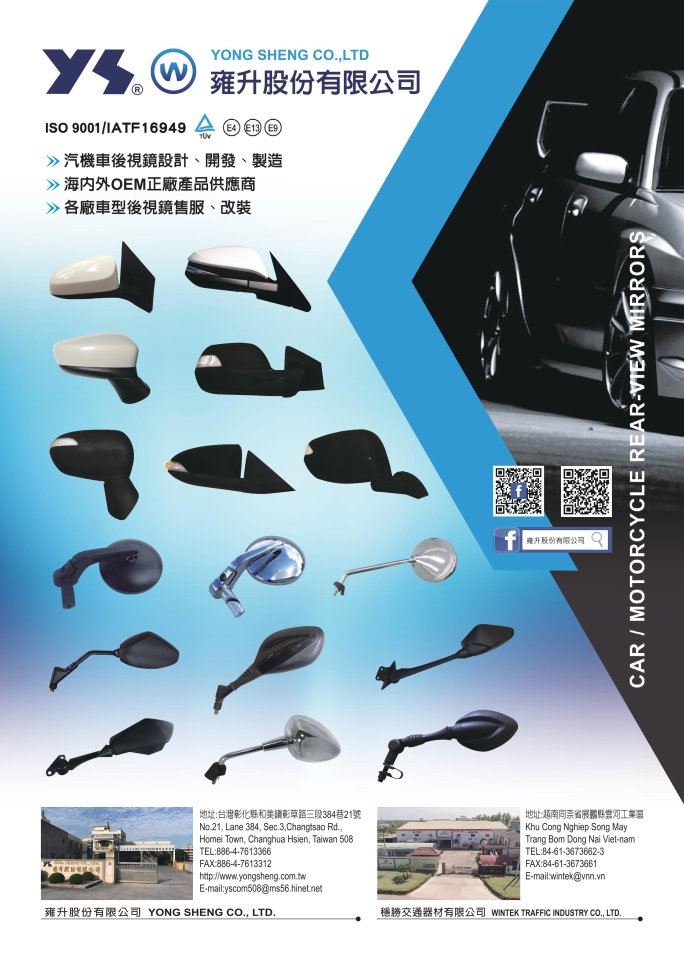 Yong Sheng Co., Ltd.
No. 21, Lane 384, Section 3, Changcao Rd., Homei Town, Changhua County, Taiwan 508
Tel: (886-4) 761-3366
fax: (886-4) 761-3312
E-mail: yscom508@ms56.hinet.net
Website: www.yongsheng.com.tw