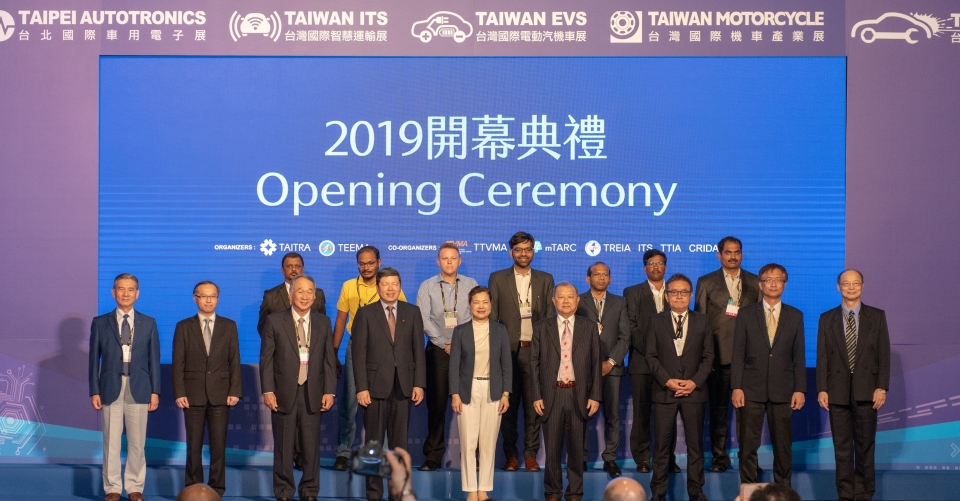 The six-in-one event for the automotive and motorcycle industries, Taipei AMPA, AutoTronics Taipei, Taiwan International Intelligent Transportation Show, Taiwan EVS, Taiwan International Motorcycle Industry Show and Taiwan International Car Tuning & Car Care Show impressed visitors and buyers from all over the world. (photo courtesy of TAITRA)
Post-Show Overview
The 2019 Taipei AMPA, AutoTronics Taipei, Taiwan International Intelligent Transportation Show, and Taiwan EVS was held on April 24 to 27, while the Taiwan International Motorcycle Industry Show and Taiwan International Car Tuning & Car Care Show took place between April 25 and 28. The Taipei AMPA 2019 6-in-1 Show wrapped up successfully, seeing the attendance of 1,340 exhibitors from 14 nations, occupying 3,750 booths, and attracting a total of 7212 visitors from 142 nations, a 10.2% increase from 2018. Foreign buyers primarily came from these top ten countries: Japan, China, the United States, Malaysia, Hong Kong, Thailand, South Korea, the Philippines, Singapore, and Indonesia.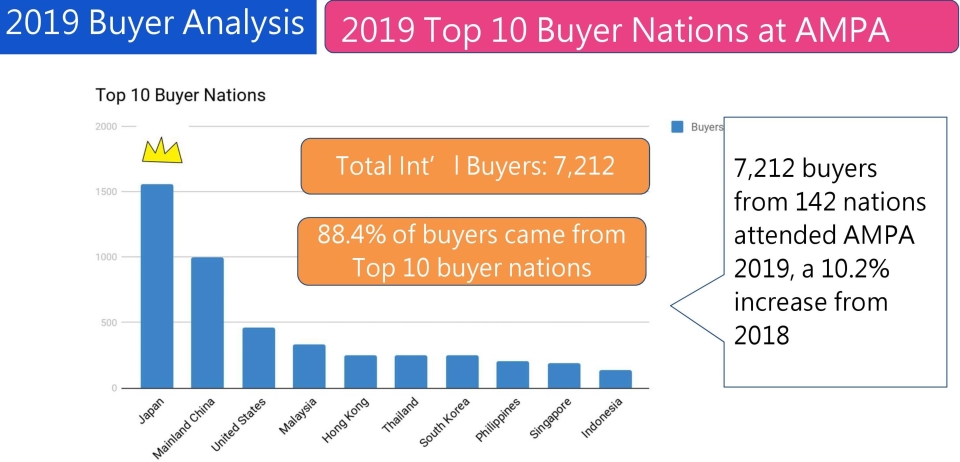 Source: Taiwan External Trade Development Council
The exhibition was held under the theme of "Motorization, Electrization, and Intelligentization," showcasing the entirety of Taiwan's automotive industry supply chain. Many iconic local manufacturers attended, including Depo, Sonar, Eagle Eyes Traffic, and many industry-leading manufacturers. Tong Yang Group, a professional bumpers and automotive sheet metal manufacturer, emphasized its usage of robotic arms to spray the painting, increasing 30% of its production efficiency. Nan Hoang Traffic Instrument, the largest brake parts manufacturer in Taiwan, released the YangPo brake pad. The new brake pad is highly-wear resistant, RoHS (EU) and REACH (environmental protection) compliant, and R90-certified. Cub Elecparts, the leading manufacturer of tire pressure detectors, designed a comprehensive driving assistance system for large vehicles. The all-in-one system features a front vehicle collision warning, lane departure warning, driver fatigue alert, and inner wheel radius difference prevention system. Mycarr Lighting, which has several patents for automotive LED lights, introduced a full product range of LED bulbs, capable for interior, exterior and rear-end fitting. Professional manufacturer of fuel tank systems LC Fuel Tank Manufacture Co. oversees the development and production of entire fuel supply systems by instilling the highest processing standards in designing the product, molding development and production, packaging and delivery. All of LC Fuel Tank products have passed the strictest standard and certification for OEM auto plants, and showcased a wide range of products at the show.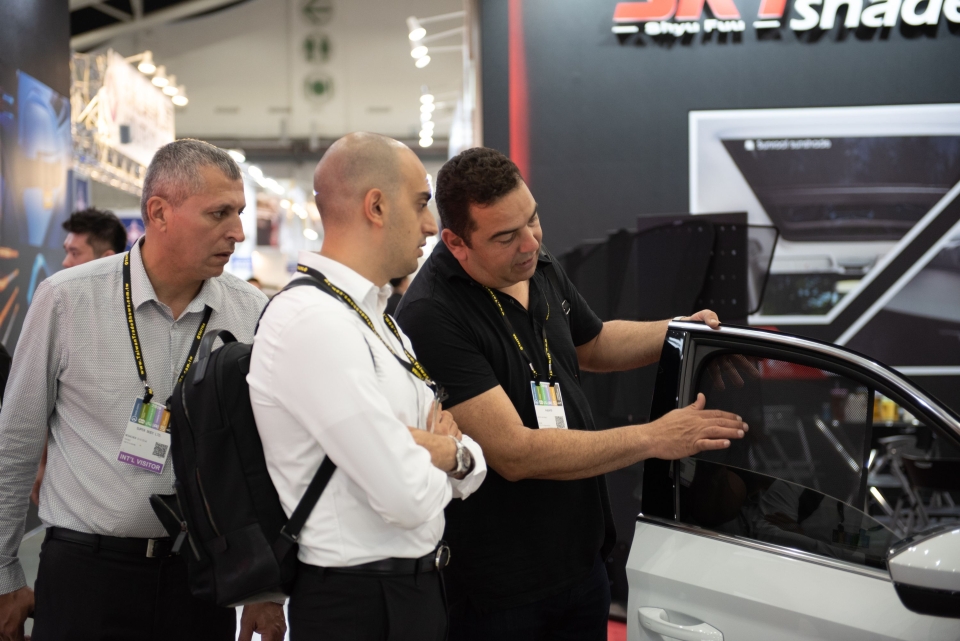 Foreign buyers highly recognized Taiwan's quality products (photo courtesy of TAITRA)
The Auto Parts Market Overview in Taiwan
1. Production value declines due to stagnant global economy and the U.S.-China trade war
The stable economy in 2018 spurred on domestic manufacturers to expand R&D dedicated to emerging markets for high added-value components. Taiwan's auto parts production value increased to NTD$227.4 billion, a 3.95% increase of 3.95% compared with 2017. The global economy has slowed down in 2019, prompted by the U.S.-China trade war and chaotic international situation, both factors that have further impacted auto sales. In the meantime, the emerging markets are seeing a strong momentum for future growth while the markets in China and Western Europe have begun to decline. Overall, it is inevitable that auto parts value would drop, with industry forecasts showing expectations of NTD$224.8 billion, a 1.11%-decrease compared to 2018. (From Table 1)

2. Auto parts in Taiwan are primarily exported to the U.S. and EU markets
Aside from supplying auto parts to domestic car service centers, most are exported overseas, far exceeding the value of imports and yet the gap continues to show signs of increasing, as seen in Tables 2 and 3. The import value of Taiwan's auto parts reached approximately NTD$62.8 billion, an increase of 3.31% compared to 2017. The top five importing countries make up 80.9% of import value, mainly used for domestic maintenance. On the other hand, the value of auto parts exports in Taiwan is nearly at NTD$171.8 billion, a decrease of 0.16%. The top five exporting countries account for 62.95% of overall export value. Taiwan focused its exports on the North American and EU markets.


Although Taiwan's auto parts industry mostly consists of small and medium-sized enterprises, the entire supply chain is complete with the advantages of low volume, high diversity, and flexible production.
In recent years, manufacturers have consistently invested in R&D and brushed up production techniques. Also, Taiwan is ranked first globally in terms of market share for auto lamps, bumpers, sheet metal, and molds, demonstrating Taiwan's manufacturers are equipped with the competitive advantages to tap into the international automobiles supply chain.
The global automobile industry trends in 2019 mainly focuses on the automated, connected, and electric automotive technologies. This can be primarily seen in the top auto manufacturers' decisions to develop advanced driver assistance systems, including Level 4 and 5 driving automation. The firms also introduced 5G technology to ensure stable connectivity of autonomous cars to the cloud. Last, the current trends in the electric automotive field are aiming for expansion of electric systems in more models, as well as increased new energy efficiency, for example, Nissan's improvements made to the Leaf E Plus in terms of battery life and performance.
With the arrival of AloT and 5G, auto giants are also implementing these technologies into the application of automobiles. Apart from traditional automobile and auto parts manufacturers, manufacturing suppliers of key components such as Qualcomm, Intel, and Nvidia are all building chips and platforms for self-driving vehicles. The current aim of these tech giants are directed towards developing self-driving AI, 5G, and user experiences according to their advantages. This is done with expectations for smarter vehicles with internet capabilities that can ensure connectivity with everything.
Employ EDN and CENS.com's Marketing to Broaden Global Horizons
During the show, EDN and CENS sent out its publication team to its booths located at the Taipei World Trade Center and Taipei Nangang Exhibition Center, distributing Taiwan Transportation Equipment Guide (TTG), TTG e-book, and TTG USB for the digital edition among visitors. Buyers on site will be able to obtain the newest reports through the trade magazines and search for suitable Taiwanese suppliers to work with.
Since its publication in 1986, TTG has gathered the most exceptional supplier information of Taiwanese auto part industry, including OEM, ODM, OES suppliers in auto and motor parts. TTG is not only the earliest auto parts publication in Taiwan, but also the best procurement reference book for auto components buyers. At the exhibition, CENS.com offered the hard copy of TTG, the QRcode to scan and obtain the TTG e-book, as well as TTG USB digital version, which is in high demand and popular among buyers due to its 7G-plus storage capacity.
During the show, EDN (CENS) provided real-time business matchmaking services. Procurement needs and buyer information collected on site of the show are matched in CENS.com database, allowing the CENS.com team to create buyer profiles and process biz matchmaking. The results are then emailed to the exhibitors on-site in Taiwan, giving exhibitors and on-site buyers the chance to quickly connect and discuss business opportunities.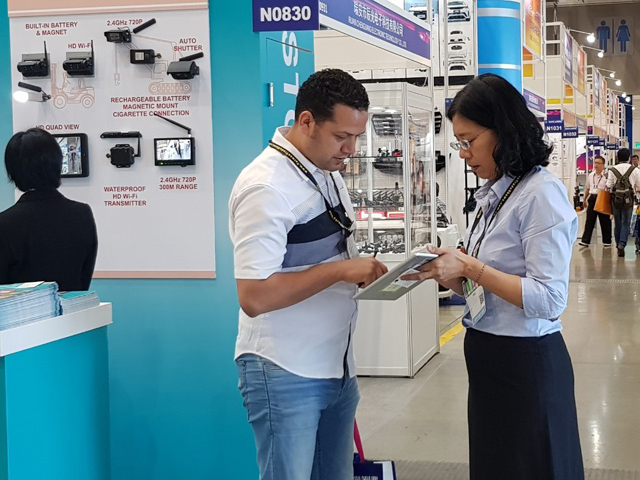 CENS provided real-time business matchmaking for Mexican buyer Julio (photo courtesy of CENS)