As a top professional fuel systems manufacturer in Taiwan, and a global player in the automotive aftermarket industry, the fact that car makers are investing more resources into the electric vehicle (EV) than conventional vehicles powered by engine around the world is a challenging situation that LC Fuel Tank Manufacture Co needs to deal with. There's no fuel tank in EV, only batteries.

Each year, the manufacture rolls out new products of dozens to meet its varied clients based in the traditional automotive industry. Like other Taiwanese companies, flexibility and anticipating industry trend is one of their characteristics which makes them stand out. LC Fuel Tank has been in the game since 1977 rolling out AM parts for conventional vehicles from vintage cars to modern cars for daily commute.

Now they are strategically moving back to their root, classic cars industry, General Manager Chan Yu-Peng says. Most of their fuel tank selections are made out of metal, Chan said. Yet, starting in 2000, they noticed that the mainstream car makers tended to choose plastic fuel tank over metal. "The undeniable is the idea that EVs will take over the car Industry in the future eventually, but nonetheless we consider plastic tanks as our main contender at current stage," he explained.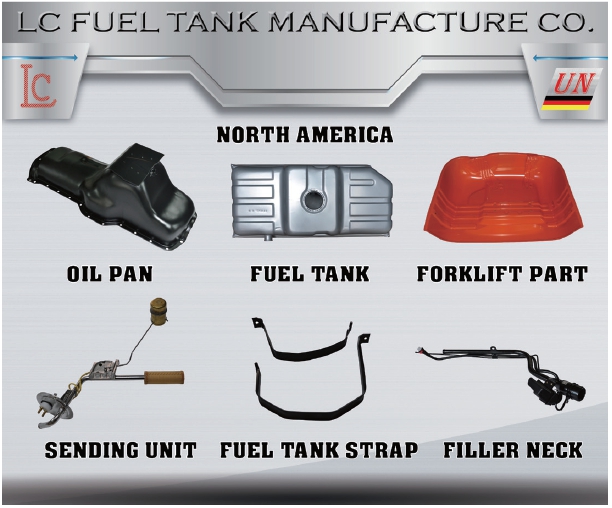 LC Fuel Tank Manufacture Co. offers North American vehicle fuel solutions. (Photo Courtesy of LC Fuel)
Although LC Fuel Tank has been on the fence about stepping into plastic fuel tank since the beginning of trend brought up by car makers, under the concern that traditional steel fuel tank would vanish in the future. However, they eventually aborted the idea of investing in products with a short product life, plastic fuel tanks.
In his opinion, eventually EV, which don't need fuel tank neither plastic nor steel to store fuel, will be popular and wildly spread. So there's no need to invest in plastic tank. However, vintage car is a different case. Chan stressed that he saw the potential of classic car industry. The old cars won't die. Classic cars thrive on the passion, nostalgia and enthusiasm among people. People who resonate with vintage cars won't replace them with new cars. Very possible that they have one modern vehicle serve for daily commuting, and still own vintage cars for collection.
Tapping into Europe's Classic Car Market
The popularity of classic cars can be easily seen in Western countries, specifically the U.S. and Europe, but less so in Asian countries, for instance, Taiwan. Factories in Taiwan catering for the classic car markets is still flourishing, and have been widely recognized for their excellent auto parts. However, due to lack of marketing, the local society doesn't know Taiwanese factories play big roles in the global classic car spare parts industry.
One of the reasons behind LC Fuel Tank's stable demands from United States, where accounts for more than 50% of turnover, makes LC able to look at the other continental, Europe. "Our clients (in the U.S.) have faith in our products," Chan says, "I look forward to getting more market share in Europe. The European market is a challenging one, however. The classic car industry in the region is a closed market." Chan said. "Brands there believe in their own craftsmanship, local work shop, parts produced locally by their own. They don't find spare parts that made in Taiwan trustworthy, and we want to change that impression."
Aside from offering trustworthy products, LC has advantages over local craftsmanship, which usually produce spare parts manually with little of machinery involved, predicable delivery date, quality consistency and good order fulfillment.
The problem of local workshops is that they heavily rely on technicians to perform operation that can be done better and more efficient by machine. For instance, the welding process will be much more efficient if use welding machine to do the work.
This drags them down, making them unable to fulfill order with efficiency, and the quality of operation won't be consistent since it's performed manually. Quality of work varies with technicians. LC Fuel Tank is able to offer faster delivery time thanks to automation and machinery.
Chan said the quantity can be an issue. The European companies are willing to purchase less quantity at higher price. That's very different from USA customers, who are willing to order more quantity in order to negotiate a better price. As manufacture, the economies of scale arise from greater the quantity of output produced. ''Lower quantity and variety of products offering'' is key for them to secure more business in Europe.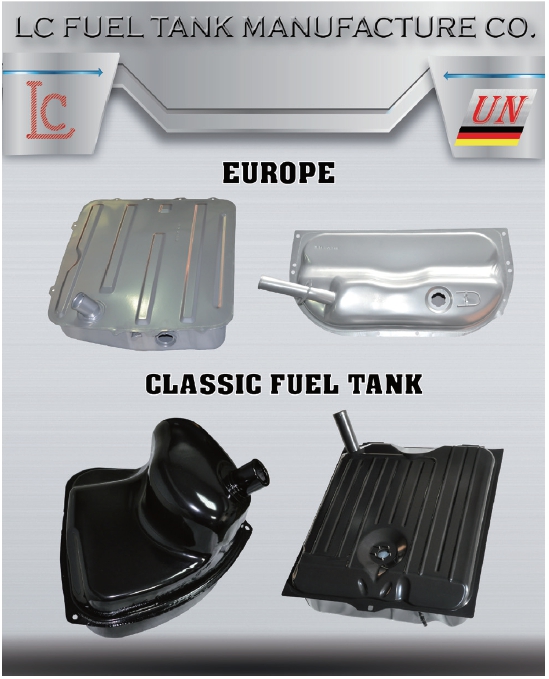 LC Fuel Tank Manufacture Co. aims for European classic car market with its quality auto parts. (Photo Courtesy of LC Fuel)
Attending more European classic car shows is currently LC Fuel Tank's main strategy to expand their market share in the region. Having done their research and attending two prestigious shows last year, they will be returning to Essen this April.
The painted fuel tanks are expected to receive the limelight at shows, attracting attention from foreign buyers and promote Taiwan's traditional culture worldwide. (photo courtesy of LC Fuel Tank)
The Challenges This Year
When mentioning the presumably positive effects brought on by the China-U.S. trade tensions, Chan remains pessimistic. Even though it is a definite fact that a number of American clients have shifted some of its imports from China to Taiwan, Chan believes that it was only a short-term effect, and it may not be the best correlation between orders and profit. Clients forced to switch to import from Taiwan would possibly already have that intention in mind, compared to buying at the cost level of China, yet getting the Made in Taiwan quality. Over in the long term, customer will turn to who can provide the lowest prices.
Taiwanese manufactures do great jobs on the spades, Chan says, but the increasing cost of labor lowers their competition compared with countries with less stringent labor laws. This is the difficulty many developed countries are facing.
Also, the increase labor cost is harmful to production volume, Chan states. To address the issue, LC is building a new facility. The new plant will equip its production lines with 6-Axisrobot arms and integrate with the labor workforce, to not only eliminate possible human errors, but also double production capacity at least. He expects that the new building will be completed by the end this year.
Despite the unfavorable challenges, the general manager is optimistic and expect
this year to be fruitful. ''We look forward to increasing presence in European classic cars markets, and make a name for our company as the best fuel tank manufacture for classic cars.''
The Highlights This Year
Tradition Collides with Contemporary Crafts to Spark New Inspiration
As LC Fuel Tank gained a reputation around the world, aside from continuing to innovate and improving product quality, the firm now combines both its branding and Taiwanese traditional arts together for greater exposure to the world. This year, the firm chose to paint their fuel tanks with imagery from traditional Taiwanese craftmanship called "Guan Jiang Shou," or literally translated as "Lead Generals." Guan Jiang Shou is a traditional folk-religion culture originating from Taiwan, considered the best example of Taiwan's combination of religious ceremonies, traditional drama and musical theatre arts, martial arts, traditional instruments, and arts.
China is famous for its distinctive cheongsam while Taiwan's northern neighbor Japan has its iconic geisha tradition. However, Taiwan lacks concrete and exclusive cultural images that allow foreigners to associate with Taiwan instantly, Chan said. With the social structure changing, many traditional cultures and folk customs were gradually lost under the impact of modern civilization. These valuable heritages left by ancestors should be well preserved by its descendants. Through painted, fierce faces of the Guan Jiang Shou, the troupes and distinctive choreographed performances, LC Fuel Tank hopes they can demonstrate the traditional culture in Taiwan.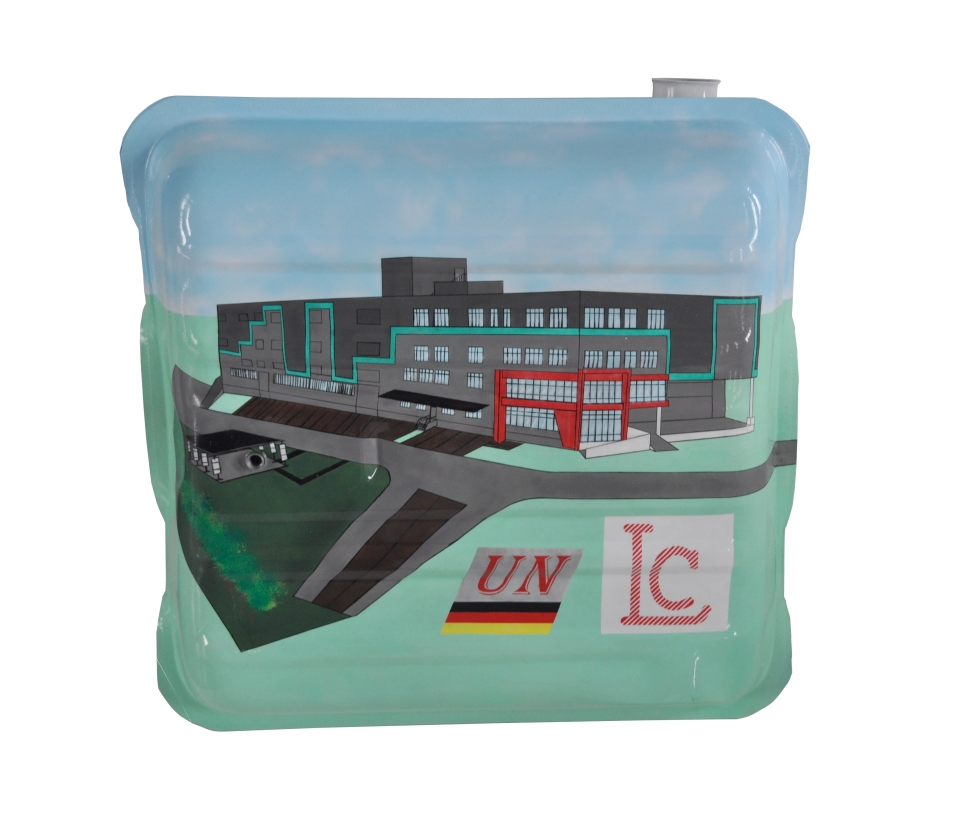 This is the exterior of LC Fuel Tank's new plant which are being constructed in Xiluo Township. (photo courtesy of LC Fuel Tank)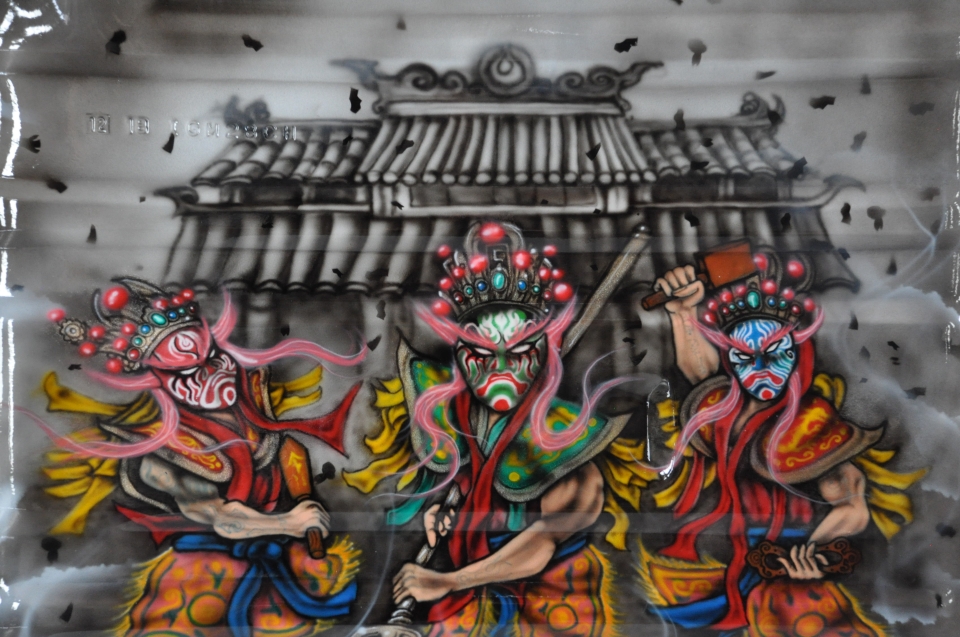 Traditional culture,Guan Jiang Shou, collides with modern fuel tank technology. (photo courtesy of LC Fuel Tank)