∎Kuo Fang-lin

Tai Cheer Industrial Co., Ltd. is a professional maker of varied ball-bearing drawer slides, ranging from light-duty, medium-duty and heavy-duty variants, with functionalities in three categories: soft-closing, push-open, and anti-tilt (interlock) system.

Drawer slides are primarily seen in household furniture, living room furniture, kitchen furniture, office furniture, tool kit trolleys, white-colored household appliances, ATMs and medical equipment applications. These slides are also categorized according to its closed slide length, including 2-section, 3-section, full extension and 3/4 extension drawer slides, which are often found in drawers for furniture, computer desks and in kitchens. Tai Cheer offers customizable services for clients in need of varied sliders, including medium to heavy-duty ball-bearing drawer slides that can hold up to a maximum load weight of 500 pounds. Through designing quality products, clients can apply them to tool kit cabinets, industrial equipment, automobiles, machinery, computer casings, and housings, as well as large-scale logistics equipment.

Currently, Tai Cheer operates three manufacturing factories in Taiwan, located in Yunlin and Changhua counties and boasting a total of 7,000-ping in terms of factory size. In a bid to increase quality production volume, the firm has continually imported top-grade CNC equipment from Japan, expanding the current production scale to over 100 production chains. Also, Tai Cheer acquired ISO 9001:2015 and ISO 14001:2015 certification, allowing the firm to offer stable, high-quality products, as well as delivering on time, cementing its reputation in the furniture manufacturing industry. Tai Cheer primarily handles orders like OEM, ODM, and OBM by employing its 30-plus-years of experience in the industry. For more information, please contact Tai Cheer by phone at 886-5-665-4716 or through their website at www.proslide.com.tw.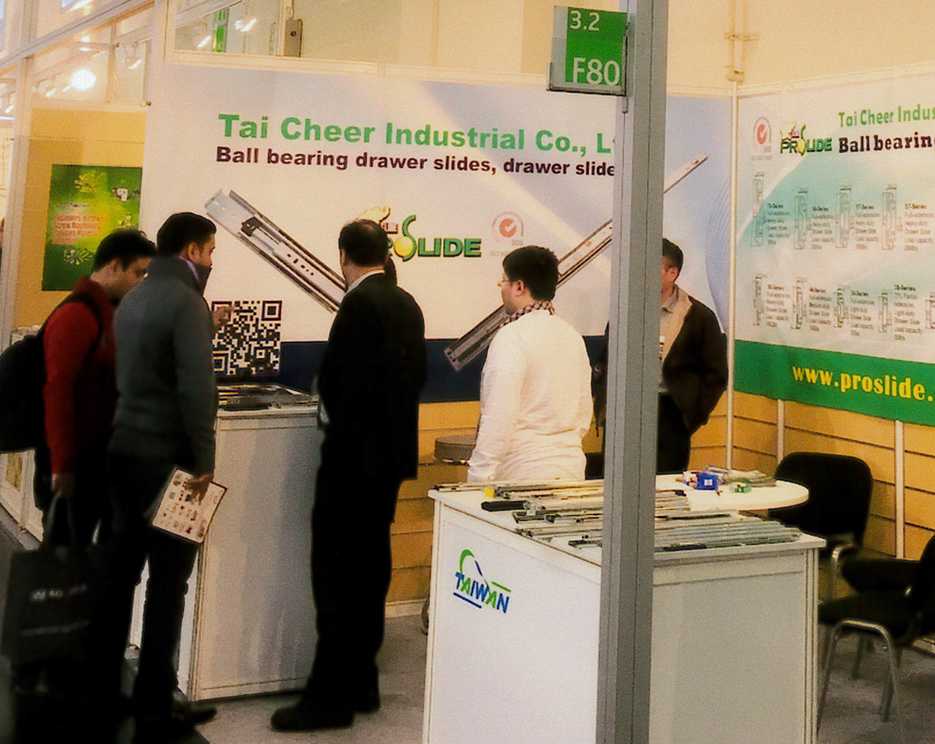 Tai Cheer has garnered global buyers attention at National Hardware Show 2019 by its quality products (Photo courtesy of Tai Cheer)