The 2019 edition of Automotive Aftermarket Products Expo (AAPEX) is kicking off from Nov. 5 to Nov. 7 at Sands Expo Center, with the arrival of 2,511 exhibitors from 36 countries, using up over 5,000 booths. Organizers said the event drew 48,603 targeted AAPEX buyers among 161,938 automotive aftermarket professionals who were in town during the show from 126 countries last year.

Manufacturers and suppliers attending AAPEX are bringing the goods in these categories: Air Conditioning, Automotive Lighting, Electrical Systems and Batteries, Cooling Systems, Friction and Brake Systems, Undercar, New and Remanufactured Replacement Parts, Suspension and Front End, Engine and Transmission Parts, Chemicals and Functional Fluids, Equipment and Tools (Including Diagnostic, Hand Tools, Machine Shop, and Service and Installation), Computer Systems and Software, Paint and Body, and Retail Warehouse Fixtures. AAPEX is slated to host a number of seminars and workshops, where attendees can gain insights into trending topics such as business management, electric vehicles, alternative fuel and energy, heating and cooling, heavy-duty technology in the competitive market landscape.

Taiwan's auto parts manufacturing is one example of an industry that has leveraged its small size into big output among auto giants. In 2018, U.S.-bound exports accounted 40% of the entire Taiwanese auto parts production. While Taiwanese manufacturers relentlessly increased investment in R&D and upgraded production technique, the annual revenue gained from outbound products continue to grow every year, cementing Taiwan's role in the global auto parts market.

For leading Taiwanese media Economic Daily News (CENS.com), hosting a booth at AAPEX, the largest trade fair for the AM market in North America, is a show of consistent confidence in the fair's importance of meeting and reaching out to old and new clients. To assist Taiwanese auto parts suppliers, who have established a high reputation among global buyers in both the OE and AM segment, in building a solid foundation in overseas markets, EDN has leveraged its reputation as Taiwan's biggest business-focused newspaper and exhibition service provider to join hands with Taiwan Transportation Vehicle Manufacturers Association, Importers and Exporters Association of Taipei, Southern Taiwan Auto-Parts Research and Strategy Alliance, and Taiwan Forging Association. Together, they organized an exhibitor group of 60 high-profile companies hailing from all corners of Taiwan's auto parts landscape to exhibit at AAPEX 2019.

The exhibitors include professional fuel supply systems manufacturer LC Fuel TANK, quality automotive chassis, and brake components Hwang Yu, as well as Tair Wang, a zinc die-casting manufacturer.

Other leading manufactures in the group include Eagle Eyes, a leading auto lamp maker, powder metallurgy manufacturer-auroral sinter, a specialist in Steering System, Transmission System, Blacksmith Metal.

All of these quality manufacturers have shown to the world that Taiwan has a comprehensive supply chain in the auto parts industry. The quality produced are not only in adherence to the diverse vehicle types on the AM market, but also tagged at competitive prices.

TTG (Taiwan Transportation Equipment Guide), published in 1986, is the earliest professional auto parts magazine in Taiwan, providing its readers the most comprehensive information on Taiwanese auto parts suppliers, related auto parts products and reliable suppliers for OEM, ODM, and OES services. To stay competitive in a digital era, TTG also comes in electronic format, saved in a USB stick at a buyers' convenience. TTG's new digital format enjoyed positive feedback from international buyers at multiple shows now; CENS.com is therefore confident that the digitalized TTG will perform the same at AAPEX, not to mention the positive marketing effects acclaimed by both buyers and suppliers.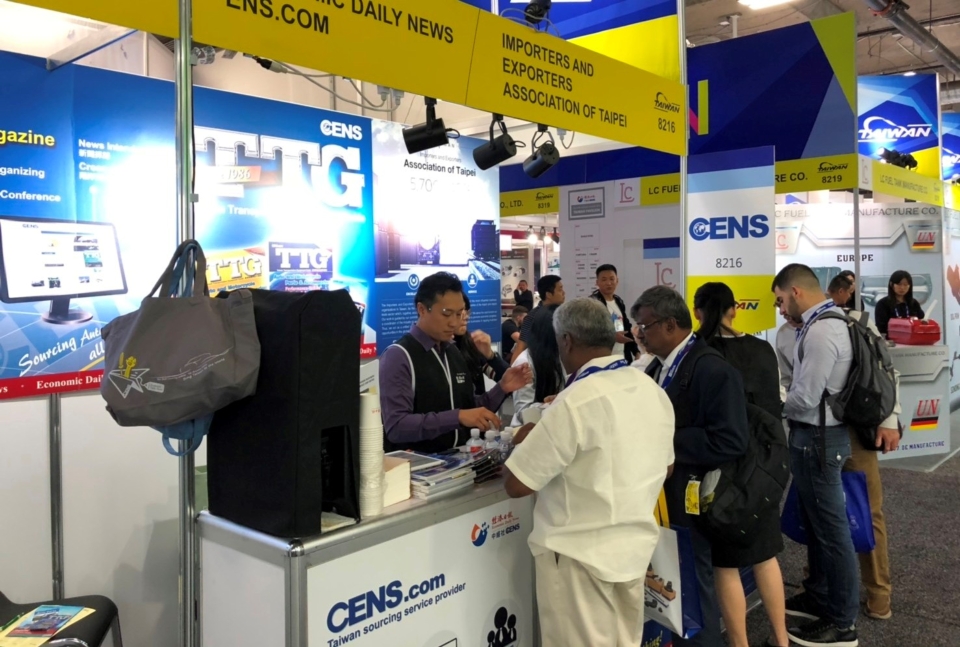 Economic Daily News' (CENS.com) Taiwan Transportation Equipment Guide (TTG) is popular among buyers at many of the trade shows CENS.com has attended. (Photo courtesy of TTG)
CENS.com continues to provide the popular real-time business matchmaking services at the exhibition. Through the resources and marketing professions integrated between EDN and CENS.com, first-hand buyer data and buyer needs reflected from inquiries filled by buyers on-site were sent back from Las Vegas to Taipei. The data is then processed into detailed, invaluable emails that are sent to Taiwanese exhibitors during the show. Such a unique matchmaking service sets CENS.com apart from its competitors and works to help Taiwanese firms find out new ways to promote their products all over the world more effectively.