In order to promote the industry upgrade in hand tool industry, Taiwan Hand Tool Association has joined hands with Tunghai University. By the sufficient momentum in artificial intelligence in the University, it can combine its cutting edge technology with hand tool industry through combining its connection and resources, bringing Taiwan hand tool industry a leg up.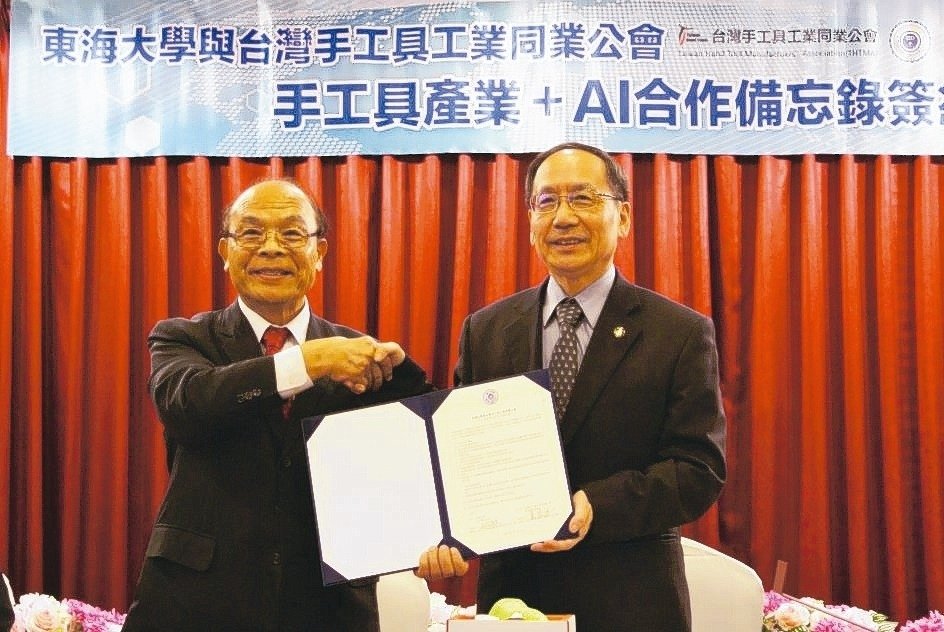 The chairman of Taiwan Hand Tool Association Huang Sin-der and Tunghai University principle Wang Mou-chun had signed MOU (photo courtesy of Wu Chang-chin)
The chairman of Taiwan Hand Tool Association Huang Sin-der said the industry has created 120 billion annually with over 400 companies. The industry has ranked the top three major industry in central Taiwan. Since its Inauguration, he hopes hand tools products in Taiwan has listed 5 highlights products in International Hardware Fair Cologne (IHF), which allows Taiwan to be seen worldwide
With the new era of AI, the industry should keep up the digital era, enterprises should plan for the next years for sustainable development. Seeking a cooperation with the university has helped the school to launch and integrate the school's teaching and research resources and also assist the association to launch the industry museum, AI training and digital transformation .
Principal wang pointed out with geographical location, it improves their interaction and connection in technical support, research development and enterprise development. By combing artificial intelligence, smart production, and user experience, it provides more creative ideas for the industry museum.