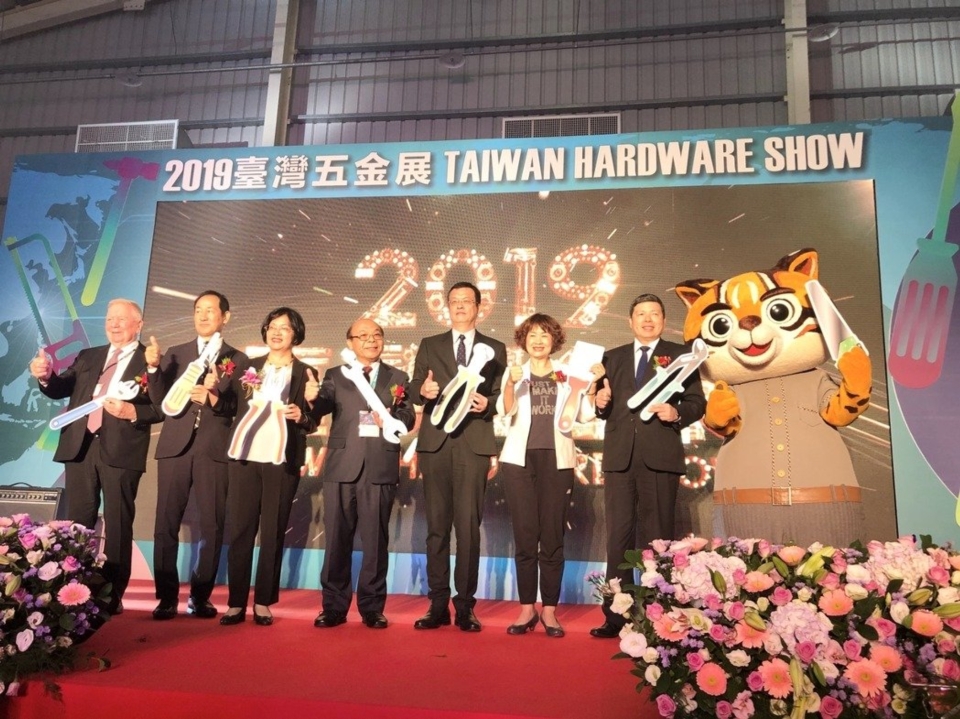 Taichung International Exhibition Center housed the complete spectrum of high-grade products for multi-sector applications available for direct orders, which is expected to reach more than NTD$25 billion (Photo photographed by Sung Chien-Sheng)
Turnout surges despite turbulent economy
Taiwan Hardware Show (THS)
, the best business platform for the hardware industry in Taiwan, took place at the Taichung International Exhibition Center from Oct. 17th to 19th. The show saw participation from 430 domestic and foreign exhibitors, taking up more than 1,000 booths in total, the highest record in the show's history.
Last year was the seventh consecutive year with THS taking place in Taichung. With the show tightly connected to the strong hand tool cluster in the Greater Taichung area and close ties with the international market, THS has become a globally acclaimed and most awaited trade show in Asia. THS divided the exhibition into 8 show areas below this year: Tools and Accessories, Locks and Fittings, Fasteners and Fittings, Building Supplies, Garden and Outdoor Equipment, Automotive Supplies and Accessories, Machines and Plant Equipment, Safety Equipment and Products. The show takes on bold marketing methods for Taiwan's hardware industry in innovation design, as well as the newest technological research.
In 2018, THS attracted visitors from 85 countries and 30,889 professional buyers, generating NTD$25 billion (US$820 million) worth of on-site and post-show orders. Last year, THS optimistically forecasted that the 2019 edition would set a new high in visitors and increasing orders due to the US-China trade war.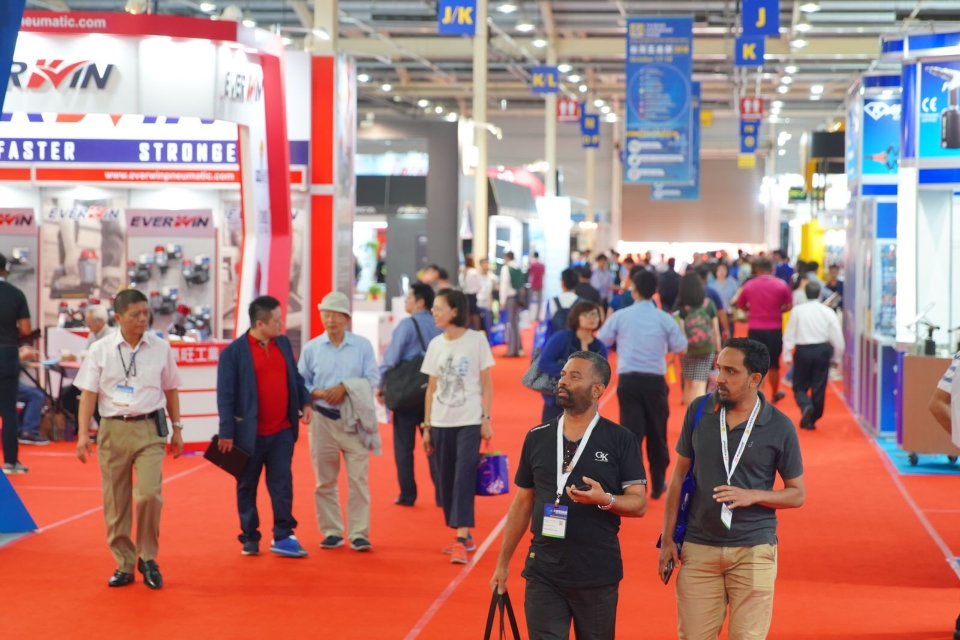 THS 2019, held October 17-19, at the Taichung International Exhibition Center. (Photo courtesy of THS)
The organizer also invited buyers from Russia, Ukraine, Poland and many other emerging countries interested in purchasing high value-added and niche products for aerospace, medical, aftermarket, gardening, industrial and digital hardware & tools applications. This was done to increase opportunities for Taiwanese suppliers to gain potential orders in markets outside their usual fields.
Leading Manufacturers Take Advantage of Business Opportunity Allprofessional
Allprofessional (ALLPRO)
is one of the biggest, best-known, snip makers in Asia, supplying a diverse product line of snips. Most of the company's snips can even cut steel plates with a surface hardness rating of HRC 40. ALLPRO's quality is seen in how its snips can handle a variety of material without losing its sharpness: as an example, the shears can easily cut through papers, moving on to 0.66mm thick steel plates rated HRC40, then onto stainless steel plates. But, get this, despite cutting through so many different materials, ALLPRO's snips can still easily cut through fabrics as if it was new. No other company in the world is capable of this.
Allprofessional president David Huang.(Photo courtesy of CENS.com)
Chang Loon's Ratchet Wrenches Cements Global Reputation
Ratchet wrenches have been adopted by advanced inspection instruments, including precision projectors, testing equipment, and dedicated, experienced QC staffers for strict pre-delivery quality inspection. By adhering to rigorous, strict control over its production system and quality inspection
Chang Loon
became the best OEM and ODM hand tool manufacturer for foreign-bound orders. With products patented under the ProRatchet brand, it successfully built a solid reputation among buyers as a trustful, competent veteran supplier of its kind in the global market. So far, the company has marketed products to Southeast Asia, Middle Asia, South America, Canada, USA, and Canada.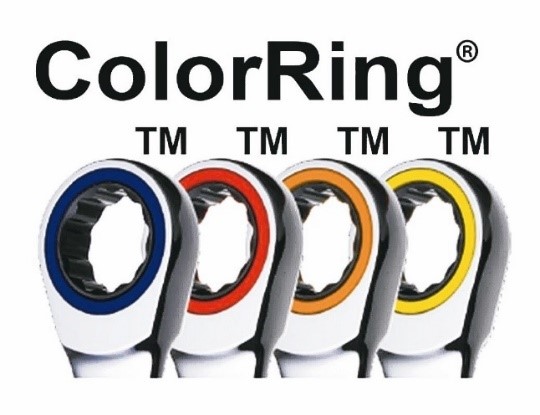 Chang Loon`s magnetic colored ring embedded in the ratchet head builds brand recognition. (Photo courtesy of Chang Loon)
Leading Buyers Increase Exports Momentum
Globally well-known brands, such as Stanley, Kawasaki, Würth, Snap-On, Milwaukee, as well as many purchasing representatives working for IKEA, Lowe's, Monotaro and TradeTools are also frequent participants of this show. The number of pre-registrants from the U.S. and European distribution networks in 2019 was also higher than the previous year, laying down expectations that there would be more orders for Taiwanese companies and enhance the export of the domestic hardware and hand tools industry.
Changhua County Industrial Association Shores up Biz-Matching to Global Buyers
In a bid to assist manufacturers in Changhua County to expand their market reach overseas against severe competition in the globalized market, Changhua County Government has been an active player in pushing for a makeover and innovation of its local small and medium-sized enterprises. This is done in hopes of establishing stronger connection with international markets.
An example of the local government's plans is its decision to set up an exhibiting area at the Taiwan Hardware Show, hosted annually in mid-October, called "Changhua County Industry Exhibition Area." The area was planned out for the government to counsel local enterprises to exhibit at the show. A total of 36 companies from Changhua attended, offering products under eight categories ranging from tools and accessories, locks and fittings, fasteners and fittings, building supplies, and garden and outdoor equipment. Others include auto supplies and accessories, hardware machinery and factory equipment, as well as safety equipment. Changhua County's lineup at the show only cemented its growing reputation as an industry member capable of offering vibrant and diverse products.
Changhua County Industrial Association (CHCIA) has been a constant presence in actively engaging and planning out trips to domestic and overseas exhibitions for the local enterprises. CHCIA has the local suppliers' best interests in mind as the association continues to assist manufacturers in expanding their business opportunities and overseas orders, prompting upgrades to the local industry and its competitiveness.
The association also recruited Hsun Wang Industrial Co. General Manager Hsiao Soa-ping as their exhibition consultant, signifying their determination to assist their local manufacturers in establishing more business opportunities, increasing visibility of the local suppliers, as well as strengthen brand marketing efforts.
According to statistics from CHCIA, there are 10,876 factories registered in Changhua County as of July this year, while there are approximately 3,500 companies manufacturing quality products with CHCIA membership. With the clear goal of introducing global buyers to quality and unique Changhua suppliers, the association will be offering biz-matching services for those interested. Prospective buyers can contact CHCIA at 51@ch-industry.org.tw.
Pictured from front row, third right, Changhua County Government Economic Affairs Department Director Liu Yu-ping, County Magistrate Wang Huei-mei, and Secretary Chen Bo-tsun, and CHCIA Secretary-General Chen Yung-hsin pose in front of the exhibition booth. (photo provided by CHCIA)
Economic Daily News Highlights Biz Opportunities at THS
CENS
, Taiwan's most experienced export-oriented media, was available at THS at Booth No. J34. CENS promoted its online platform, circulating its informative publications, including the Guidebook to Taiwan Hand Tools and Taiwanese exhibitor special report newsletter, which showcases domestic exhibitors. The digital version of such publications also came in the freebie USB, including publication consisting of not only the hardware industry, but also for the lighting, and furniture industries. The CENS team also engaged in surveying on-site buyers, keying in their buying needs into CENS.com's on-site biz matchmaking service. Manufacturers in the Guidebook to Taiwan Hand Tools and suppliers in the CENS database will be able to receive the latest and most up-to-date buyers' business data, giving them a leg-up ahead of their competitors.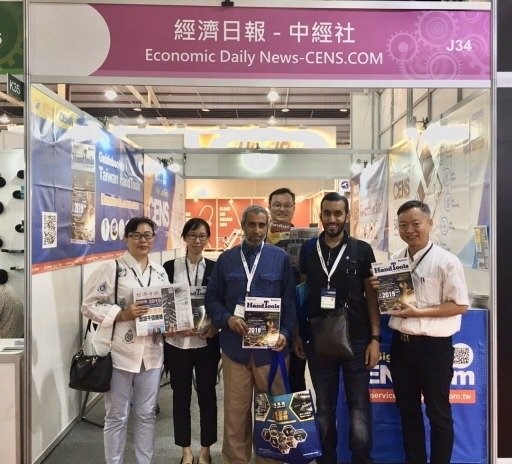 The new instant digital matchmaking services has built a strong following and reputation among buyers and suppliers. (Photo photographed by Hsiao Yung le)