Founded in 1975 in Taichung, A-Tina Co., Ltd. is an industry leader in hand tools. With around 45 years of manufacturing experience, it can provide customization in accordance to client requirements. The company offers various tool cases in materials such as hollow molding in plastic, aluminum, iron, and nylon. and a wide variety of tool kits for different project purposes, including auto repair, drill series, cutters, wrenches, pliers, and socket series. Notably, the home repair tool case is with aluminum frame and chrome steel corner which makes it easy to carry. The B477 series is the firm's power tool accessory selection with a wide variety for different project purposes. The see-through window allows users to select the tool without opening it.

Currently, the firm has operational headquarters in Taiwan and a manufacturing base in Shanghai. In 2020, Jiashan A-Tina Technology Co., Ltd. will begin operations to serve more clients around the globe.

With exceptional R&D capability, the company launches new products to the market every quarter since they believe that "new item is the key to the future." A-Tina has also obtained numerous local and international patents in the U.S. and Europe for its thousands of innovations. Plus, the products are made in compliance with international standard MIL-STD-105E and ISO-9002 certified and also covered by USD$2 million in product liability insurance.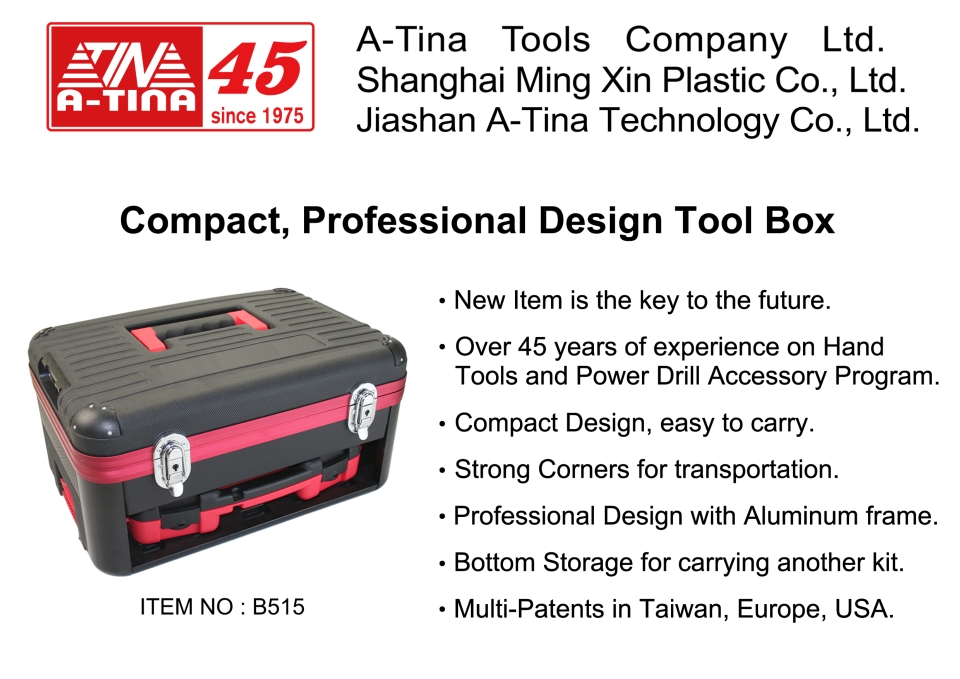 A-Tina Co., Ltd
No. 25, Chungyi 1st Rd., Ye Her Borough, Tachia Dist., Taichung City, Taiwan 43743
Tel: 886-4-2687-7177
Fax:886-4-2687-7280
Email: tonytina@atinatool.com
Website: www.atinatool.com