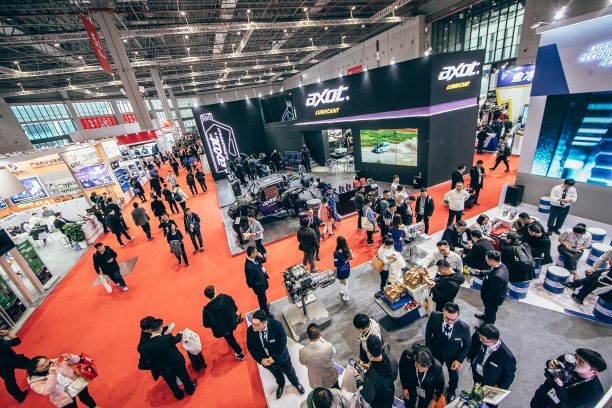 (Photo courtesy of Messe Frankfurt (Shanghai) Co Ltd)
Global car sales have declined by 4.7%, although we can see a slight growth in the US, Japan, and Germany. However, with a 10%-decrease of demand in China and India respectively, both high-ranking auto markets are a major factor in the worldwide decline. On the other hand, the number of electric cars hit over 5 million vehicles in 2019, with 20% of high growth, equal to its growth in 2018. Despite the overall declining trend, every leading trade fair in the automobile industry is still actively joining with prime global exhibitors to showcase their innovation, cutting edge solutions, organizing forums, seminars, and B2B negotiations.
In the second half of 2019, premiere global trade fair such as AAPEX—boasting a long history--, the leading fair in Europe Equip Auto, and emerging markets in Automechanika Shanghai and Russia, have proposed their vision of the future of the automotive industry. By analyzing the trend and highlights in those trade shows, CENS (China Economic News Service) presented readers with the most up-to-date trends in the industry. Founded in 1974, CENS (China Economic News Service) is a business export-oriented media with subscribers distributed on the global map. CENS accumulates international buyers' procurement needs through promoting publications, hosting and matching Taiwanese manufacturers to participate in major domestic and foreign exhibitions, which has not only built up trust and gained recognition by Taiwanese manufacturers, but also become highly valued by international exhibitions over the years.
Equip Auto
Established in 1975, Equip Auto is held biennially by the French Federation of Vehicle Industries and Equipment (FIEV) and the French Bodywork Federation (FFC). Equip Auto, a leading trade show in automotive aftersales and services, has attracted prominent buyers from France, Europe, Central Africa, and North Africa. This year, exhibition space increased by 36% with 100,000 square meters and an increase of 44% exhibitors, with 1,300 companies coming from more than 70 countries compared to the last edition.
Last year, the tire sector has been set up separately as a newly developing field aimed to integrate with manufacturers, and repair businesses, bringing together the entire ecosystem. Besides light vehicles (passenger vehicles and LCVs), the maintenance and repair of heavy-duty and heavy-goods vehicles were also in the spotlight in 2019. The exhibition will make a point of promoting solutions offered by suppliers in the upcoming edition.
France, a pioneer in the automotive industry, is home to two major automaking companies, PSA Group and Renault Group, both renowned for manufacturing lightweight commercial vehicles and passenger vehicles. In recent years, sales in the French automotive aftermarket have increased, with the main categories engines, vehicle interiors, body parts, tire chassis components, and measurement, diagnostic and maintenance equipment seeing the most growth. These parts are sold to OEMs and the aftermarket, including OES and IAM.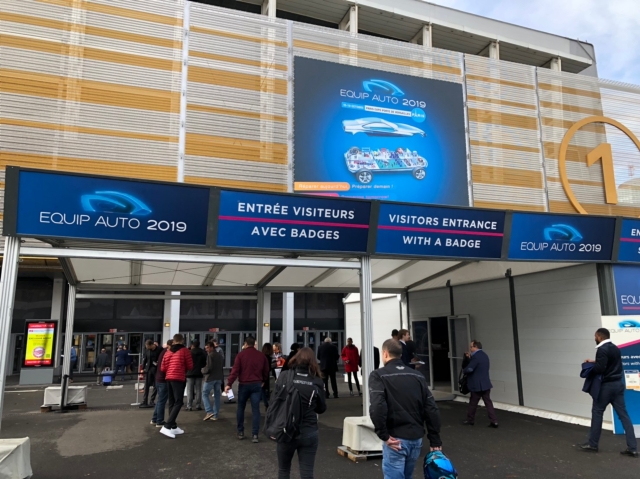 The leading fair-Equip Auto has several groundbreaking adjustment last year. (Photo courtesy of Equip Auto)
AAPEX
AAPEX (Automotive Aftermarket Products Expo) is the largest trade fair for the aftermarket in North America, as well as the world's second most influential only next to the biennial Automechanika Frankfurt in Germany. AAPEX brings new-to-market products, the latest services, and technology. According to the show organizer, the event sees a total of 71,350 visitors, mainly automotive service professionals, auto parts retailers, warehouses vendors, car dealers, and engine manufacturers.
Apart from traditional display areas, the recent addition of AAPEX Technology of Tomorrow is the place to view products that are still in the prototype phase and set to hit the market in the next three-to-five years. Emerging technology displays include the Smart Solar Powered Backup Camera by FenSens and smart sensors that connect with vehicles by Sensata. This section also will feature demo implementations of the Secure Vehicle Interface (SVI), insight on the work that the Auto Care Association is conducting for the standardization of ADAS calibration and equitable access to Embedded Device Software (EDS) on behalf of the aftermarket.
Although Taiwan's auto component manufacturers are mainly small and medium-sized enterprises, they are optimistic about the future business opportunity in automotive safety and autonomous driving trends. Currently, they are actively upgrading and transforming, gradually entering the market of price differentiation.
ICT enterprises involved in the auto electronics market includes TSMC, Foxconn, ASUS, Quanta, and others. By leveraging the world-class capability in ICT, semiconductor, electronics, and auto parts fields, Taiwan has well-integrated all its cross-industries expertise and experience, moving from aftermarket production to the assembly market. The automotive component trend is moving forward to smart, clean and electric solutions, attracting Taiwanese electronics and materials manufacturers to step in the supply chain of automotive components, with expectations to expand new business opportunities.
Many buyers are impressed by Taiwanese firms and product quality (Photo courtesy of CENS).
Hundreds of Taiwanese exhibitors gathered in the latest edition of AAPEX, including Jesselai showcasing various coolers, brake master cylinders, and auxiliary radiators; LC Fuel Tank's professional fuel supply systems and fuel tanks, and Matelplus providing steering and suspension system parts. Other premier suppliers such as Eagle Eyes, manufacturing quality auto lamps; while Tair Wang provides the parts for the Harley-Davidson motorcycles, accessories for the vintage cars of BMW. Taiwanese suppliers are well-known for its HMLV (high- mix, low volume) and high production flexibility, and the ability to compete with top tier manufacturers on the same stage, backed by a complete supply chain from downstream to upstream.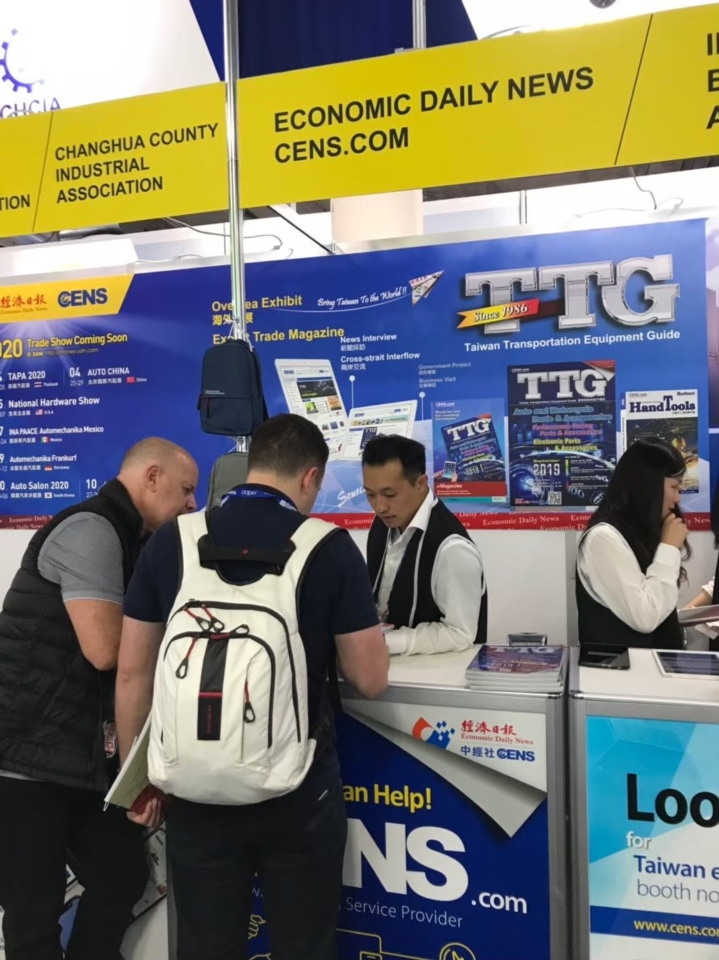 The booth of CENS has fulfilled many international buyers' inquiry (Photo courtesy of CENS)
MIMS Automechanika Moscow
MIMS Automechanika Moscow is Russia's leading international trade fair for the automotive service industry with exhibitors coming from 1,430 companies and 36 countries. It is also considered one of the most potential markets worldwide. Notably, companies from Malaysia, Thailand, and India presented their national pavilions for the first time last year. Exhibitors from Germany, Italy, France, Korea, China, Turkey, Poland, Taiwan, and Singapore showcased new products and modern trends in the automotive market at joint stands in national pavilions. Worth mentioning, more than 380 companies presented automotive parts and solutions for freight vehicles within the framework of the "Truck Competence" project.
Russia boasts a population of 145 million in a large territory. Due to the rapid rise of the middle class, Russia was considered one of the most promising markets with double-digit growth rates in car sales. The new car sales once hit 3,040,000 units in 2013. Besides sales of new cars, the used car market is currently at 5 million units annually, representing great business opportunities in the automotive repair and maintenance services market. The size of the Russian auto parts market reached US$ 21.2 billion in 2018. Russia is the 16th largest destination for Taiwan's auto parts exports. In 2018, the export values reached the US$ 2.1 billion, a decrease of 12.3% compared to the same period in 2017. At present, there are 324 cars per 1,000 people in Russia, and there is still room for car demand to increase. This fast vehicle ownership expansion implies the growing demand in the after-sales service market.
Automechanika Shanghai
After 28 years of continued growth, China's new car market experienced negative growth for the first time in 2018, with sales of 28.08 million vehicles for the entire year, a 2.8% decline compared with the same period in 2017. Overlooking 2019, the sales in the car market fell behind compared to the same period in 2019, indicating a pessimistic market. However, last December, Automechanika Shanghai had a grand opening at the National Exhibition and Convention Center (Shanghai) as the most influential platform in automobiles and services. The show mainly focused on the ecosystem of automobiles, gathering global professionals at the 360,000 square meters venue to explore future possibilities.
This year, the organizer has expanded multiple themed display areas on the foundation of former exhibition, including a full upgrade in the Tomorrow's Service & Mobility sector in North Hall, which has showcased the latest innovations for electromobility, intelligent vehicle technology, mobility services, and lightweight materials. Other popular sectors include the newly established Customizing sector to respond to rising market demand. Once again, the associated Motorsport & High-Performance zone was a crowd favorite and amplified international racing competitions, modified parts, and high-performance vehicles. In addition to the Tomorrow's Service & Mobility and Customizing sectors, the exhibition will host thousands of other exhibitors across five other product categories. Parts & Components, Electronics & Systems, Accessories, Repair & Maintenance and REIFEN (Tyres & Wheels) will offer comprehensive coverage of the entire supply chain.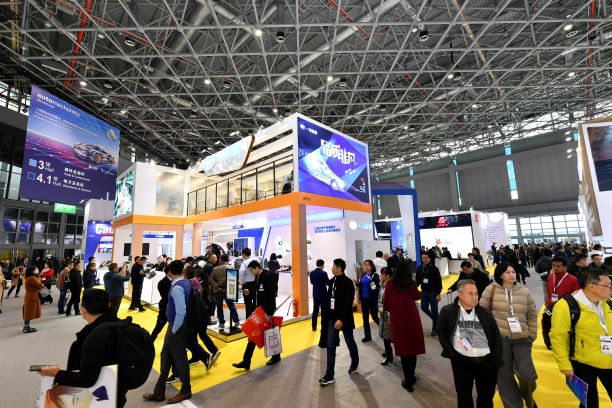 Tomorrow's Service & Mobility and Customizing sectors are popular among buyers (Photo courtesy of Messe Frankfurt (Shanghai) Co Ltd)
With the gradual slowdown of the China-U.S. trade war, the future is still chaotic. Under the circumstances, the global economic outlook is still generally unfavorable. The decline in global car sales in 2020 is already a clear trend, making the sought-after aftermarket more important than ever. Many Chinese OEMs have begun entering the independent maintenance market to snatch their shares. How to maintain a differentiated competitive advantage in this environment is an indispensable topic for each manufacturer.
Economic Daily News (CENS) Leads Taiwanese Exhibitors to Win the Best Biz Deals
Economic Daily News (CENS) has been a regular participant in many international trade fairs, where foreign buyers and exhibitors are able to subscribe to CENS' procurement guide books like Taiwan Transportation Equipment Guide (TTG) and its USB e-magazine version to keep up with the fastest updates on the show and the industry trends. CENS has gathered buyer's information in many recognized trade shows and connected advertisers with buyers immediately through our latest real-time matching service which buyers give their thumbs up. With CENS's staff providing real-time biz match-ups and the latest buyer's procurement needs, exhibitors are able to benefit more in exhibitions, meaning in terms of business opportunities, enabling Taiwanese suppliers to get the best matches ahead of their competitors.