Aluminum forging, die casting, CNC machining, auto parts, sporting good parts, etc.
Founded in 1973, YihFeng Industrial Co., Ltd is a professional company specializing in aluminum forging, die-casting and computer numeric control (CNC) machining.

The firm takes pride of its complete product lineup covering a large variety of auto parts, motorcycle parts, bicycle parts, 3C (computer, communication, and consumer electronics) parts, sporting-goods parts, among others.

With over 40 years of development, Yih Feng has achieved well-honed production capability, ample capacity and outstanding product diversification, to satisfy global customers with fine quality and fast delivery as well as business integrity.

The firm claims to have very strong capability in OEM/ ODM, providing rapid product design and development, volume production, and precision processing, backed by in-house tooling development ability, and top-end and comprehensive equipment.

The maker sells quality parts to customers in both domestic and international markets, with major export markets in Europe, while also aggressively exploring new markets globally. Thanks to high quality and reasonable prices, Yih Feng passed stringent certification by many international vehicle makers, such as Harley Davidson of the U.S. and Yamaha of Japan, to be a qualified parts supplier.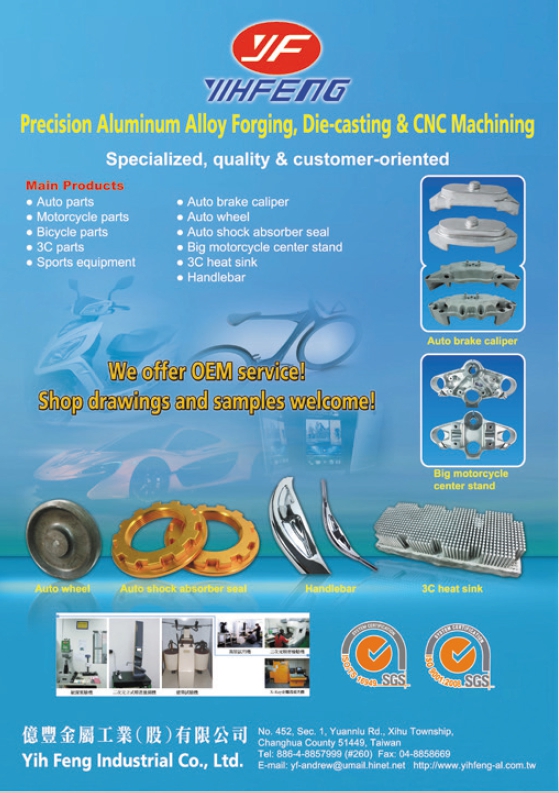 YihFeng Industrial Co., Ltd.
No. 452, Sec. 1, Yuanlu Rd., Xihu Township, Changhua County 514, Taiwan
Tel: 886-4-885-7999
Fax: 886-4-885-8669
Website: www.yihfeng-al.com.tw
E-mail: yf-andrew@umail.hinet.net