Kae Dih is an ISO 9001-certified developer and manufacturer of wet/dry vacuum cleaners, dust extractor, industrial vacuum cleaners, dedicated vacuum cleaners and electric random orbital sanders, direct electric random orbital sander.

Aside from industrial vacuum cleaners, Kae Dih offers customizable orders of dust collection systems, catering to the varied needs that each industry requires while upholding its company principles of achieving an "environmentally-friendly" operational model.

Now that Kae Dih has cemented its reputation in the global vacuum industry, the firm continues to leverage its strong R&D prowess by rolling out a direct electric random orbital sander and dust extractor. These products are sold under its JESON brand. This specific sander model is built with an adjustable and precise 220V-240V brushless motor, able to change between nine-preset max speeds of 2000-10000R.P.M.

The direct electric random orbital sander model is also unique in how it has optimized ergonomics for comfortable grip and easy usage, while the low center of gravity grants the user labor-saving advantages. Long-term use of the sander, coupled with the dust extractor, allows safe, labor-efficient and fast dust collection advantages. With its adjustable and precise brushless motors, the smart monitoring system also keeps motors from over-working and maintain the best efficient speeds.

Also, their JS5838CEAV-series of vacuum cleaners with manual and automated filters comes in dry and wet-type models for different applications. Its automated functions not only include filter cleaning, but for adjustable speeds to step in when moving between manual and automated modes.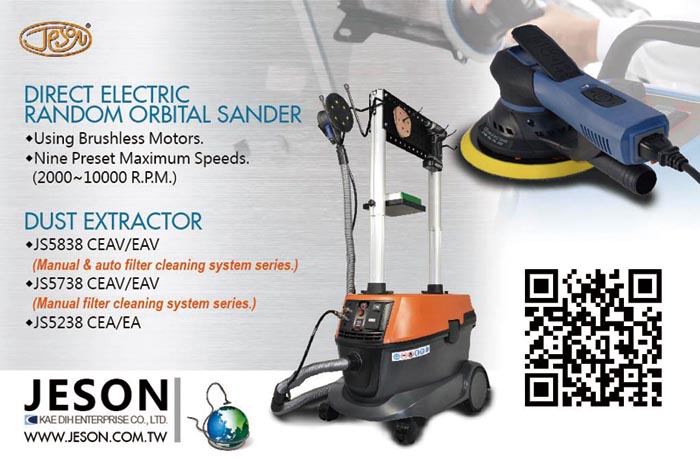 Kae Dih Enterprise Co., Ltd.
No. 357, Sec.1, Cheng Gong Rd., Puyen Township, Changhua
County, Taiwan 516
Tel: 886-4-865-5545
Fax: 886-4-865-5471
Email: sales@kaedih.com.tw
Website: www.jeson.com.tw