Founded in 1996, Demax Enterprise Co., Ltd. is a versatile supplier of a comprehensive range of auto parts, including oil seals, engine parts, brake parts, chassis parts, suspension & steering parts, transmission parts, rubber parts, strut mounts for automobiles, trucks, trailers, etc.Demax is also a specialized maker of automotive oil seals and rubber products, which are globally marketed under the company's own "DEMAX" brand or on OEM/ODM basis.

The firm says that it is capable of developing and manufacturing all kinds of oil seals, including rubber face seal, metal face seal, metal face seal with inner case, etc., in various materials such as NBR, Polyacrylate, EPDM, Silicon, FPM, Teflon, etc. and specifications based on customers' product samples or design blueprints.

Demax is confident of its ability to supply quality products and satisfactory services, because the company has been engaged in the automotive equipment industry for a long time since its inception as a supplier of high-end oil seals and rubber parts for motorcycles. In addition, the firm emphasizes that its core competitive advantages lie in stringent quality control, prompt delivery, competitive prices, and OEM-service capability.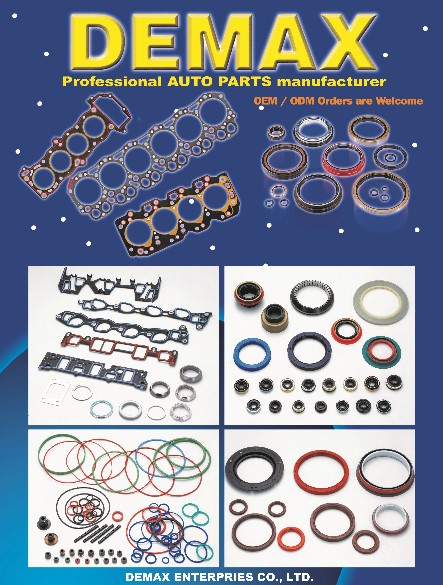 Demax Enterprise Co., Ltd.
1F-5, No. 151, Sec. 5, Mingsheng East Road, Taipei City, Taiwan
Tel: 886-2-2747-9099
Fax: 886-2-2747-9097
E-mail: letti@seed.net.tw