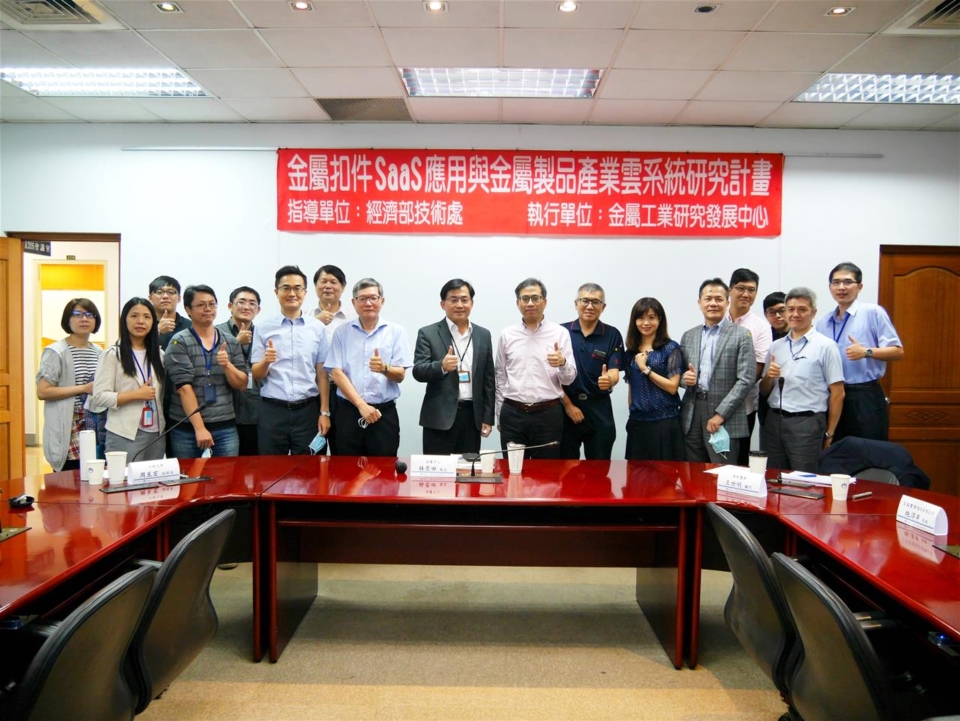 The Metals Industry Research and Development Center has invited professionals from the industry, academic, and research sectors to exchange their thoughts (Photo courtesy of MIRDC)
Many industries have been affected by the prevalence of the COVID-19 pandemic. On top of the government's industrial relief and revitalization policy, many small and medium enterprises (SMEs) should think about how to accelerate the deployment for "digital transformation", including digital application services, products, and related digital tool technology. Taiwan plays an important role in the global fastener industry. The Metals Industry Research and Development Center (MIRDC) has implemented the "Application of SaaS in Metal Fastener Industry and Fabricated Metal Products Industry Service Cloud" to help create the service cloud platform for the fastener industry on the basis of the need for smart upgrade of the industry. The platform aims to integrate the smart manufacturing software and technology, develop systematic solutions, and consolidate the services to domestic fastener manufacturers. Digital transformation not only helps increase productivity, speed up the development cycle and reduce costs, but also constitutes a key success factor for international competitiveness.
MIRDC held a conference of the Taiwan Fastener Smart Service Cloud Promotion Committee lately, inviting experts from the industry, academic, and research sectors to share their valuable opinions. Dr. Chong-tian Lin, Director of MIRDC, indicates that smart manufacturing of the fastener industry should adopt the "total planning, phased implementation" approach. Through the equipment's instant online monitoring function, quality can be controlled, and the supply chain can be tracked by connecting to the fastener cloud platform. Using IoT to connect with domestic equipment manufacturers, software and hardware service companies, system integrators, and IT system manufacturers provide to form a big industrial alliance and help industrial transformation and upgrade.
Dr. Chiu-feng Lin, President of MIRDC, states that the fastener industry has been contending for high-value orders. The quality requirement and even the prediction-responsive manufacturing capability all pose a test on the domestic manufacturers' capability to satisfy international orders. MIRDC built a fastener industry smart manufacturing demonstration production line to integrate its forming design simulation and process system, optical die adjustment expert system, fastener forming process monitoring system, forming quality analysis and pre-diagnosis system, and automatic sampling system, establishing a systematic production approach for the fastener industry etc., MIRDC is able to provide smart services, including die design, forging force analysis, processing optimization, online quality survey, equipment pre-diagnosis, etc.