Aftermarket (AM) Power-window Regulators, Power-window Motors, Door Handle Locks, Key Switches and Tonneau Cover Locking System
Established in 1979, Ching Ying Metals Co., Ltd. is one of Taiwan's most experienced makers of aftermarket (AM) power-window regulators, power-window motors, handle locks, and key switches. The company has successfully tapped the international original equipment (OE) market.

With strong R&D strength, Ching Ying recently launched the Tonneau cover locking system products which are available in several choices.

The company claims that it is a fully integrated maker of auto parts and accessories, able to supply the most comprehensive range of power-window regulators and door-handle locks in Taiwan, as a result of systematic development and capital investment.

Thanks to its intensive investment in moldldie development, the company supplies over 350 models of window regulators, over 300 for door-handle locks, and over 250 for key switches.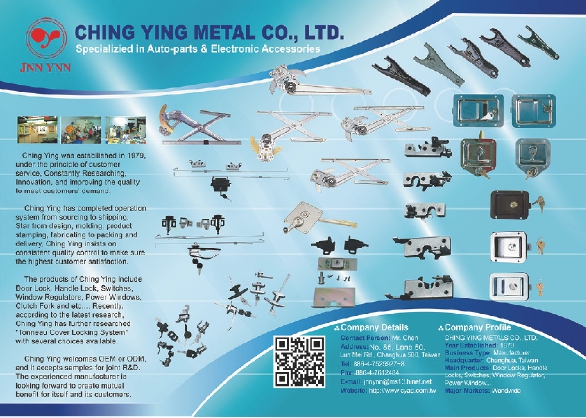 CHING YING METALS CO., LTD.
No.85, Lane 60, Lunmei Rd., Changhua City, Taiwan 500
Tel:886-4-752-5927/8
Fax:886-4-761-2484
E-Mail:jnnynn@ms13.hinet.net
Website: www.cyap.com.tw