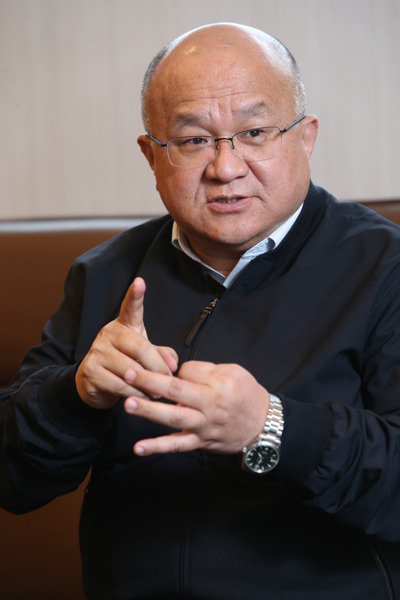 Minth Group Chairman Jong-Hwa Ching. (UDN File Photo)
The world's leading auto parts and battery housing maker Minth Group's Chairman Jong-Hwa Ching revealed on Sunday that it would launch M&A investment plans into Taiwan next year, focusing on auto parts, vehicle batteries, and the semiconductor industries.
Ching named investing in Taiwan as an advantage highlighted amid the trade tensions between the U.S. and China, and expressed optimism in developing electric vehicles and automated driving. He regards Taiwan as a suitable environment to see the development of newer technologies. Another factor for considering M&A strategies is that due to Taiwan's geographical restraints, industry-use land is harder to obtain. Companies may have a harder time building their own factories, Ching said, so naturally, M&A is a logical route.
Many firms are currently under consideration, Ching said, regarding the group's investment plans, including auto parts firms and semiconductor-related firms in the electronics industry. The group is prepared to invest a total of 60 billion, however, Ching said plans are still under evaluation, and they have yet to zero on any firms.
Minth Group is among the world's biggest auto parts maker, and also a heavyweight Taiwanese-invested group. Through vertical integration, the group was able to increase efficiency from the top-to-bottom production chain through raw materials and equipment development; in its 30 factories located globally, Minth Group employs a worldwide synchronized supplying strategy. The firm makes up over half of supplying auto parts among the 90 million cars manufactured globally.
The group is reported seeing a rebound in the latter half of 2020 in the Chinese automotive market, despite pandemic impacts earlier this year.
While the firm traditionally focuses on auto parts hardware, such as collision parts, and also interior accessory parts, yet the group is seeking new industries to invest in. Ching personally is investing in listed companies such as SOE Co. and United Alloy Tech Co., with hopes to merge Minth's R&D capabilities and electric vehicles.