Preface
The three-in-one Taipei AMPA wrapped up on Oct. 24 at the Nangang Exhibition Center Hall 2. According to TAITRA's statistics, the four-day event attracted approximately 6,000 professional visitors, including representatives from Tesla Taiwan, TOYOTA, FORD, NISSAN, the joint EV venture between Foxconn and Yulon, and Michelin Tires.

Unlike previous events, TAITRA organized a virtual expo and a series of online events as live-streaming of forums, new product launches, and tours of the expo premises had attracted 3,708 online viewership. The top five countries making up the viewership came from the U.S., Japan, Finland, the Netherlands, and China.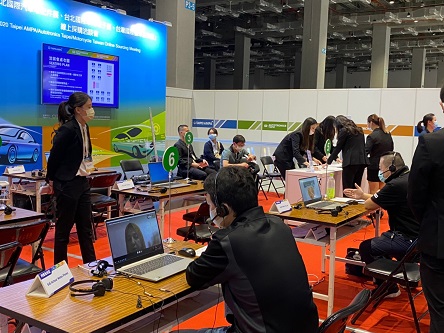 1-on-1 Virtual Procurement Sessions on Day 1 of Taipei AMPA, removing restrictions on location and time for local and global buyers to get in touch. (Photo taken by Lin Yu-shuan)
Show Introduction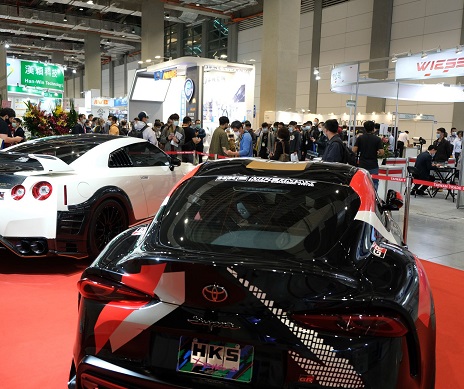 A modified car on display at Taipei AMPA. (Photo courtesy of TAITRA)
Due to the pandemic, TAITRA shrunk the show in size and scope, with three shows still presenting: Taipei AMPA, Autotronics Taipei, and Motorcycle Taiwan. Each show area included auto parts, modified auto cars and parts, auto production, inspection, repair, equipment, electric vehicles (EV) and related components, equipment, smart transportation, total solutions, and motorcycle accessories.
On the other hand, as EVs' long-term trend is here to stay, TAITRA organized a series of forums discussing AIoT and EV trends. These forums attracted over 1,000 professional visitors, including those from Tesla Taiwan, SYM Motors, China Motor Corporation, ASE Technology, and Sony.
Market Outlook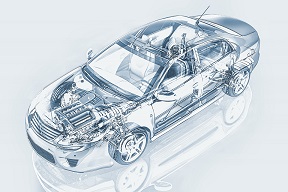 The auto parts industry value struggled to perform this year due to the outbreak.
Taiwan's auto industry value maintained steady positive growth in the past few years. For example, between January and June, it made up 4.57% of Taiwan's manufacturing sector, which decreased compared to last year. According to the Taiwan Transportation Vehicle Manufacturers Association (TTVM) statistics, auto parts value amounted to TWD$92.1 billion between January and June, marking a 17.07% decline. Out of all the sectors in the vehicle-related industry, the auto parts sector saw the largest drop.
Population mobility was restricted amid the many quarantine and lockdown or work-from-home orders worldwide, leading to a lesser need for vehicles. Other sectors, such as machine tools for manufacturing auto parts, were also impacted. At the same time, the EV trend continued to be the focus of the greater automotive industry,
Featured Companies
Fu Gang
Fu Gang's water-repellent silicon rubber wiper blades are 100%-manufactured in Taiwan and boasted water-repellent technology on-par with Japanese counterparts but at a more competitive price. Fu Gang's strategy is to allow more consumers to use blades with better anti-vibration resistance and less prone to brittleness.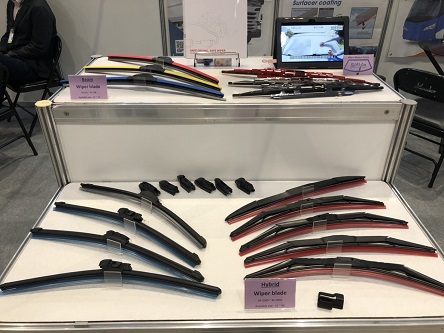 Fu Gang offers quality wiper blades that are less prone to brittleness under prolonged sun exposure. (Photo taken by Hsiao Yung-le)
Miin Luen
Auto parts producer Miin Luen, and its self-managed brand T&t, displayed many different parts, ranging from wheel hubs, belt tensioners, and overrunning alternator pulleys. Overseas sales representative Jennifer Yeh says Miin Luen often sells to the U.S., Middle East, and Africa. Many of their tensioners are supplied to well-known American brands as well.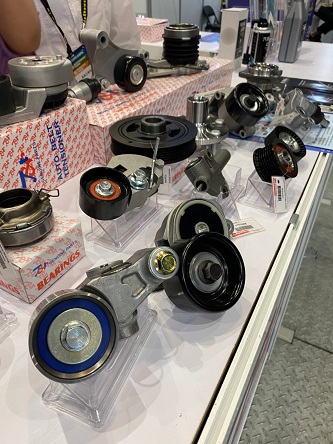 Miin Luen often sells its diverse auto parts to the Americas, the Middle East, and Africa. (Photo taken by Lin Yu-shuan)
Taiwan Brake Technology
Taiwan Brake Technology (TBT) focuses on brake pads and differentiating its product lines in the market. The firm rolled out a copper-free brake pad TX series to adhere to American regulations on banning the metal substance. This series features copper-free, stable friction performance, longevity, and low dust traits.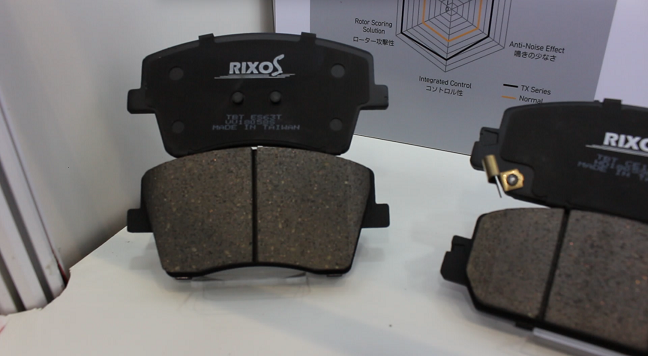 TBT features different brake pad series aimed at varied needs. (Photo taken by Chao Ting-yu)
Economic Daily News + CENS Offers Biz Opportunities for Local Suppliers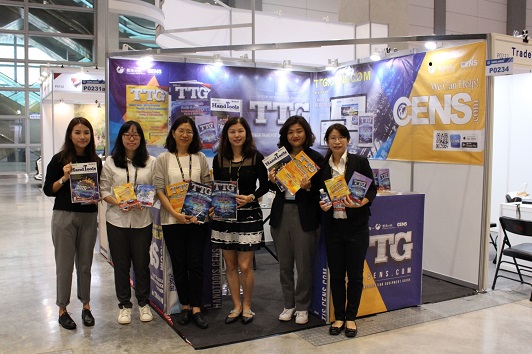 The Economic Daily News (CENS) team at 2020 Taipei AMPA. (Photo courtesy of CENS)
This year's Economic Daily News (CENS) set up at Nangang Exhibition Center Hall 2 1F P0234 Booth, handing out the
Taiwan Transportation Equipment Guide (TTG)
, TTG USB,
Taiwan Hand Tools
and
Taiwan Industrial Suppliers (TIS)
. CENS' popular sourcing platform also garnered attention among domestic visitors.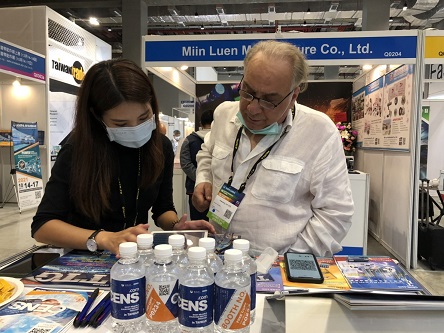 Many visitors have found CENS' online sourcing platform helpful in their procuring process. (Photo taken by Hsiao Yung-le)
Sunil Mahbubani, a visitor from Hong Kong, says most of his clients are in Central, South America, so he is focused on procuring motorcycle parts at AMPA. CENS' trade magazines and sourcing service has been helpful for him, especially in the pandemic, which has restricted people and companies from attending shows like AMPA.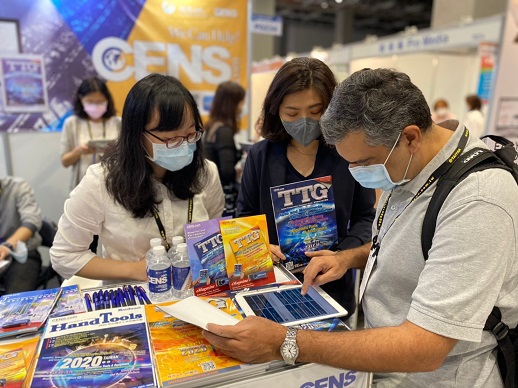 Visitor Sunil Mahbubani fills out a sourcing card. (Photo taken by Lin Yu-shuan)
Buyers who couldn't attend Taipei AMPA need not worry. Please email CENS with your trade magazine inquiries, and CENS will send out the magazines to you.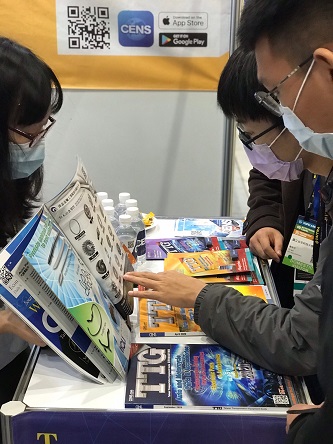 Visitors flip through the Taiwan Transportation Equipment Guide (TTG). (Photo taken by Chao Ting-yu)