Taiwan's indigenous SAE Level 4 self-driving bus WinBus, spearheaded by the Automotive Research & Testing Center (ARTC), was built on support from a government project framework under the Ministry of Economic Affairs Department of Industrial Technology. Thanks to Taiwan's smart driving laboratory testing grounds, WinBus became the first self-driving vehicle to hit the road in Taiwan last year. The testing grounds also enabled ARTC to verify WinBus' shuttling and self-driving capabilities, leading to further expanding operations into Southern Taiwan's National Pingtung University of Science and Technology (NPUST) as a campus shuttle bus. ARTC will also be working with the Kaohsiung City Government to expand self-driving transportation services in the city.

With growing support and recognition of ARTC's efforts to promote and develop autonomous transportation technology, ARTC allied with domestic firms like Lioho Machine Works, Advanced Micro Electronics, Golden Well Automotive, and Ho-Wei Car Tech. Through the alliance, ARTC and the companies worked together to develop a chassis-by-wire, formulating an "EV Chassis-by-wire: PA Autonomous Vehicle Prototype" and showcasing it on the NPUST campus. They aim to test run the self-driving vehicles on campus for over 1,000 kilometers; there are also plans to sync the project with self-driving operators and inter-city bus companies. At the moment, ARTC is slated to apply for sandbox empirical validation for Southern Taiwan next year.

ARTC's WinBus example has also attracted attention from the Kaoshiung City Government. The city government last year formed the "Smart City Promotion Committee" on Dec. 25, signing an MOU with ARTC on the basis of autonomous driving development and application. In the future, the MOU and committee will spearhead Kaohsiung City's foray into a smarter city by inviting domestic and foreign companies, ranging from Siemens, Chunghwa Telecom, Far EasTone, Taiwan Mobile, Compal Electronics, Askey, EstiNet Technology, and Studio X-Gene. The framework will focus on digital talent cultivation in the southern city, providing smart city application services, develop autonomous vehicles, smart healthcare, smart tourism, AIoT 5G, and smart fish farming.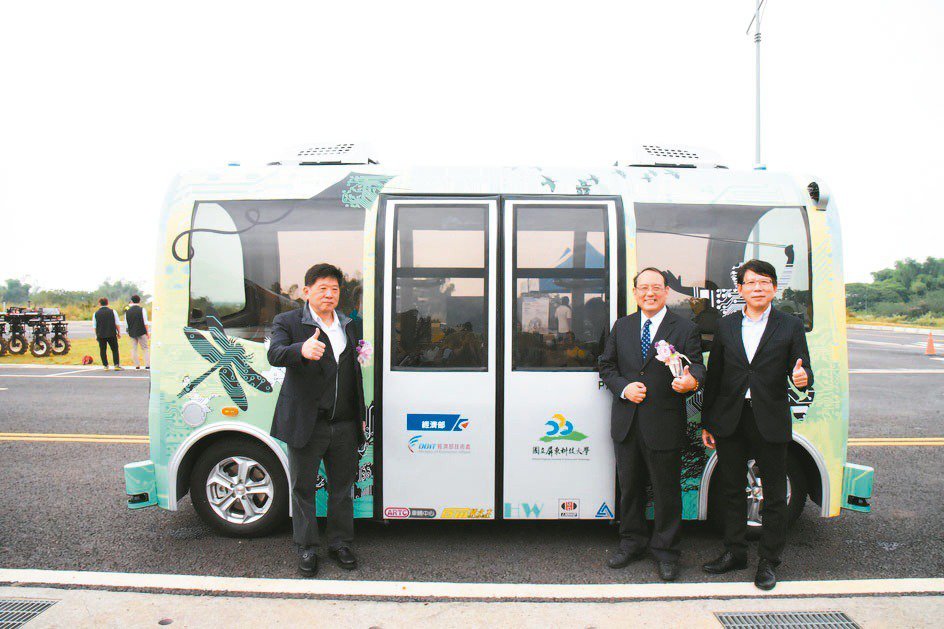 ARTC, NPTU, and company representatives pose in front of a PA self-driving prototype bus in Pingtung. Photo credit: ARTC