In collaboration with the Industrial Technology Research Institute, Tatung Corporation newly announced Taiwan's first indigenous electric bus-applicable "250kW powertrain system," on Jan. 28, after undergoing and passing testing from Taiwan's Automotive Research & Testing Center (ARTC).

The newly unveiled system was first introduced as a winner of the 2020 29th edition of the Taiwan Excellence Award, the "IE5 ultra-premium efficient powertrain for large e-bus." The system combines an electric vehicle's "heart" and "brain," the motors and driver, to improve the e-bus' performance and efficiency, aiming to accelerate the development of indigenous e-buses in Taiwan.

The 250kW powertrain system is not only Taiwan's first EV powertrain system fully produced under home-owned R&D capabilities but also boasting the title for the most powerful powertrain system for EVs. Tatung's design incorporates the motors and driver; the highest efficiency rating for the motors can reach 96% and more, while the drivers are rated at 97% and above. The specifications are on-par with big-name automakers' designs in the European and American regions, which not only boosts vehicle performance and energy efficiency. The 250kW powertrain system also offers a high torque rating and better climbing ability, making it suitable for 12-meter EV buses and 17-tonne trucks.

Tatung Senior Executive Vice President Tai Feng-shu said countries are proactively meeting their zero-carbon emission goals amid climate change, which also set EV development into stone in the coming years. Tai said the company was able to develop and produce powertrain systems for EV due to its existing industrial motor foundations. In recent years, Tatung is also actively building up its own capabilities to design and develop motors and drivers, Tai says.

The newly announced system is based on ITRI's technology transfer project, with Tatung's team focusing on related technologies working closely with ITRI's R&D capabilities to produce the 250kW powertrain system. The partnership became means to boost added value to motor products and open the way for a new blue-ocean market globally.

Tatung reportedly invested software, hardware, and organizational designing engineers to work closely with ITRI's Mechanical and Mechatronics Systems Lab to collaborate over the new powertrain system. The corporation will aim to leverage the experience to develop powertrain applications for other vehicle types.

The 250kW powertrain system can integrate software and hardware from both the motors and drivers, making it capable of self-calibrating. This opens up the system to adapt to different vehicle types requiring customized calibration designs, such as logistic trucks, garbage trucks, recycling trucks, and mining vehicles. Currently, the system's real-life calibration and testing experiences have accumulated over 3km of mileage. Even under full capacity, an EV bus equipped with the 250kW powertrain system can maintain 20% of climbing ability and speeds of 90km/hr continuously for over 20 minutes.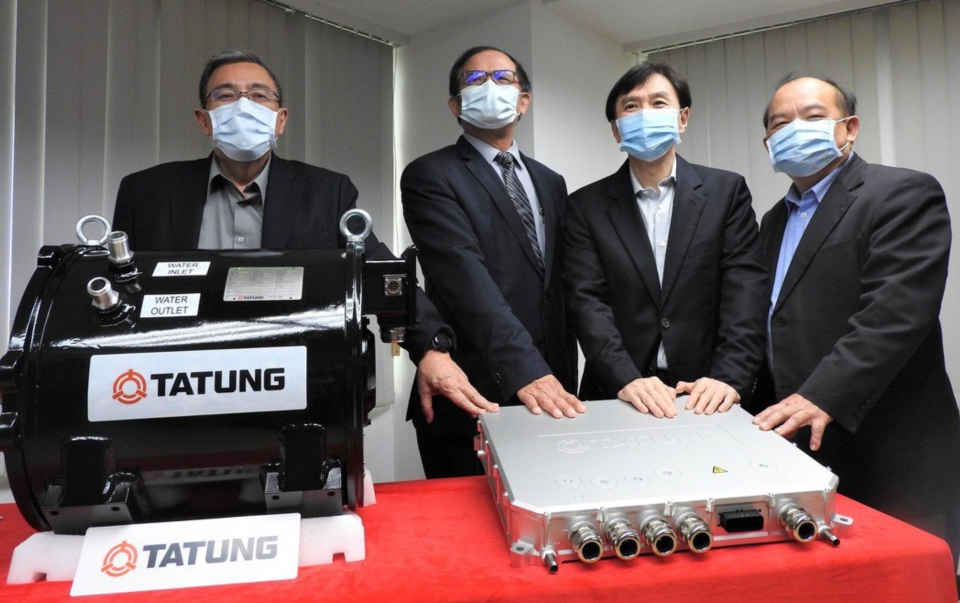 Tatung Corp. unveils Taiwan`s first home-grown EV powertrain system. Photo courtesy of Tatung.