MADA ENTERPRISE CO., LTD. produces tire gauges, multi-functional tire gauges, and air chucks, marketing under the brand "MADA" globally. The accuracy of MADA'a multi-functional tire gauges is ranked No. 1 in the world, boasting a unique and unrivaled design under the hood, making it sturdy and durable for frequent use. MADA's products are applicable for all sorts of wheeled vehicles and equipment, including bicycles (adhering to U.S., U.K., and French specifications), air chucks, scooters, automotive, trucks, buses, and airplanes.

MADA General Manager Kao Yi-yung said the company insists on providing the most professional, highest-quality, and most durable products. Kao added that they are committed to building and maintaining a beneficial reputation among global clients and imposing strict QC inspections before delivery. He emphasized that maintaining MADA's products required separating the gauge and handle and routinely clean the air filtering device to improve the product's lifespan. Such a precise yet durable product has garnered recognition and support among MADA's clients, enabling MADA to increase its market share to over 40 countries globally. The next step for MADA is searching for potential distributors to improve their standing in the European market.

Aside from mass-producing standardized tire gauges, multi-functional tire gauges, and air chucks, MADA is also developing digital tire gauges. For ease of use, MADA designed the digital versions to require only connecting the nozzle for operation. The product quickly made a lasting impression on customers once it was released. MADA will continue to delve into product development to meet more demands among buyers and the market.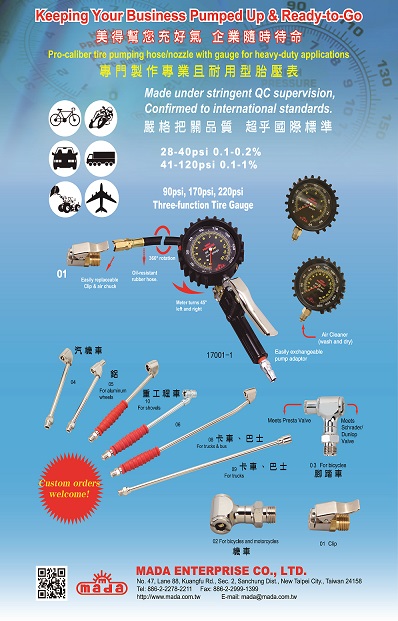 Photo courtesy of Mada Enterprise
MADA ENTERPRISE CO., LTD.
No. 47, Lane 88, Kuangfu Rd., Sec. 2, Sanchung Dist., New Taipei City, Taiwan 24158
Tel: 886-2-2278-2211
Fax: 886-2-2999-1399
E-mail: mada@mada.com.tw
Website: www.mada.com.tw