Hand tool kits, digital torque wrench, wrenches/spanners in general, adjustable wrenches, socket wrench sets & sockets, infinity socket wrenches, etc.
"Hans Tools" has been set up to provide a stable source of exported professional products to the industrial market; besides, Hans Tools offer one of the broadest, best-equipped ranges of tools for industrial level applications in the entire global market.

To adopt the digital age in the coming future, being a Taiwanese factory leader, "Hans Tools" also presents and promotes its "Digital Torque Wrench" (DIGI-TORC) to enhance its efficiency for high accuracy and valuable database collection.

DIGI-TORC is an instrument for calibration. More and more delicate construction requires extra care while handling. They also need batteries to operate. The instrument is most commonly used in automotive works, high technology equipment maintenance, manufacturing, and production facilities where extreme precision is key. However, users can also use it in other capacities, such as in garage works or at home as well. How should one set up DIGI-TORC?

Step 1: Set the torque value on the digital torque wrench. The tool provides readouts in ft-lb, N-m, in-lb, and kg-cm and offers up torque and angle accuracy of +/- 3%. Step 2: Once the torque is set, the wrench will vibrate, chime, and switch on the warning light, depending on the different digital torque wrench types in operation.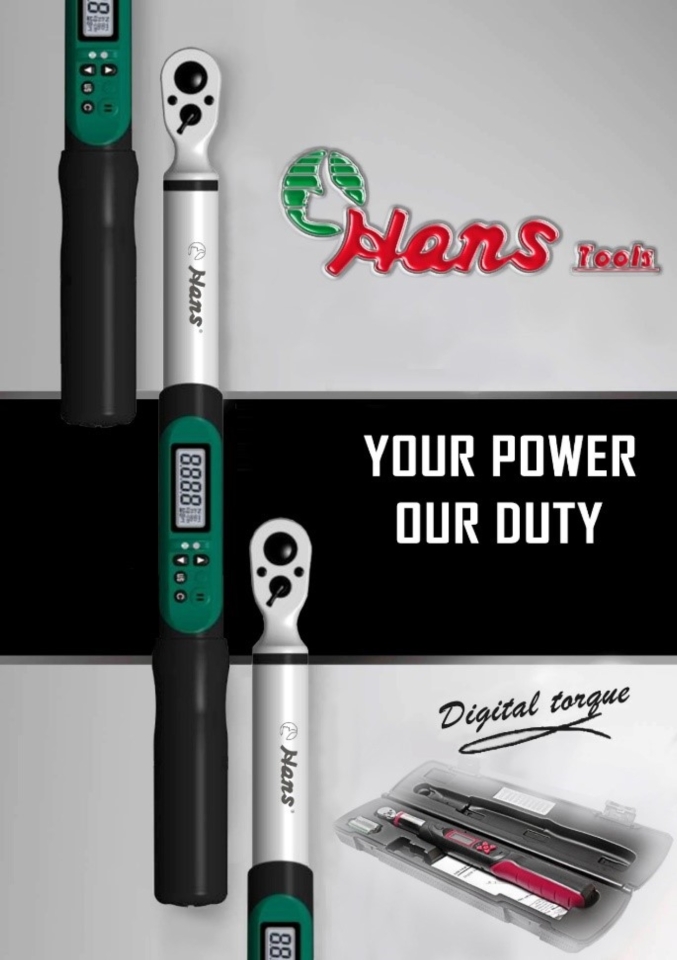 Photo courtesy of Hans Tool
HANS TOOL INDUSTRIAL CO., LTD.
No. 101, Honan Rd., Sec. 2, Taichung City, Taiwan 407
Tel: 886-4-2311-8682
Fax: 886-4-2311-0358
E-mail: hanstool@ms23.hinet.net
Website: www.hanstool.com