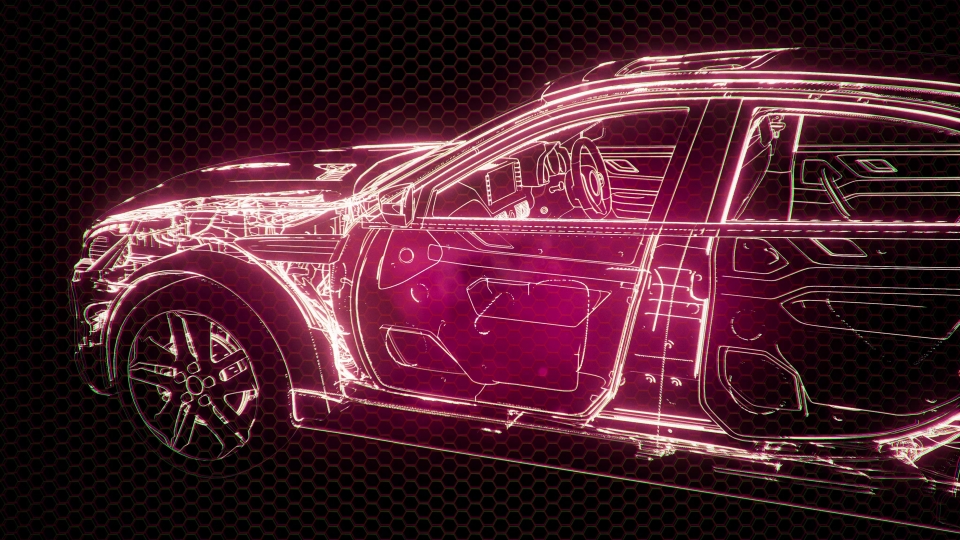 In the "Global Digital Automotive Trend Report" released by PwC Taiwan in mid-January, the firm indicated that the automotive industry is now at a crossroad, anticipating that significant synergy will buoy the automotive IoT and electric vehicle (EV) markets in the next decade. However, amid the COVID-19 pandemic that is still ongoing since 2020, the report pointed out that the development of self-driving vehicles has shifted towards a more conservative approach.
The global automotive and auto parts industries face a new challenge as the consumer experience derived from vehicles is quickly moving from in-person to digitalization. Companies amidst the fast, paced transformation need to factor in "connectivity," "autonomous," "shared," and "electric" technologies into their future roadmap.
In terms of global vehicle sales, the report forecasted that up to 2035, the traditionally-heavyweight European Union market would begin to see a slight decline, expecting to see around a 0.5% decrease each year. By 2035, total vehicle penetration in the EU market will fall to 281 million vehicles, surpassed by the Chinese market's 350 million, forecasted to grow 3.9% yearly, and the U.S. market's 3320 million, a 1.1% yearly growth. The most significant factor lifting both the Chinese and American markets is the economic demand rebound in the post-pandemic era. Companies are also inclined to build newer fleets with longer service life and eliminate older vehicles, which PwC Taiwan believes would encourage business in the U.S. and Chinese automotive industries.
PwC Taiwan's accountant expert on the automotive industry and related parts said that the automotive companies' movement towards smart applications and EVs would also be advantageous for Taiwan's key ICT industry. The latest trend serves as a unique niche for automotive electronics parts to leverage and become a key supplier in the global auto production chain. What would be a clear indicator of Taiwan's automotive electronics prowess? According to the Economic Ministry, Taiwan's automotive industry value reached NTD$601 billion in 2019; among that, at least 40% of the industry value created (approximately NTD$247.7 billion) came from auto electronics.
The COVID-19 Factor
From a general outlook of the auto and related industries, companies' initial reaction to the COVID-19 outbreak last year continues to bleed into the industry almost a year later.
In a late January 2021 news report, a Taiwan Institute of Economic Research researcher pointed to auto firms companies scaling back production in the beginnings of the pandemic last year due to lockdowns and restrictions. It led to semiconductor chip makers turning their output to other high-demand sectors, notably consumer electronics. While the auto industry saw demand resurge in Q3 of 2020, the recalibrated production chain had already maxed out from supplying the consumer electronics industry with chips, thus paving the way for a global automotive electronic chip shortage that has lasted into this year.
According to a Bloomberg analyst, auto companies missed a crucial chance to revamp their inventories and could to a lackluster Q1 and Q2 performance. Many companies would be presenting a conservative report on their yearly outlook performance as a result.
In the advent of chip makers making adjustments to their operations, IHS Market researchers warned that the semiconductor industry is unlikely to meet demands in Q1 and Q2. Chipmakers often prefer producing for consumer electronics, as the scale of orders often dwarfs those from the auto industry. For example, the smartphone industry sees 10 billion devices made each year, whereas produced vehicles often don't see 100 million units yearly.
However, Taiwan's auto parts, electric vehicle, and autonomous vehicle markets still expect to see an upward trajectory despite the pandemic, says Industrial Technology Research Institute (ITRI) Mechanical and Mechatronics Systems Research Laboratories Chief Digital Officer Chieh-Chih (Bob) Wang.
Wang pointed out that the pandemic has shifted companies' priorities. For example, the most apparent changes were seen in self-driving vehicles, as fewer people are willing to ride in cars with multiple occupants. Logistics saw a noticeable increase in business, leading to an uptick in demand for related vehicles and parts.
Software and Hardware Integration is Key
During the era of fuel-powered vehicles, hardware was at the forefront of design, yet also the most difficult to differentiate. As the global automotive industry moved toward smart and electric vehicles, rising importance on the software and electronics sides has prompted traditional auto parts companies to seek potential businesses in related, trending areas.
Many traditional auto part firms are making the "digital transition," Wang said. Compared to the conventional mindset, companies now must consolidate their roles in the industry instead of becoming irrelevant.
While some companies prefer to pursue in-house R&D, others will consider strategic cross-industry alliances as vehicle production becomes more complicated, with an increasing emphasis on software and hardware integration. For instance, LIDAR sensor makers have approached auto lamp suppliers, as the former wants to equip sensors to the lamps. Also, tire pressure sensors or related parts and tools could become pathways for systems to transfer data back into the central control system in EV or self-driving vehicles. Autonomous vehicles, for instance, would be able to make necessary adjustments while traveling on the road.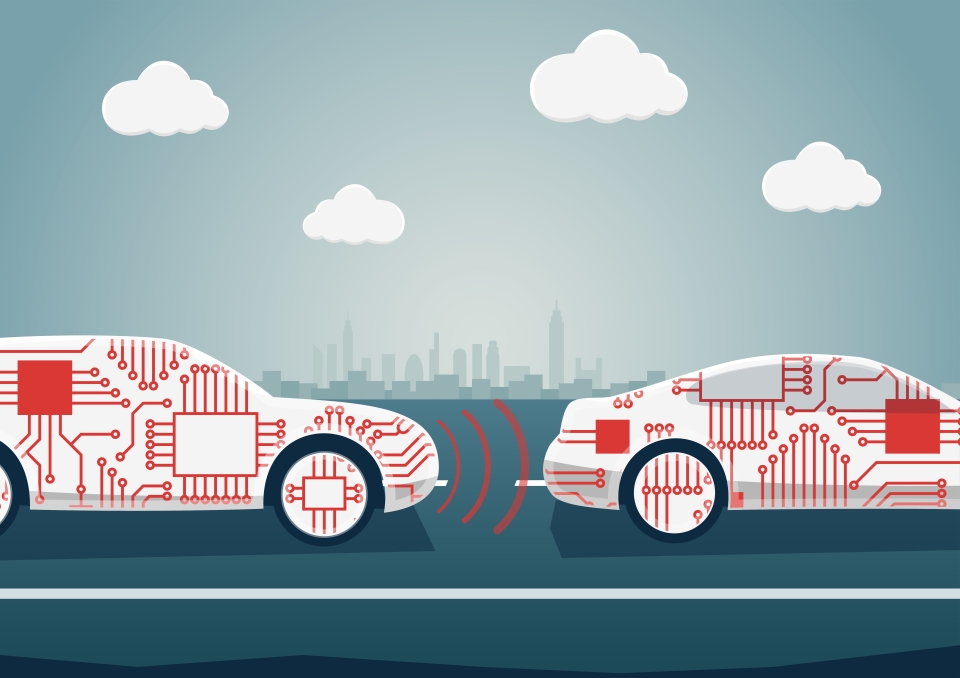 The EV Movement
Compared to self-driving vehicles, however, the most notable changes are seen in the EV industry. "Whereas auto parts industry was lucrative in the past decade, the EV sector sees a huge boost in profits at present," Wang said.
While Taiwan's automotive prospects in gas-powered vehicles never really took off, Wang says Taiwan has a huge advantage as the world's electronics and semiconductor hub. Moreover, Taiwanese companies have an inherent sense for business, making them flexible and adaptable to fast-changing times, a situation not just limited to auto parts makers but also Taiwan's ICT suppliers. These ICT companies recognize the importance of collaborating with or acquiring traditional automakers and leverage what they do best. For instance, Foxconn had announced a joint venture with Taiwanese carmaker Yulon Group last February. Foxconn would leverage its electronics and information device design and manufacturing experience with Yulon's automotive background to facilitate EV development.
The appearance of Foxconn's MIH EV Open Platform, built for "accelerating innovation and development" of the EV industry by providing hardware and software to other carmakers for electric car development, indicates the industry's diversification and moving beyond the conventional business model in the traditional auto industry. In February, Foxconn MIH revealed the first product under the alliance, called the "EV Kit," which includes software and hardware specifications for drive-by-wire technology.
Despite the optimism surrounding the EV sector, Wang says there are still challenges in the future. When EVs become the norm, what would happen to the batteries that reach the end of their lifespan in the next one to two decades? There are no clear answers to resolve such an issue at the moment, however, new challenges are sure to come up as the EV industry expands and evolves.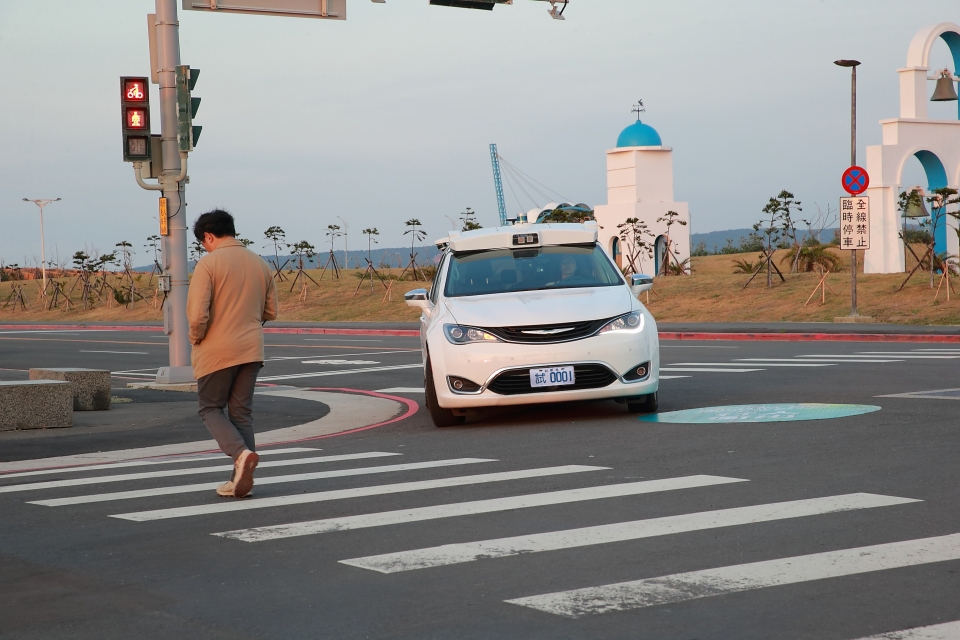 The ITRI-developed self-driving vehicle is shown slowing down and stopping upon encountering a pedestrian, even without traffic signs. (Photo courtesy of ITRI)