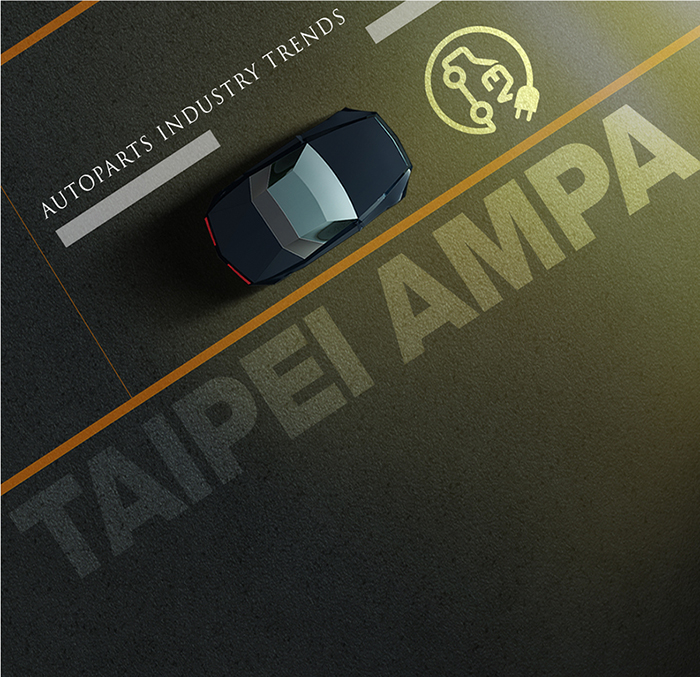 Amid a global crisis of auto chip shortages, the accelerating trend of adapting electric vehicles (EV) and self-driving cars, the Taiwan External Trade Development Council (TAITRA) is gearing up to kick off Taipei AMPA and Autotronics Taipei on April 14 at the Nangang Exhibition Center Hall 1.
TAITRA is hosting this year's Taipei AMPA and Autotronics Taipei as a hybrid expo, debuting the first-ever AMPA Online show, having built on the experience of hosting events similarly in the past year. AMPA Online has attracted 432 exhibitors, among them 11 suppliers exhibiting for the first time, and will open a week before the offline show opens. TAITRA says this is done to allow domestic auto, motorcycle, and EV parts to quickly leverage business talks with potential overseas buyers over the online platform.
For the in-person Taipei AMPA event, TAITRA reports the usage of around 700 booths with 375 exhibitors attending. Among these exhibitors are Tesla supplier Ta Ya Electric Wire & Cable, Fukuta Motor, Chroma Corporation, China Fineblanking Technology,
Registration for AMPA Online looked even more optimistic, as 432 suppliers signed up to showcase online. Among that number are 11 companies debuting online for the first time, a clear indicator that attending virtual expos meets the demand of companies looking to expand their businesses. Many international exhibitors have chosen the virtual route, including Thailand's PTT, Germany's Mahle, Texas Instruments, and Malaysian supplier Protec.
EV's Future Unclear Due to Shortages
The EV industry growth is seeing increasing momentum, as global sales of new energy vehicles saw a yearly 43% growth in 2020, even amid the COVID-19 pandemic, according to TrendForce. However, as with anything that requires semiconductors these days, EV growth could hit a roadblock due to the chip shortages plaguing manufacturers and suppliers across industries.
The latest trend in the industry is most present in the Chinese and European markets, where government policy is strongly driving market demands and development. For instance, European automakers are proactively following strict carbon emission policies as drawn up by the European Union. The U.S. President Biden's inauguration and subsequent enforcement of EV-favorable policies, such as replacing government vehicles with new energy options, removing subsidy restrictions, and economic stimulus plans, are regarded as policies to bolster the American market, TrendForce says.
However, despite the uncertainty revolving around production, alliances like Hon Hai's (or Foxconn in global markets) MIH EV Open Platform are moving the industry along to encouraging places. The latest news to come out from the alliance is Foxconn's plans to unveil battery samples later in 2021.
Hon Hai Chairman Liu Young-way noted at a recent press conference for foreign correspondents that the company has invested in developing two kinds of EV batteries: solid-state batteries and lithium iron phosphate (LPF) batteries.
The Taiwan-based manufacturing giant expects to deliver a sample solid-state battery this year and begin commercial production in 2024. Liu did not disclose further information on LPF batteries, though he had added the importance of battery development for EVs.
Battery life has long been regarded as a crucial element in EV development, especially with EV peripherals like charging stations just seeing an increase in many countries. According to Foxconn, batteries and related power system devices account for more than one-third of an electric car development costs, making it a vital component to focus on development.